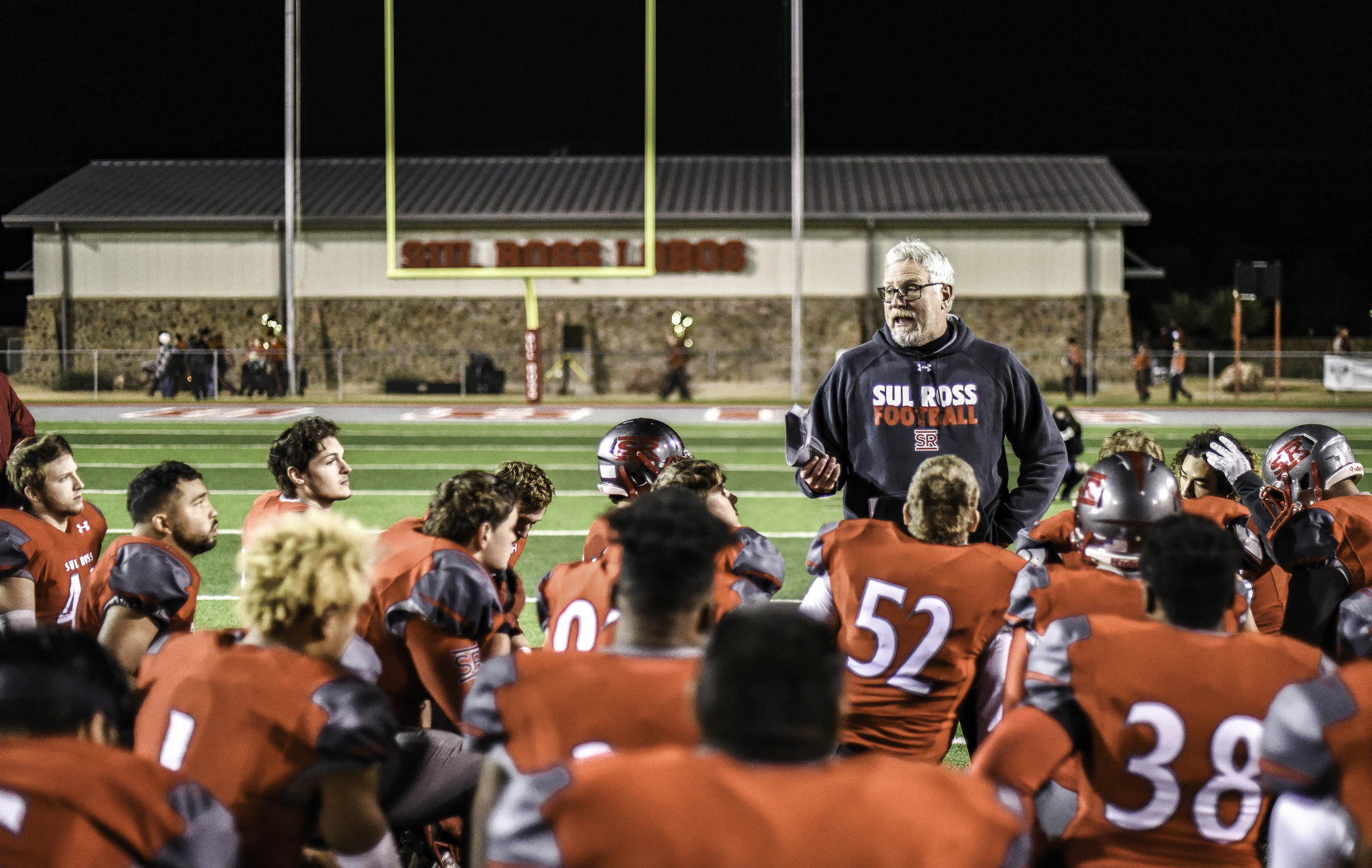 Posted by

Categories

Desk

Date

December 12, 2018
• by Cody Kalinowski •
The 2018 SRSU Football Team did not perform up to expectations.  Both coaches and players like myself are looking back on the disappointing season of 1 win and 9 losses and asking ourselves, "What went wrong?"  Frustration and doubt surround our young team, but there is a light at the end of the tunnel—even if most fans and players can't see it.
The Lobo season began with a long trip to Arizona for an appointment against Arizona Christian, a top 20 NAIA team.  The resulting 42-20 loss produced many moments best described as the Lobos "shooting themselves in the foot."  The long, tedious drive home would become somewhat of a symbol for the rest of the season.  Things would not be getting easier.
The following week, the Lobos faced American Southwest Conference competitor, and the No. 2 team in the nation, Mary Hardin-Baylor.  Sul Ross suffered a 68-7 defeat at home, falling hard to 0-2.
Next was another ASC matchup, this time against McMurry in Abilene's Wilford Moore Stadium.  Final score: McMurry 35, Sul Ross 24.
At the end of September, Louisiana College came to Alpine and promptly handed the home team a fourth straight loss.  Final score: Louisiana College 49, Sul Ross 16.
Then it was Southwestern's turn.  The Pirates ransacked the Lobos at Jackson Field.  Final score: Southwestern 55, Sul Ross 7.
With the tough losses snowballing, Sully football got back on the bus and headed to Abilene to face more conference competition and the nation's No. 11 team, Hardin-Simmons.  In this matchup, the young team from Alpine finally unleashed its talent, shocking the Cowboys by going into the half only down by one, 13-12.
"Our guys really impressed me in that game," recalled Sul Ross Head Football Coach John Pearce.  "I think it exemplified the true potential that this team possesses."
However, the second half saw the Lobos quickly fall behind, and they ultimately lost by another wide margin, 48-27. 
With the arrival of Homecoming, and still looking for their first win of the season, Sul Ross took on Howard Payne at Jackson Field.  A tough fought game ended with the Lobos edging the Yellow Jackets, 28-27.
Sadly, the team could not capitalize on any momentum from the win, going on to suffer losses at East Texas Baptist (60-14) and Texas Lutheran (63-20) before ending the season with a gut-wrenching 8-0 home defeat at the hands of Belhaven.
Coach Pearce reflected on the season over a phone interview with me, contemplating what he thought hurt the team the most.
"There were a lot of changes this past season.  We hired a new defensive coordinator, a new defensive line coach later in the season, and a full-time strength coach for the entire athletic program.  There was also a big changing of the guard on the field with many starters not having much college-level playing experience.  With so many 2017 seniors graduated and gone, the younger guys had it rough—freshmen were being tossed into the fire way before they were ready."
When asked about changes he wants to see in 2019, Coach Pearce noted that "discipline and leadership need to improve from freshman to senior, and the general athletic culture at the school also needs to improve.  As a University, our athletic program has already improved immensely.  Hiring our first ever full-time trainer is direct evidence of the steps we are taking as an athletic program to truly bring Sul Ross Athletics to the next level.  But as a football program, only time and effort can help us reach the potential that we showed flashes of during 2018."
Recruiting can be a challenge for many Division III schools, especially smaller state universities like Sul Ross, since lower budgets and rural campuses make it difficult to compete for players from recruiting hotspots like Dallas, Houston, and San Antonio. When asked about the current and future status of Lobo football recruiting, Coach Pearce stated that he was going to focus on the quality of recruits over quantity, just like he has in the past; however, he does see room for improvement.
"I really took a lot of our football players' feedback to heart—which happened to mention a fair amount on our recruiting.  I want to find quality guys who want to get a degree and stay in the program for four years," he said.  "And I can't wait to compete next season.  If things go according to our game plan, I think we can beat both purple and gold teams in our conference."
Mary Hardin-Baylor (purple) is currently ranked No. 1 nationally.  Hardin-Simmons (gold) is currently ranked No. 7.
Sul Ross Lobo Football competition begins next season with a bang as we travel to Kingsville to play the Div. II Texas A&M-Kingsville Javelinas in non-conference play.
Cody Kalinowski is a junior linebacker at Sul Ross.