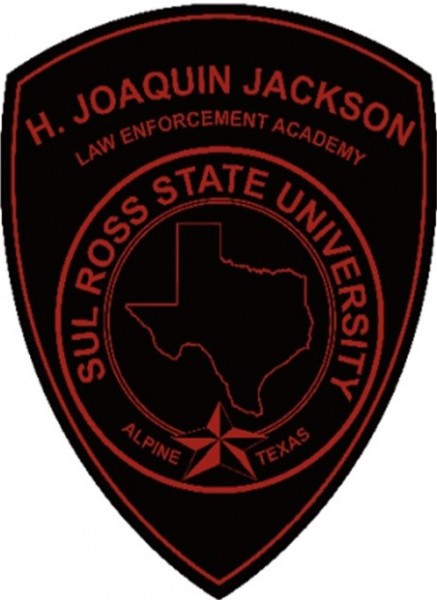 The Sul Ross State University H. Joaquin Jackson Law Enforcement Academy concentrates on small-town and rural law enforcement. It is the goal of the academy to provide quality training at the lowest possible cost to participating agencies. Professionalism and a community-service philosophy are stressed in all training programs.
SRSU was licensed as a certified Texas law enforcement academy by the the Texas Commission on Law Enforcement Officer Standards and Education in May 1982.
Programs
The academy provides two types of training programs. A basic police academy is conducted annually. This basic police academy exceeds the requirements of the TCOLE 720-hour Basic Peace Officer course. Cadets who successfully complete the basic police academy are eligible to sit for the TCOLE Basic Peace Officer examination. Those who pass this exam with a score of 70 percent or higher are then certified by TCOLE and are eligible for hire by Texas law enforcement agencies. Secondly, the academy provides continuing education and in-service training for law enforcement and corrections personnel in the Sul Ross State University service area. A variety of courses ranging from four hours to forty hours in length are offered each semester. These courses are designed to fulfill TCOLE mandated training requirements and to meet the unique training needs of area agencies.
Mission
The Sul Ross State University H. Joaquin Jackson Law Enforcement Academy exists to serve and train law enforcement personnel in our service area.
We believe the badge is more a symbol of public trust than of authority. And, this trust can only be met by individual commitment, dedication, and improvement through education and training.
We strive to engender a community service attitude, professionalism, and ethics in all those who attend our training programs.
We value our relationship with the law enforcement, public and university communities we serve. To this end, we seek and are open to comments and criticism of a constructive nature and intended to help us better fulfill our training mission.
We are committed to assist those who come to us in attaining their personal and professional goals and ambitions in law enforcement.
Interest and Pre-Screening
The link below will forward you to a pre-screening form.  This form will be used to determine if you meet the minimum admission standards for the Police Academy.
Completion of the form does not qualify you for attendance.
The application process requires extensive paperwork, a physical and psychological examination, and fingerprinting, and a background check.  If if you are interested, please contact the Law Enforcement Academy.
LEA Office SRSU Campus
MAB 106/109
(432) 837- 8614
HS/CJ Department SRSU Alpine Campus
MAB 109
(432) 837-8166
Administrative Assistant Melissa Fierro