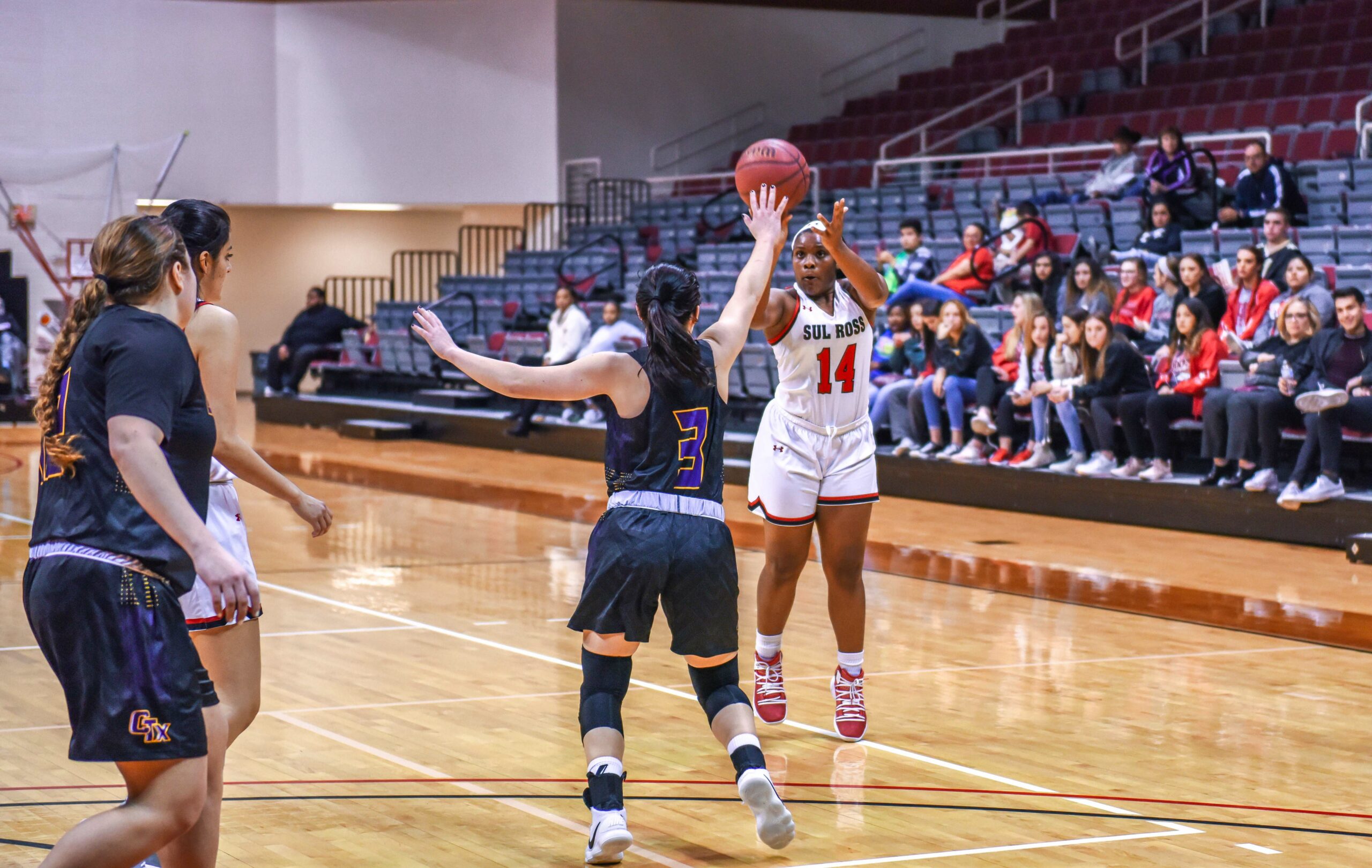 Posted by

Categories

Sports

Date

January 24, 2019
• by Travis Hendryx •
ALPINE, Texas- A three-point basket by Angalyn Latin with just under a minute remaining in regulation propelled the Sul Ross women's basketball team to a thrilling 61-60 ASC victory over visiting Concordia University Thursday at the Gallego Center.
Latin's triple gave the Lady Lobos their first and only lead of the contest as Sully bumps its overall record to 5-14 including a 3-7 mark in conference competition.
The Tornados started the contest with a 6-2 run before a layup by Jocelyne Roque pulled Sul Ross to within a one-possession deficit, trailing 6-4 with 7:22 remaining in the first quarter.
Concordia posted a six-point lead at the 6:31 mark and held a tight lead for the next three minutes of play.
A jumper in the paint by Kayley Diaz at 3:22 tied the outing at 10.
The visitors sported two more six-point leads before Roque ended the period with a layup at 20 seconds and cut the Lady Lobo deficit to four, 18-14 heading to the second quarter.
Concordia went on to hold two more six-point leads before a three-point basket by the Tornados' Molly Gideon spread the visitor's lead to nine, 32-23 with 1:54 left before the break.
A triple by Liz Mata capped a 6-0 Lady Lobo run as Sul Ross went to the half trailing 32-29.
Diaz banked from the elbow to cut Sully's deficit to one, trailing 32-31 with 9:13 left in the third period.
Concordia held a very slim lead down the stretch of the quarter but ended the frame on a 5-0 run as Lindsay Carter converted from long range for a 50-43 Tornado lead heading to the final quarter.
The Tornados held three, seven-point leads in the final period before Sul Ross closed the gap off a three-pointer by Chandre Nunez and narrowed the Lady Lobo deficit to two with 1:41 left in the game.
Latin's eventual game-winning shot came with 57 seconds remaining in regulation as Sully was able to put the brakes on the Tornado offense and prevailed in the 61-60 win.
For the contest, Roque led Lady Lobo scorers with 15 points and added 12 rebounds for her second collegiate double double. Nunez followed up with 13 points while Latin supplied 10 points. Thursday's setback drops Concordia to 7-12 and 3-7.
Sul Ross will host the University of Mary Hardin-Baylor at 1:00 p.m. Saturday.