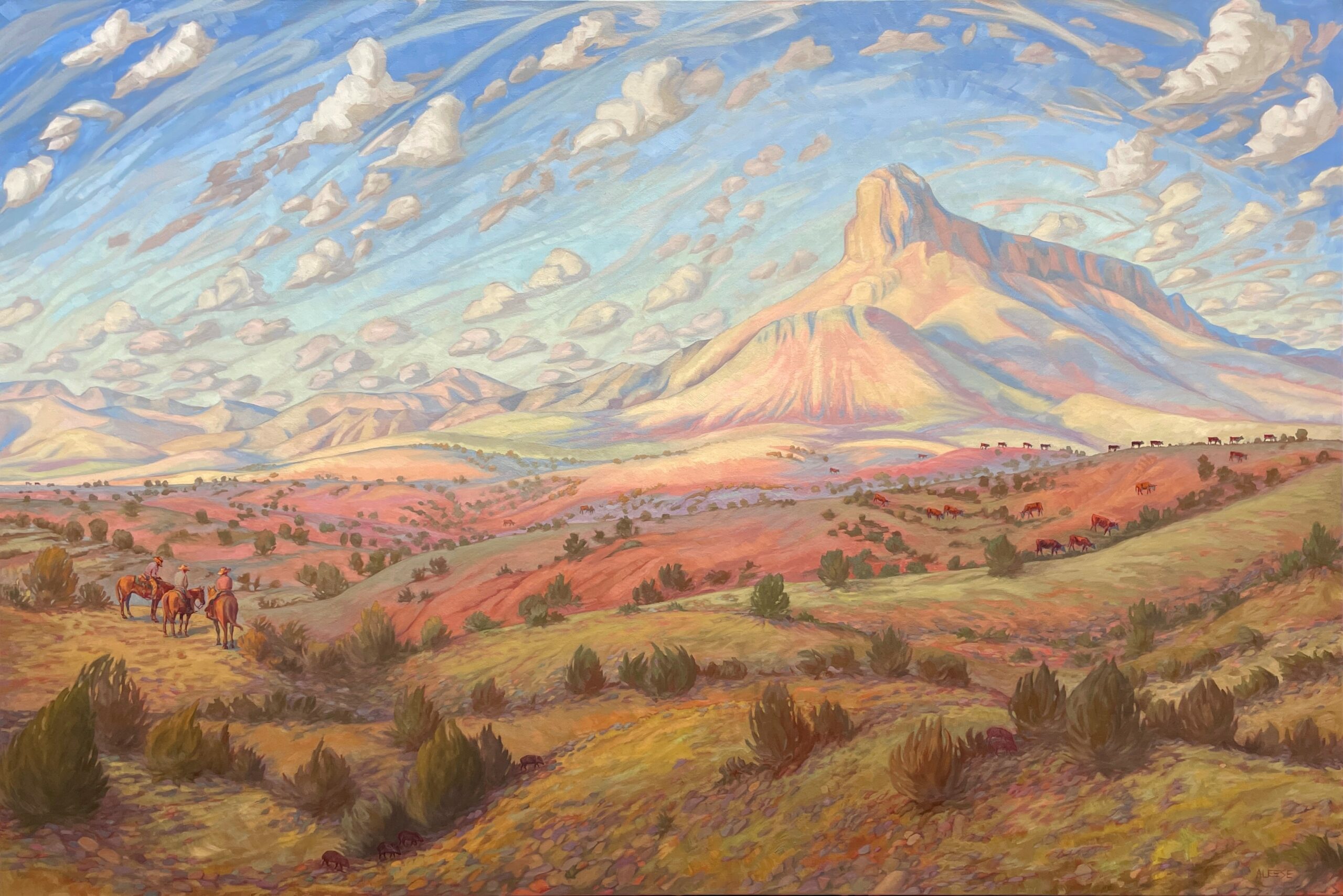 Alice Leese is the premiere artist for the 2023 Trappings of Texas exhibit at the Museum of the Big Bend on the Sul Ross State University campus in Alpine.
The 37th annual exhibit opens Sept. 14-16. Tickets and information can be found at www.museumofthebigbend.com.
Leese grew up on the YT Ranch in Winkler County, established by her great-grandfather, who traveled from Maine to Colorado in the late 1800's. He then drove a herd of sheep to a railhead in Odessa to homestead. The ranch now raises Hereford and Angus cattle.
Leese graduated from Abilene Christian University with a bachelor's degree in Fine Arts and worked on an Master of Fine Arts at Sul Ross State. She is a signature member of the American Plains Artists and Cowgirl Artists of America, a member of Plein Air Artists Colorado, Plein Air Artists of New Mexico and the Outdoor Painters Society.
She has been the artist-in-residence at Fort Union National Monument, Hawaii Volcanoes National Park and the Dry Tortugas National Park in Florida, where she and her husband spent a month on a 50-acre island alone. She has also been featured on Texas Country Reporter. Her work is represented by Jeff Tabor Gallery in Santa Fe and Western Gallery in Austin, and online.
"My work is about place, specific locations. The work is regional to the Southwest United States, particularly the YT Ranch where I live and work," Leese wrote in her artist statement. "Coming from a background of ranching makes conservation and stewardship of place a priority. Impressions on the landscape made by natural phenomenon and man are recorded in paint, creating a record of the current environment as seen through the eyes of an artist. The land, occupants and uses for land change over regions and my landscape paintings are a record of the effects of weather conditions, droughts, rain and events like grass fires. "
Leese said she is honored to be the premiere artist for Trappings of Texas art. "All the artists in the show are talented interpreters of the West. Most are involved in agriculture in one way or another, giving an authentic view of the landscape, people and gear of cowgirls and cowboys. The feeling is one of gratefulness to be included in the show," she said.
"I truly enjoyed my time at SRSU which served as an art colony in its early years with some of the early Texas artists setting up a school there to teach students," said Leese.
For more information, email Director Mary Bones at maryb@sulross.edu.
Photo: "Cathedral Mountain Sunrise," oil on canvas, 51 x 75.