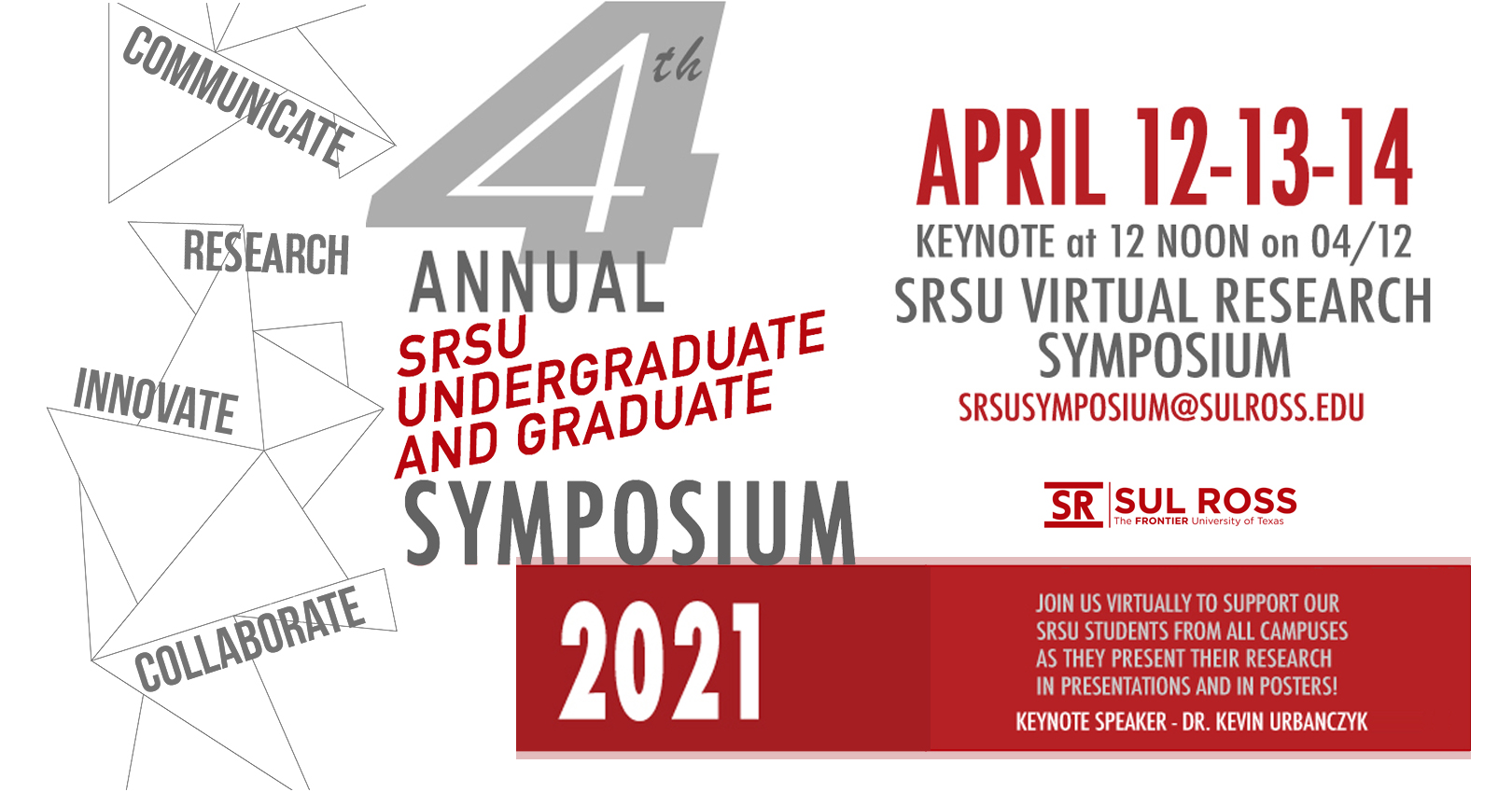 Posted by

Categories

News

Date

March 31, 2021
4th Annual SRSU Undergraduate and Graduate Virtual Symposium scheduled for April 12-13-14
The Fourth Annual SRSU Undergraduate and Graduate Symposium will be a completely virtual event this year and will be held across three days: Monday, April 12th thru Wednesday, April 14th, 2021, from noon until 6p.m. (final symposium presentation schedule to be determined soon).
Please come join us virtually to support our SRSU students from all campuses as they offer their research in presentations and posters. SRSU Alpine, Del Rio, Eagle Pass, and Uvalde faculty members have nominated students who have produced or are producing excellent research and creative work to present. Because the 2020 Symposium was cancelled due to the pandemic, this year's Symposium has accepted student work produced from the fall semester, 2019, to work-in-progress in this spring, 2021.
The keynote speaker this year will be Sul Ross Department of Biology, Geology, and Physical Sciences Professor and Director of the Rio Grande Research Center, Dr. Kevin Urbanczyk. The welcome and keynote address is scheduled to kick off the 2021 Symposium starting at 12p.m. noon on Monday, April 12th as a live, web-conferenced event.
Watch the SRSU Symposium website for the daily presentation schedules, presenter info, and (on the day) links to access the virtual presentations: https://srinfo.sulross.edu/srsusymposium/
For more information email: srsusymposium@sulross.edu