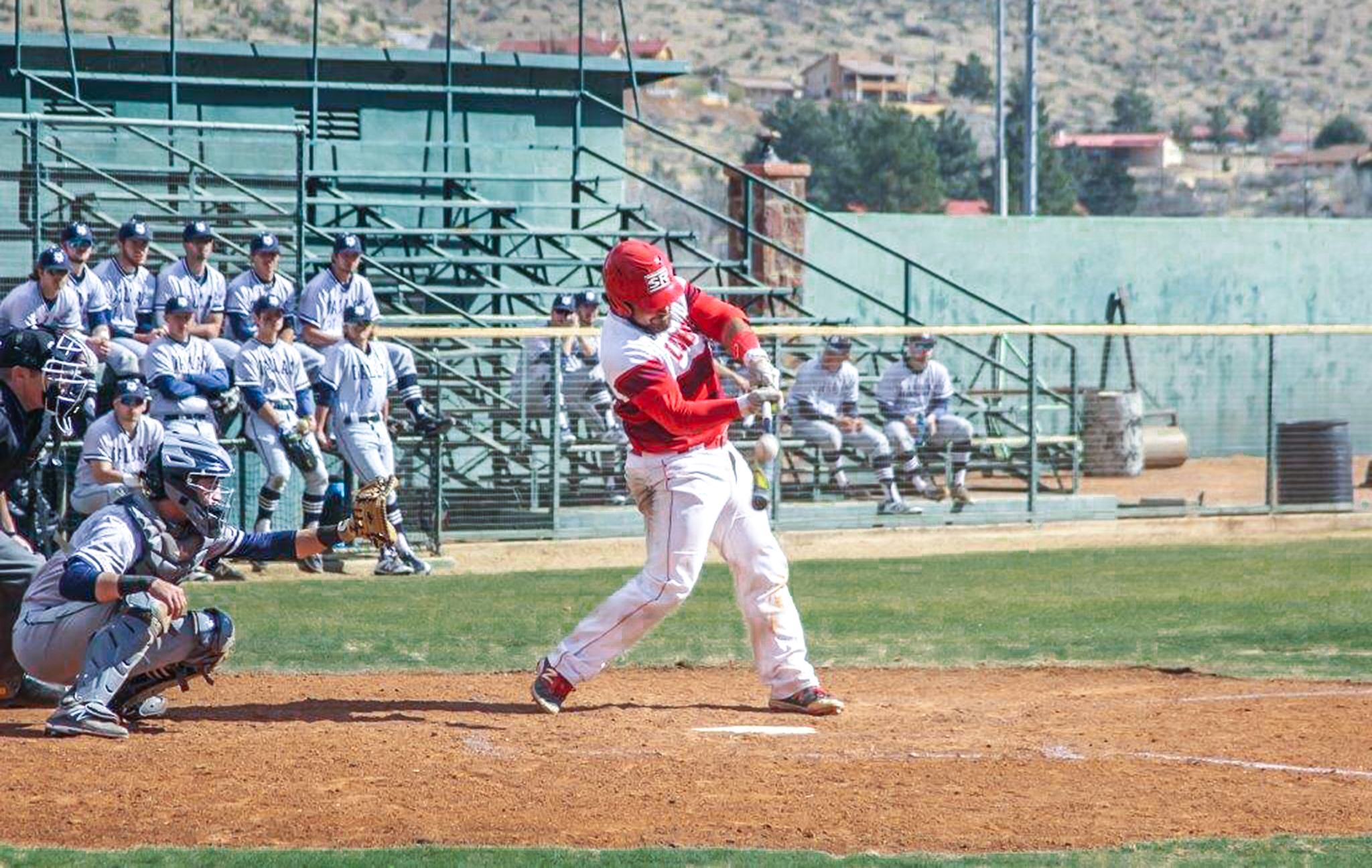 Posted by

Categories

Sports

Date

February 3, 2019
• by Travis Hendryx •
IRVING, Texas- Sul Ross State University Baseball split Saturday's season-opening doubleheader with University of Dallas.
The Lobos dropped an 8-5 decision in game one before pounding out 12 hits in a 16-0 shutout victory in the second contest.
Game 1: UD-8, SRSU-5
In Saturday's first contest, a single by Jacob Ochoa in the top of the first scored Joseph Sanchez and Chris York for a 2-0 Lobo lead.
The Crusaders brought a run across in their opening at-bat before a sacrifice fly by York in the top of the second scored Ryan Acebedo for a 3-1 lead for the visitors.
Dallas then plated five runs in the bottom of the inning to take a 6-3 advantage.
In the Sul Ross sixth, Bo Justin Martinez scored off a sacrifice fly by Sanchez before Wesley Moss scored off a double steal to pull Sully to within a run.
The Crusaders reeled in a pair of runs in the bottom of the sixth and snuffed a Lobo rally to claim the 8-5 victory.
Both teams tallied seven hits in the first contest.
Sul Ross ace Aaron Marquez shouldered the defeat after two innings from the hill. The Andrews senior yielded six runs off of five hits with three strikeouts.
Game 2: SRSU-16, UD-0
Sully posted a 12-hit payload in a second game slug fest while holding Dallas to just four hits.
Following a dormant opening inning, the Lobos unleashed a 10-run barrage in their second at-bat.
Moss came across in the top half of the third off a wild pitch extending the Lobo lead to 11. A sacrifice fly by Daniel Rojo then scored fellow freshman Tim Johnson before another wild pitch brought Ochoa across for a 13-0 lead.
A single through the right side by Martinez plated Tye Lindsey and Jared Lorenz to finish off the inning as the Lobos held a comfortable 15-0 lead.
Lindsey then scored the last run of the outing in the next inning as Martinez grounded into a double play.
The game was called in the sixth by virtue of the mercy rule.
Starter Sam Russell picked up the win after throwing four-and-one third innings. Russell gave up just three hits and recorded four strike outs in the shutout victory.
Sul Ross and University of Dallas start off the season at 1-1. Sunday's rubber match and series closer between the Lobos and Crusaders begins at 1:00 p.m.