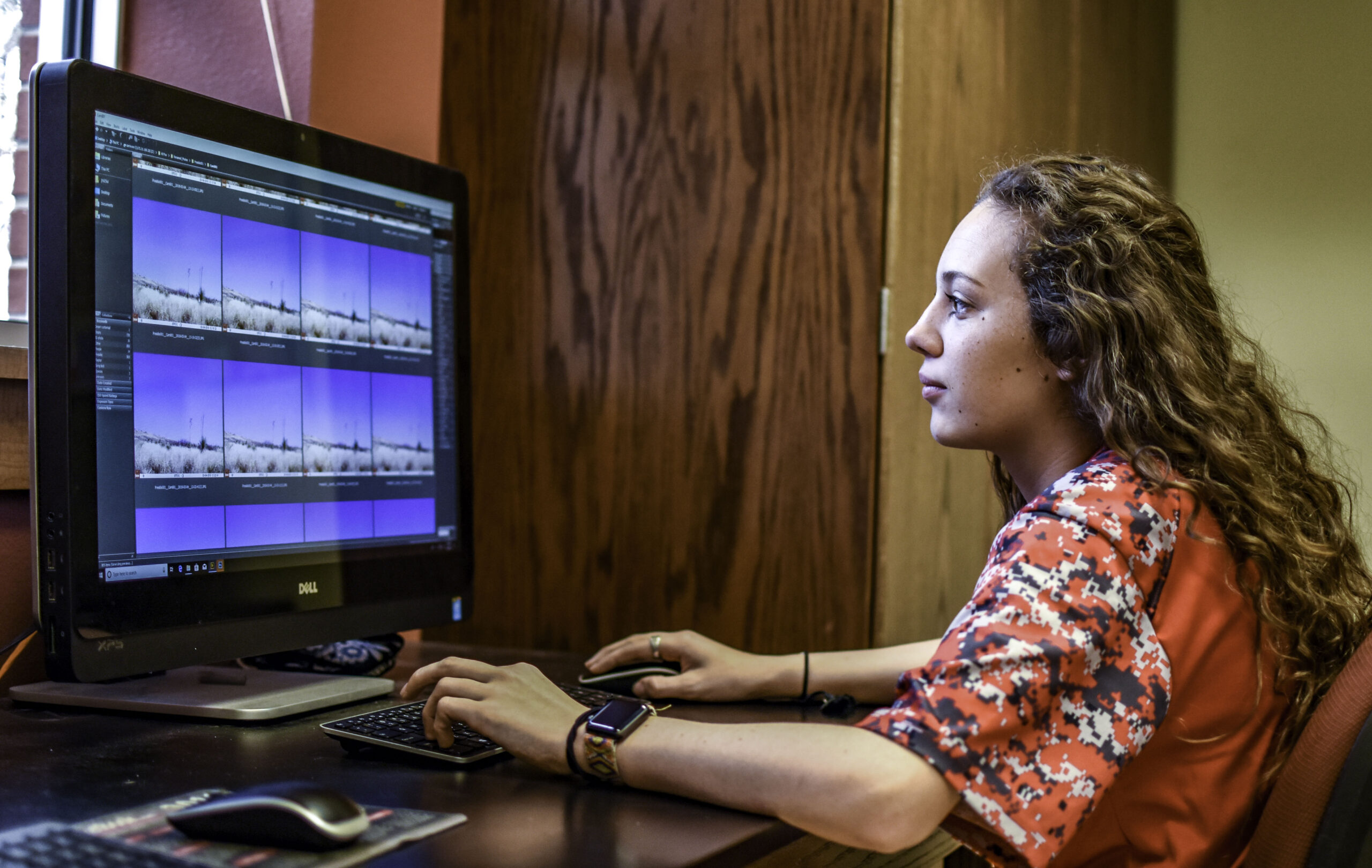 Posted by

Categories

Features

Date

October 9, 2018
• by Paul Slocumb •
Since the early 1990s, scientific researchers (and less-scientific Sasquatch hunters) have used infrared-triggered camera traps as a low-cost tool for recording animal activities at all times of the day and night; however, today's motion-activated devices can also trap researchers in the lab with millions of digital photos to view, label, and sort.
Sul Ross State University senior Julie Schmidt recently looked for a way to increase the efficiency of such camera-trap photo analysis as one of nine undergraduate researchers in the fourth annual Borderlands Research Institute Undergraduate Mentorship Program (BUMP).
Schmidt's project, Evaluation of a Technique to Eliminate Excessive Data in Camera Trap Surveys for Mesocarnivores in the Marfa Grasslands, Texas, was specifically designed to increase photo-analysis efficiency in BRI researcher Matt Hewitt's kit fox study.
"In the kit fox study, we are using 14 cameras spread out over two private ranches in northern Presidio County, and this gives us nearly 97,000 photos over a 13-day collection period," noted Schmidt.
Once those photos are downloaded, the monumental task of viewing, labeling, and sorting begins.  The kit fox study alone has already generated nearly three million images since March.
"If you've ever sorted through photos, you know that's a lot of photos.  And if you've never sorted through photos, that's even more photos than you think it is," said Schmidt. "Camera trapping is a really non-invasive way to gather a lot of different data, for example, abundance estimations and species identification.  But the buildup of excessive photos can be a major drawback."
A common type of excessive photo encountered by Schmidt was caused by the Marfa grassland grass itself.  Wind moving blades of grass triggered the camera trap's motion-activated sensor and created work for the research staff, but not necessarily useful data.
"We have a large number of photos with no animals present, just grass moving," said Schmidt.  "We might have one thousand consecutive photos of just the grass."
To reduce the time spent analyzing such photos, Schmidt wanted to see if most daytime images could be eliminated without losing any pictures of the medium-sized carnivores that BRI researchers are studying.
"Mesocarnivores like the skunks, badgers, and foxes found in West Texas, are either nocturnal (active at night) or crepuscular (active around sunrise and sunset).  So daytime photos should not be useful in mesocarnivore studies," she said.
To account for changes in sunrise and sunset times over the study's months-long timeframe, researchers defined "daytime" as 10 a.m. to 4 p.m.  Schmidt's BUMP project found that more than 86 percent of the photos generated by the kit-fox-study camera traps were those daytime photos.  And graphs generated using the photo-analysis software camtrapR confirmed that eliminating the daytime photos would not result in lost mesocarnivore data; all of the species detected were present in non-daytime photos.
According to Schmidt, the time savings made possible by her BUMP project have been significant.
"Before eliminating the daytime photos, it would take me about 24 hours to sort through 97,000 images, but getting rid of that 86 percent meant I only had about three hours of sorting," she said.  "And going from 24 hours to three hours makes a huge difference on a research project like this."