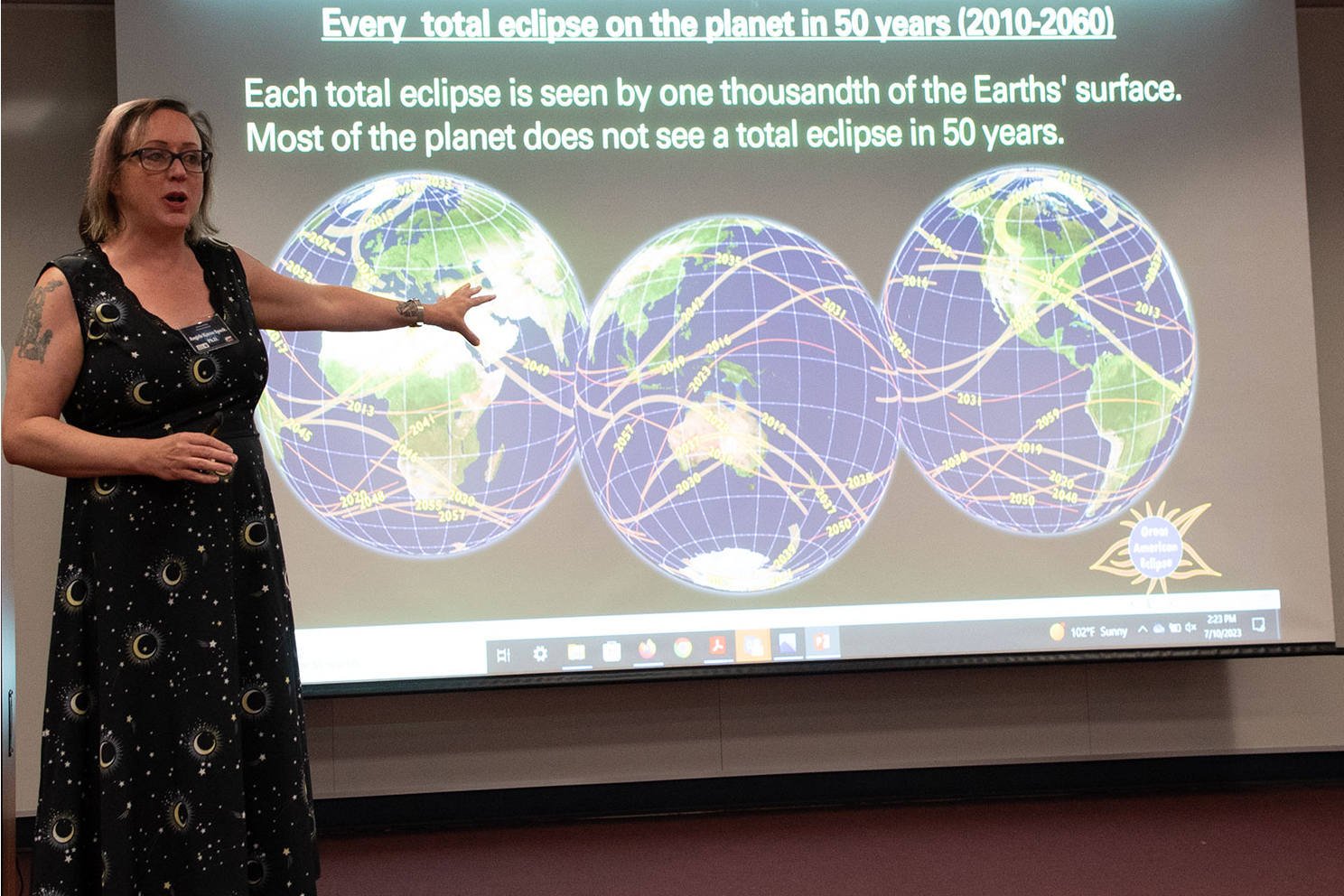 Approximately 100 educators, STEM (science, technology, engineering, and math) leaders, and students in STEM from across the Middle Rio Grande region and beyond joined the Noyce en la Frontera 5th annual STEM literacy conference on July 10 on the Sul Ross State University campus in Uvalde.
Lama Loubani, a Noyce scholar at the University of Houston, opened the conference by sharing an inspiring account about persistence and resilience. Her father, seeking a better life for his family, moved them from Saudi Arabia to the U.S. where he had finished his master's degree. Coming to the U.S. as a sophomore international student, the school enrolled Lama lower-level classes. She felt mistreated and misunderstood, except for two teachers who supported her and her ambitions. Right before she graduated high school, her beloved father passed away from COVID-19. She started pre-med at the University of Houston, but then discovered her love of teaching, and will graduate in December with an English degree and teacher certification. Lama said she learned from her obstacles and empathizes with others, stating that no one's journey is easy.
Dr. Maria Kazachenko joined the meeting via Zoom from the University of Colorado in Boulder to share some of the science behind solar eclipses, using straightforward graphics to illustrate complex ideas.
Dr. Jeanne Qvarnstrom of Sul Ross, Christine Foley of Southwest Texas Junior College (SWTJC) and a Noyce mentor, and her mentee, Jose Gloria, discussed the magic of mentoring and how it benefits both participants.
Dr. Tandra Tyler-Wood presented eye-opening research regarding women in STEM occupations, explaining many women in the field are in nursing or education. She also showed research regarding how to get girls interested in STEM and offered educators free resources they can use in their classrooms to engage students.
Individual sessions featured current SRSU Noyce Scholars including Andrea Rivera and Gisella Rodriguez presenting Universal Design for Learning and Darissa Cervantes presenting "My Mathway to Success," her personal higher education journey. Sul Ross Title V Director Joseph Olan discussed his research "Succeeding at Work: Social-Emotional Intelligence in the Workplace" while SRSU business professor, Dr. Tom Matula, presented Space Habitats and STEM Education. Olivia Guerrero-Rish of SWTJC explained how they empower STEM students through a program, "First Year Experience."
The closing keynote speaker, Dr. Angela Karen Speck of the University of Texas at San Antonio, brought excitement with her presentation "Eclipses over the Texas southwest in 2023 and 2024," using graphics in a slideshow to discuss the Oct. 14, 2023, annular eclipse and the April 8, 2024, total eclipse that will both be visible in parts of the Middle Rio Grande area. She also offered free resources to educators to incorporate the two events into their classrooms and distributed solar eclipse glasses to attendees.