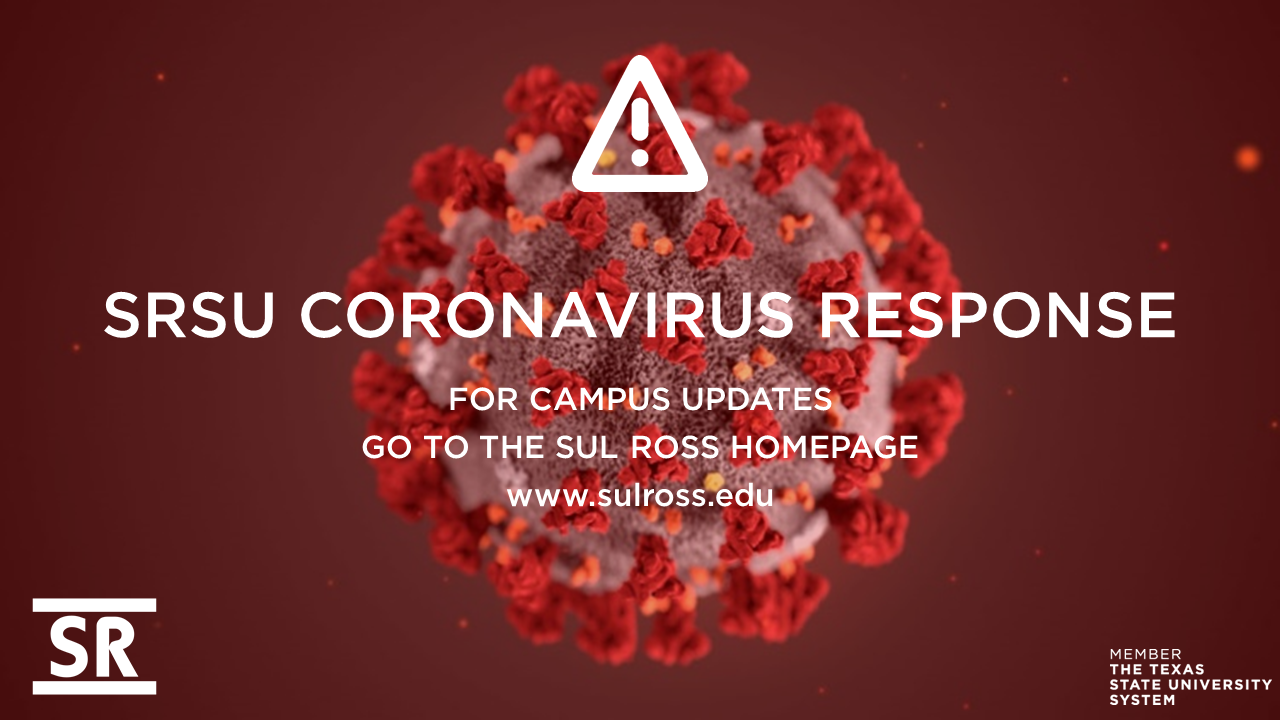 Posted by

Categories

News

Date

March 25, 2020
As of March 23, 2020, Val Verde County (Del Rio Campus) issued a shelter in place order. This order requires all non-essential business personnel to remain at home to follow the "Stay Home, Work Safe" edict. Sul Ross State University will continue to comply with the order by taking the following actions for the Del Rio Campus:
1. Since March 17, 2020, all university buildings were closed to the public with only a few employees working in university offices. Our buildings will remain closed to the public until further notice. Employees should provide services through remote delivery including: phone calls, emails, or video conferencing.
2. Effective March 24, 2020, the university identified the following offices as essential to continue business operations. Employees in these areas are permitted to work on campus, if remote work is not feasible and must follow CDC guidelines for social distancing and safe work habits to prevent the spread of the virus. SWTJC assured us that their custodial services are taking precautions to maintain clean offices, but you should remain vigilant and protect yourself.
a. Admissions
b. Financial Aid
c. Communications and Marketing
d. Student Services
e. Business Services – Employees in this area and employees who submit forms to this area may fall under this category. For example, employees who regularly process requisitions, travel, employment documentation for their department are considered essential to business operations.
f. Academic Affairs including Advising and Faculty Instruction
g. Information Technology Services
3. Also, effective March 24, 2020, essential personnel are encouraged to work from home, some may receive university equipment (laptops) to continue job functions. If employees in these areas are hindered by technology issues like limited or no internet service at home, they should contact their supervisor to discuss alternative options.
4. All other university functions not included in the essential business operations list will be put on hold until further notice. Employees in those areas will continue to receive emergency leave until further notice.
5. Student Employees and Temporary Employees have received additional instructions through their official Sul Ross email. The University is committed to paying these employees until the last week of classes or as authorized by the department.
The situation continues to change rapidly and requires quick and deliberate actions to address the challenges. Thank you for your patience and understanding. Check the SRSU COVID-19 Response page frequently for updates: srinfo.sulross.edu/COVID-19/.