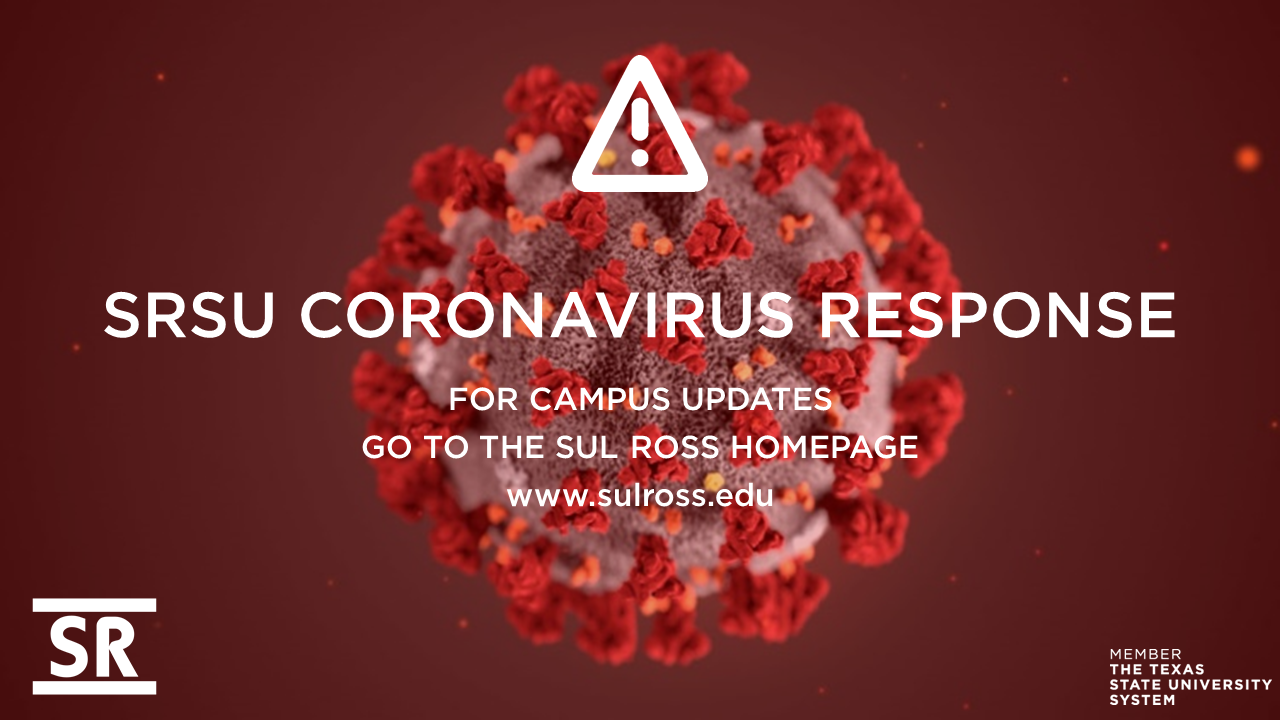 Posted by

Categories

News

Date

June 14, 2020
My policy is to be transparent, always. To that end, I am providing all of you with the following information.
Recently, Alpine received news of a handful of positive COVID-19 cases. According to the Texas Department of State Health Services (DSHS), this now brings our total to eight cases. Though this is not welcomed news, I am told that the individuals involved are all now self-isolating at home. DSHS is working to contact those who may have had contact with the individuals who tested positive.
As I write this, no patients have close ties to the university itself. However, Alpine is a small and close-knit community. It is not inconceivable that the university could have its first COVID-19 case in the near future. For now, our campus remains closed to the public. Employees on campus will notice limited or no access to buildings and hand sanitizing stations at or near all building entrances.
Our plans do not stop there. Over the next several days, we will be receiving shipments of sneeze guards for use at various locations. We will also be receiving a shipment of infrared thermometers so that we will have the ability to measure the temperatures of individuals on campus.
We continue to encourage our employees to WEAR A MASK or other face covering both on campus and off. The mask or face covering should cover both nose and mouth. As I often say, "If you don't like the mask, you really won't like the ventilator."
The health and safety of our students, staff and faculty is our priority. Thus, we continue to fine-tune our anti-COVID-19 "Safe School, Safe Students" prevention plans.
We receive new information almost daily from health professionals as well as federal, state, and local authorities. Our response plans must remain flexible to allow for changes in circumstances.
This past Friday, the CDC issued new guidelines for the summer. These guidelines revolve around the same core principles: (1) respect individual space (2) wash your hands regularly and (3) use face coverings.
For everyone except staff now assigned to the physical plant, working remotely from home remains acceptable.
For all faculty and staff coming on campus, please follow these simple and basic recommendations while you are here:
Wear a mask or other face covering while on campus;
Wash your hands frequently for 20 seconds with soap and warm water;
Use the hand sanitizer with 60% alcohol-base found at or near entrances and exits;
Avoid touching your eyes, mouth, and nose;
Avoid close proximity to those who are sick;
Clean surfaces before and after use;
Maintain social distancing, at least 6 ft (two arms' lengths) away from others;
Cover your face when sneezing or coughing (but not with your hands); and
Dispose of tissues properly.
PLEASE STAY AT HOME IF YOU ARE SHOWING SYMPTOMS OF COVID-19.
We hope for a successful and speedy recovery for anyone affected by this virus. As we continue through these trying times, I ask everyone to do their part and to act responsibly. Together, we can stop the spread.
I will be sure to keep you updated as things progress.
Pete-
Pete Gallego, President