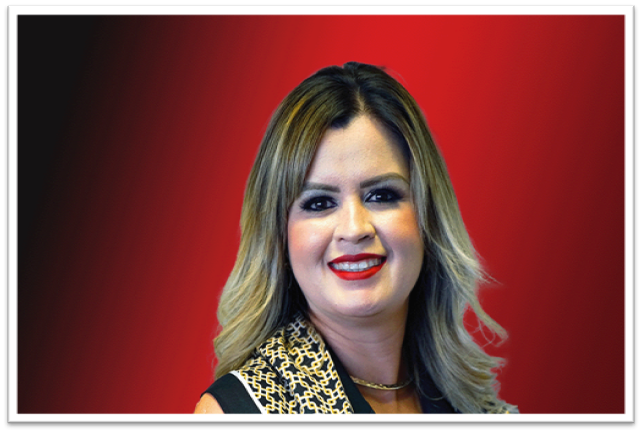 By Laura Nelson
Eagle Pass, Texas—Cynthia Gómez, a 17-year veteran of the Sul Ross State University Rio Grande College Small Business Development Center, received her third State Star for the South West SBDC network, which earned her a Lifetime Achievement Award.
Ten SBDCs with 140 total advisors compete in the annual State Star competition in the South West region. Each center nominates its top advisor based on economic development goals such as jobs created and retained, business start-ups and expansions, business loans funded and equity, the advisor's productivity, and the number of long-term clients served. Gómez turned in amazing numbers during fiscal year 2021, including 106 jobs created and 239 retained, 63 total businesses in the "bought/started" category plus expansions, 99 total loans and equity and one award, which added $3,858,033 to the economy of Eagle Pass.
Gómez pointed out that her satisfaction at work comes from helping her clients, not winning awards. She said that, especially during the first year and a half of Covid, her clients needed help keeping their small businesses open and their staff employed and helping them was something close to her heart. She also enjoys working with Mexican nationals who want to set up in the U.S. once they secure the necessary visas and other paperwork.
A native of Eagle Pass, Gómez started working for Rio Grande College as an adjunct instructor in the Business Department after earning a Bachelor of Business Administration in finance and a Master of Business Administration, both from Texas A&M International in Laredo. She also worked at the Kickapoo Lucky Eagle Casino in the accounting department. When she learned of the Business Advisor position with SBDC, she applied and was hired.
In addition to working full-time as an SBDC Senior Business Advisor, Gómez is also a realtor and helps her husband with his construction business. With two sons, ages 10 and 6, and a daughter, 4, the family enjoys ball games, dance recitals and school events. Mom stays centered by setting aside an hour every day to exercise and work off stress.
Gómez gives credit to the SBDC support staff and Sul Ross State University SBDC Executive Director Elizabeth Peña. She said that while Peña expects much from her employees, she also provides a solid foundation, plenty of support, and flexibility to her hard-working staff.
Peña said, "Business advising is not always easy, but Cynthia always makes it look easy. Her clients always have great things to say about the quality of the advising Cynthia does with them. Cynthia has been instrumental in many client success stories which reflect her love for what she does. The Lifetime Achievement award is well-deserved and very competitive, which makes it even more special that Cynthia has won the State Star award three times. I want to thank Cynthia for always being a team player, mentoring everyone on the team and being my sounding board when I make critical and important decisions."
The love for her work will keep Cynthia achieving on a high level, meeting her goals and supporting her co-workers. Congratulations, Cynthia!
Watch a video honoring Gómez here: https://www.youtube.com/watch?v=zl_3UTGYcCY
###