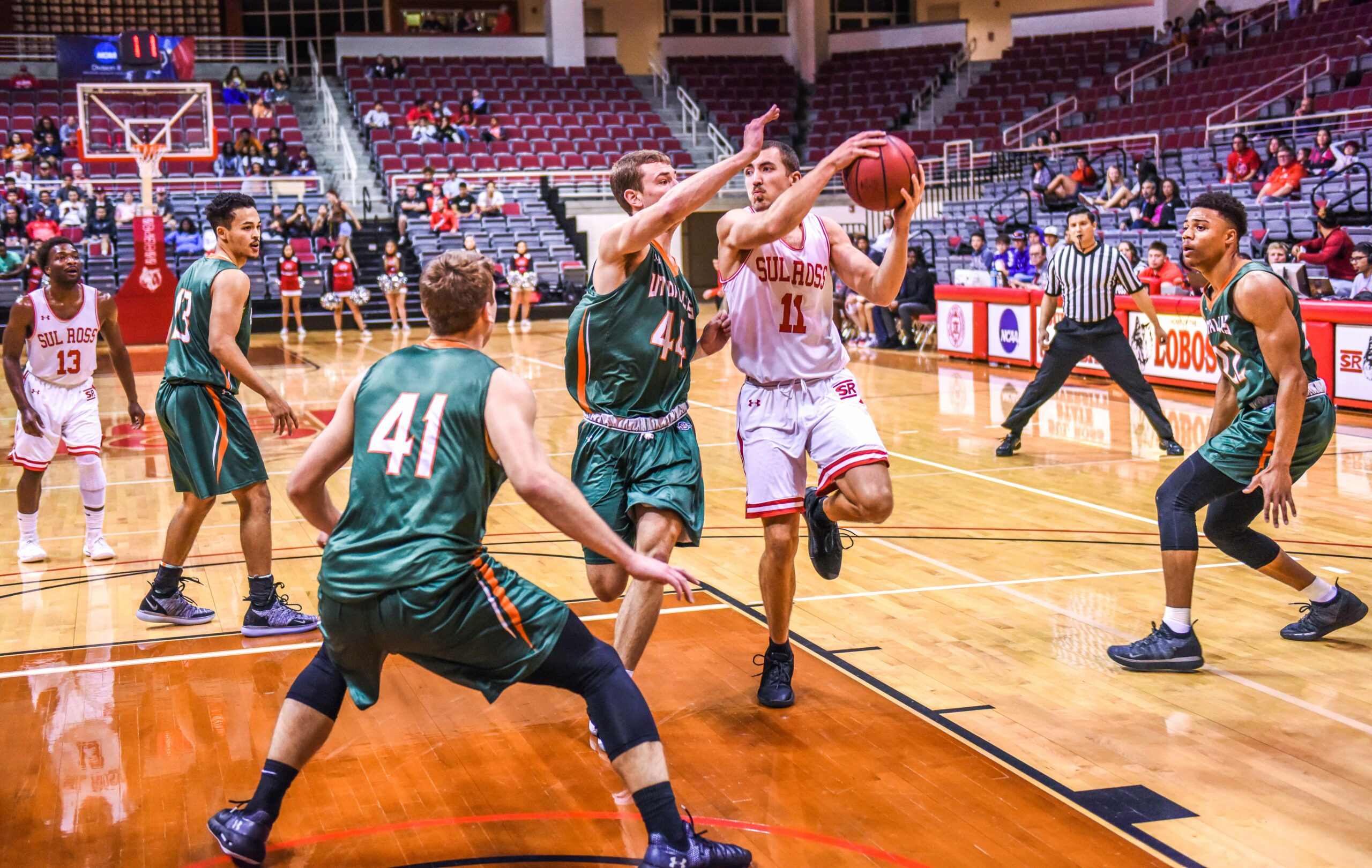 Posted by

Categories

Sports

Date

December 9, 2018
• by Travis Hendryx •
MARSHALL, Texas- The Sul Ross Lobo men's basketball team fell 73-68 to East Texas Baptist University in an ASC shootout Saturday at Ornelas Gymnasium.
Sophomore guard Tristen Licon registered 18 points in the effort while B.J. Hollis and Conner Dawson posted 17 and 14 points respectively.
Sul Ross jumped out to a 6-2 lead to begin the contest. A layup by the Tigers' Jarel Taylor gave the home team a 7-6 lead with 16:30 left in the first half.
The two teams swapped leads over the next four minutes before East Texas Baptist mounted an 11-0 run to take an 18-9 lead with 12:28 left before the half.
Sully fought its way down to a five-point deficit off a pair of free throws by Dawson at 3:49.
The visitors closed the gap and ended the half with a layup by Jack Kirkpatrick at 11 seconds to tie the contest at 38 heading to the break.
B.J. Hollis nailed a step-back jumper and a three-point bucket on back-to-back possessions for a 43-38 Sul Ross advantage at the 18:45 mark, second half.
Sul Ross took another five-point lead at 17:44 off a Licon layup at 16:32 as the Lobos would hold a tight advantage for the next three and a half minutes.
A three-point bucket by ETBU's Nathan Fontenot gave the Tigers a three-point go ahead, 54-51 with 13 minutes left in the game.
ETBU would go on to lead by seven down the stretch before another Licon layup at 52 seconds pulled Sul Ross to within one, down 67-66.
East Texas Baptist would never relinquish the lead, however and ended the game on a free throw by Robby Dooley for the the 73-68 win.
The Lobos fall to 1-5 on the season and 0-3 in ASC play while the Tigers bump their overall mark to 4-2 and 2-1.
Sully will host Belhaven University next Thursday at 7:30 p.m. from the campus of U.T. Permian Basin in Odessa.