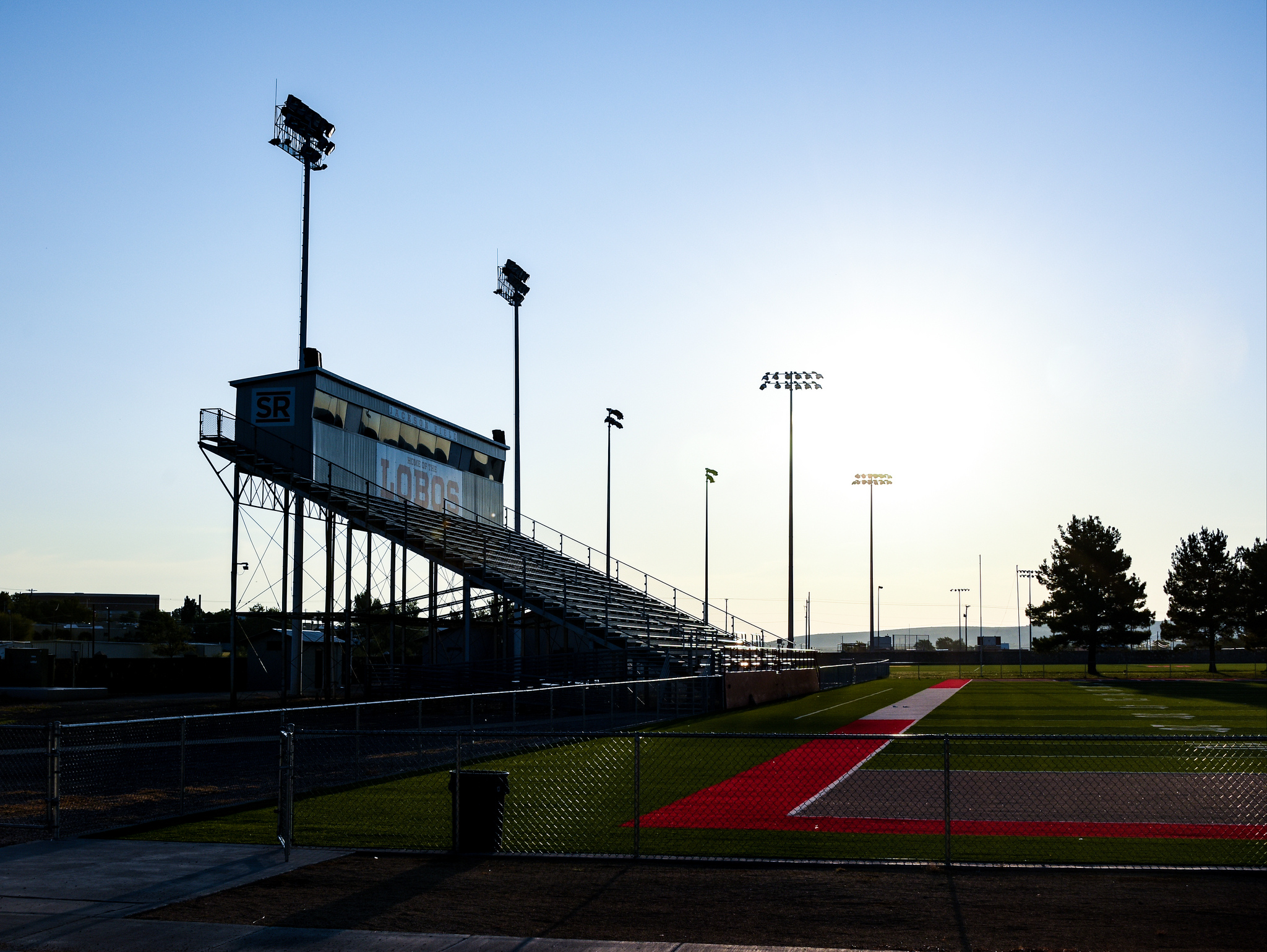 Posted by

Categories

Sports

Date

August 8, 2018
• courtesy of Travis Hendryx •
Sul Ross Football will begin Fall Camp on Thursday, August 9.  The Lobos will hold a pair of scrimmages Saturday, August 18 and 25.
Sul Ross will host Texas Prep at 6:00 pm in the August 18 scrimmage before holding the annual Red and White Scrimmage the following Saturday which is tentatively scheduled for a 7:00 p.m. start.
The Lobos are coming off a 5-5 season (4-5 ASC) in 2017 and began and ended last year with victories.
Sul Ross opened the 2017 slate with a 47-22 victory over NCAA Division II U.T. Permian Basin before dropping a 23-7 ASC-opening decision to 2016 National Champions University of Mary Hardin-Baylor following an off week.
The Lobos then opened the home season with a 35-7 win over McMurry before a 34-31 edging of host Louisiana College the next week.  Sul Ross then suffered back-to-back setbacks at Southwestern and at home against Hardin-Simmons in scores of 29-27 and 35-10.
Following a 52-15 victory at Howard Payne, the Lobos fell in their final two home games of the season to East Texas Baptist and Texas Lutheran by scores of 42-28 and 40-14.  Sul Ross then capped the season with a 34-27 victory at Belhaven.
Sul Ross finished up Spring Ball with 56 players and fifth-year head coach John Pearce noted the impact last year's graduating class had on spring turn out.
"Our numbers for Spring Ball were down a little this year," Pearce said.  "But when you have 23 seniors in a program like ours, you're going to feel the impact a little during the offseason."
"We have about 10 guys who are late comers who weren't able to participate in the offseason so around 66 potential returners currently on the roster," said Pearce.
Pearce added that this year's recruiting class looks promising with over 100 prospects.
"Those are over 100 players who want to be here," said Pearce.  "As a coaching staff, we just have to make sure that they make their way through the application process smoothly and follow all the way through to fall enrollment."
One of the primary areas of focus for Pearce during the offseason was the defense with the addition of new defensive coordinator Michael Vite.  Vite replaced Kyle Williams who is now on the coaching staff at U.T. Permian Basin.
Vite served as linebacker's and special teams coach at Florida A&M University for three seasons before arriving in Alpine.
His linebacker corps led the teams in tackles in 2017.
While at FAMU, Vite rebuilt the team academic standard in facilitating the graduation of more players than in previous seasons.
Vite's linebackers also led the team with the highest GPA.
"We really hit a home run with coach Vite coming on board," said Pearce. "His years of experience will bring a positive impact on our defense and our program overall, not just from a football stand point but also from an academic."
"Our defensive guys are learning an entirely new scheme," said Pearce. "Really it's just learning a lot of new terminology and methodology that goes with a new system," he said.
Jacques Wisner and Derrick Winters will return to lead the linebacker corps and a senior-depleted backfield in 2018
Wisner tallied 70 tackles in 2017, good for a third team-best and registered five stops for a loss of 20 yards.
Winters led the team in interceptions with four and nailed down a second-team high eight breakups.
The defense will be without the services of All-American lineman Zach Roberson. A 2017 ASC First Team All-Conference selection, Roberson finished with 57 tackles (37 solo/20 assists) and tallied a team-best 5.5 sacks for a loss of 24 yards.
First team All-ASC linebacker Mike Quinonez also finished up his collegiate career in 2017. Quinonez led the Lobo defense last season with 94 tackles (57 solo/37 assists) with 30 stops for loss of yards. He recorded a second team-best 3.5 sacks for a loss of 18 yards. Quinonez also posted a forced fumble.
The offense will return three key members from last year's squad.
Wide receiver Byron Jones returns for his senior campaign in 2018. Jones, a 2017 ASC Honorable Mention, grabbed a second team-high 36 receptions for 537 and six touchdowns.
Jordan Batson is back for his junior year and could possibly see action at a fullback/running back combo. A 2017 ASC Second Team All-Conference selection, Batson posted a second team-best 417 yards and two touchdowns off of 87 rushes.
Senior and ASC Honorable Mention Montay Harris returns to the front in 2018.
Tight end Steven Savedra put the wraps on his Lobo career last season. A 2017 ASC First Team All-Conference choice and a  2017 D3Football.com All-South Region honoree, Savedra led the team in receiving with 34 receptions for 593 yards and six touchdowns.
2017 ASC Second Team All-Conference quarterback James Davis also concluded his Sul Ross career last year. Davis ran for a team-best 506 yards off of 101 carries and six touchdowns. Davis also completed 127 of 239 passes for 1818 yards and 14 scoring strikes.
Sul Ross will open the 2018 schedule on the road at Arizona Christian University September 1. Seven of Sully's 10 games this season will be played under the lights.
"We have five home games this year and there all at night," said Pearce. "This is really about our community and fan experience and when we're playing under the lights it just adds to that nostalgia of football in West Texas"
Following an open week on September 8, Sully will begin American Southwest Conference play at Jackson Field against ASC powerhouse University of Mary Hardin-Baylor September 15 at 6:00 p.m.
Following a 6:00 p.m. outing at McMurry on September 22, Sul Ross will hold Parent's Night September 29 with a 6:00 p.m. kickoff against visiting Louisiana College.
The Lobos will then host Southwestern University October 6 at 6:00 p.m. for Pink Out Night in honor of Breast Cancer Awareness Month.
Sul Ross then hits the road October 13 for a 1:00 p.m. kickoff at Hardin-Simmons before celebrating Homecoming October 20 as Howard Payne visits Jackson Field for a 6:00 nightcap.
Sully will visit East Texas Baptist and Texas Lutheran October 27 and November 3 for 2:00 p.m. and 1:00 p.m. contests before closing out the season at home November 10 against Belhaven University.
Kickoff is slated for 6:00 p.m. as the Lobos celebrate Law Enforcement/Veterans Appreciation Night and Senior Night.