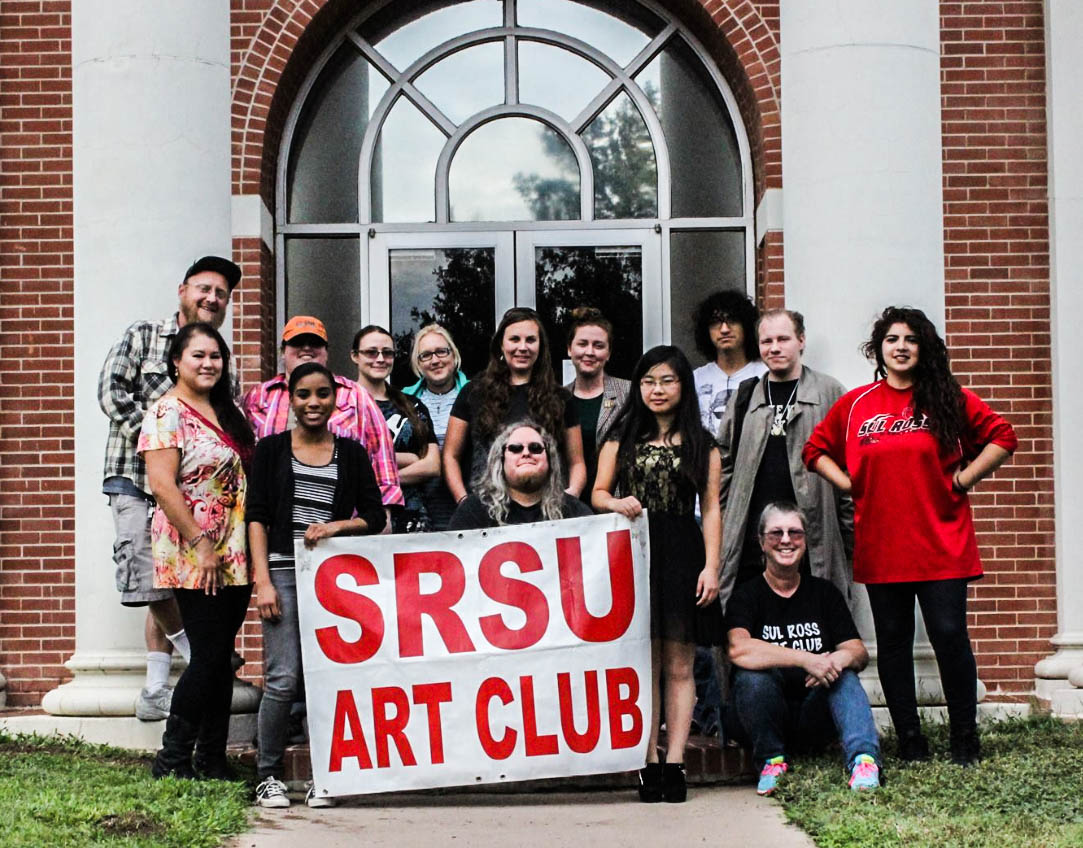 by Shawna Graves, Office of Public Relations
Sul Ross State University Art Club members are painting a mural in downtown Alpine as part of a Harvest Moon weekend sponsored by Alpine Downtown Association and City of Alpine on Friday, September 13.
The mural will be painted in the alley between 5th and 6th Streets accompanied by live street music beginning at 6:00 p.m. Other festivities include live music and gallery receptions throughout downtown.
The mural was designed by Art Club Sponsor and Fine Arts Professor Carol Fairlie with input from Downtown Association members, and portrays a landscape in the 1940s regionalist style.
It will be bookended by two smaller insets. One inset memorializes the Museum of the Big Bend with an image of the historic museum building and brief inscription of its history.
The other inset makes note of the Alpine Art Colony active through summer art sessions at Sul Ross from 1932 to 1950.
The Colony brought artists to Alpine for one or both summer sessions to focus on landscape, portrait and still-life. In the beginning, it was part of the only teacher certification program offering art instruction in the state.
The fee for the first session, including field trips, was only $25. Students could attend for credit or personal development, as professionals or non-professionals.
In addition to the scenery, people were drawn to the area because of milder summer temperatures in a time before air conditioning. Sessions included frequent Big Bend field trips to paint in open air.
"Alpine has been doing fine, en plein air art for a long time," commented Museum of the Big Bend Director Mary Bones, who is responsible for compiling much of the history about the Art Colony.
The Colony became known as the premier place to learn from great Texas artists during the 1930s and 1940s, Bones noted.
Xavier Gonzalez was an award-winning muralist and instructor at the Colony from 1933 to 1939. He was quoted as saying, "I believe that everyone, from the business man to the cowboy, is an artist at heart and little by little they are beginning to realize it. It is impossible to be surrounded by the most spectacular landscapes in the world without being touched by the desire of putting it on canvas."
Many professors have taught mural painting since the days of Gonzalez, including Fairlie. Her latest collaboration continues the legacy of making Big Bend inspired art, popularized by the Art Colony.
Art Club members have participated on many other murals throughout town, including at the old library and the municipal swimming pool.
In 2017, the Club helped paint a colorful desert scene designed by Amanda Calhoun on the water tank at Kokernot Park as part of a collaboration with Keep Alpine Beautiful and Big Bend Arts Council, and sponsored by Union Pacific Railroad Foundation.
The Club has also donated their time and skills to public service projects, painting Food Pantry donation bins across area grocery stores.