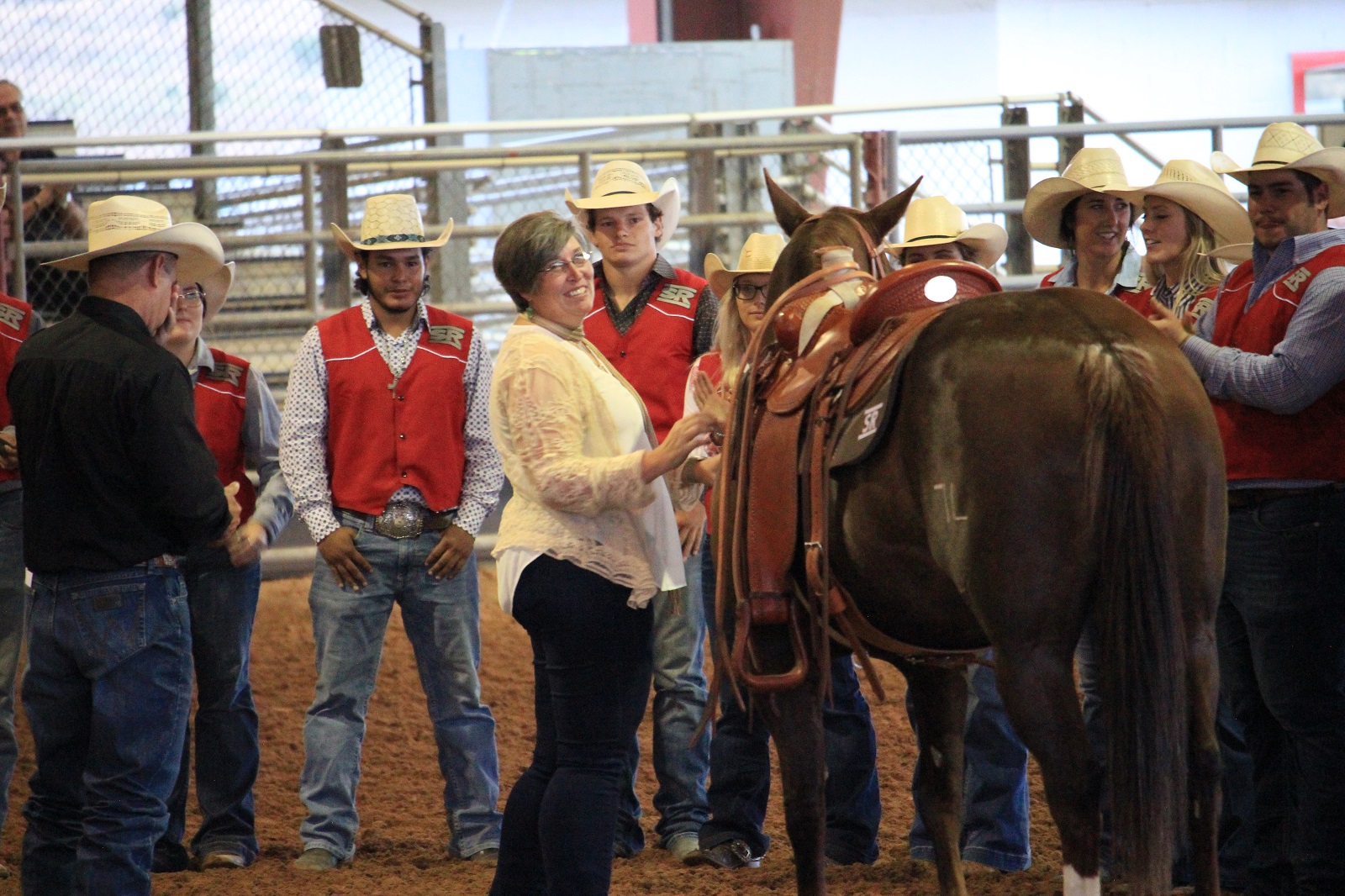 by Shawna Graves, Office of Public Relations
Sul Ross State University Dean of Agriculture and Natural Resource Sciences (ANRS) Bonnie Warnock, PhD, received the surprise of her life at a rodeo exhibition at the S.A.L.E. Arena August 22.
The rodeo was for visiting Texas State University Board of Regents and featured the Sul Ross rodeo team in eight events.
Before the performance, students from the College of ANRS gathered in front of the audience to surprise Warnock with a beautiful Quarter Horse named Zoe.
It was such an unexpected gesture, that Warnock blanked out and doesn't remember how she got on the mare for their honorary lap around the arena.
"I was so overwhelmed and surprised," she said.
Warnock grew up on a horse. "I've had a horse since I was four years old until 2011," she explained.
For the past eight years she held off on getting another one. "I didn't need one," was her self-restraining logic.
Perhaps part of Warnock's reasoning was so she could put students first. It's no secret that she makes excellence in teaching a priority.
Warnock is the Clint Josey Endowed Chair for Sustainable Ranch Management, a multiple-time recipient of outstanding teaching awards, has received an Excellence in Ecological Restoration Award and many other accolades.
Besides her own accomplishments, Warnock has mentored many students to academic achievements of their own.
To top it off, Warnock was named Dean of the College of Agriculture and Natural Resource Management in 2018.
Students get to know their Dean in a unique way because she works side by side with them on extracurricular projects.
"Anything she asks students to do, she will do too," Warnock's husband and frequent volunteer on campus projects, Seth Warnock said.
"Students saw her painting the gate, so they jumped in to help. They saw her working on new pens and they jumped in to do the same," he said.
"They just wanted to acknowledge that they see all the things she does that isn't part of the pay. She does it because it's the right thing to do. And she's gone to battle for them for so many different things," he continued.
It's not easy to surprise someone with a 1200-pound animal, especially one that is the right fit.
Earlier this year, friends tricked Warnock into riding Zoe to make sure the pair were right for each other. They had an immediate bond and Warnock asked if she could buy the mare for herself.
She was told the horse was already promised to someone else. After that day, Warnock began looking for a horse but couldn't find one that measured up to Zoe.
She never caught on to the ruse as months passed by and Rodeo Coach CJ Aragon, friends and students pitched in to secretly pay for and house Zoe until last week.
The pair are getting along famously. "Just the other day, Bonnie went to a meeting with horse slobber on her shirt," husband Seth informed.