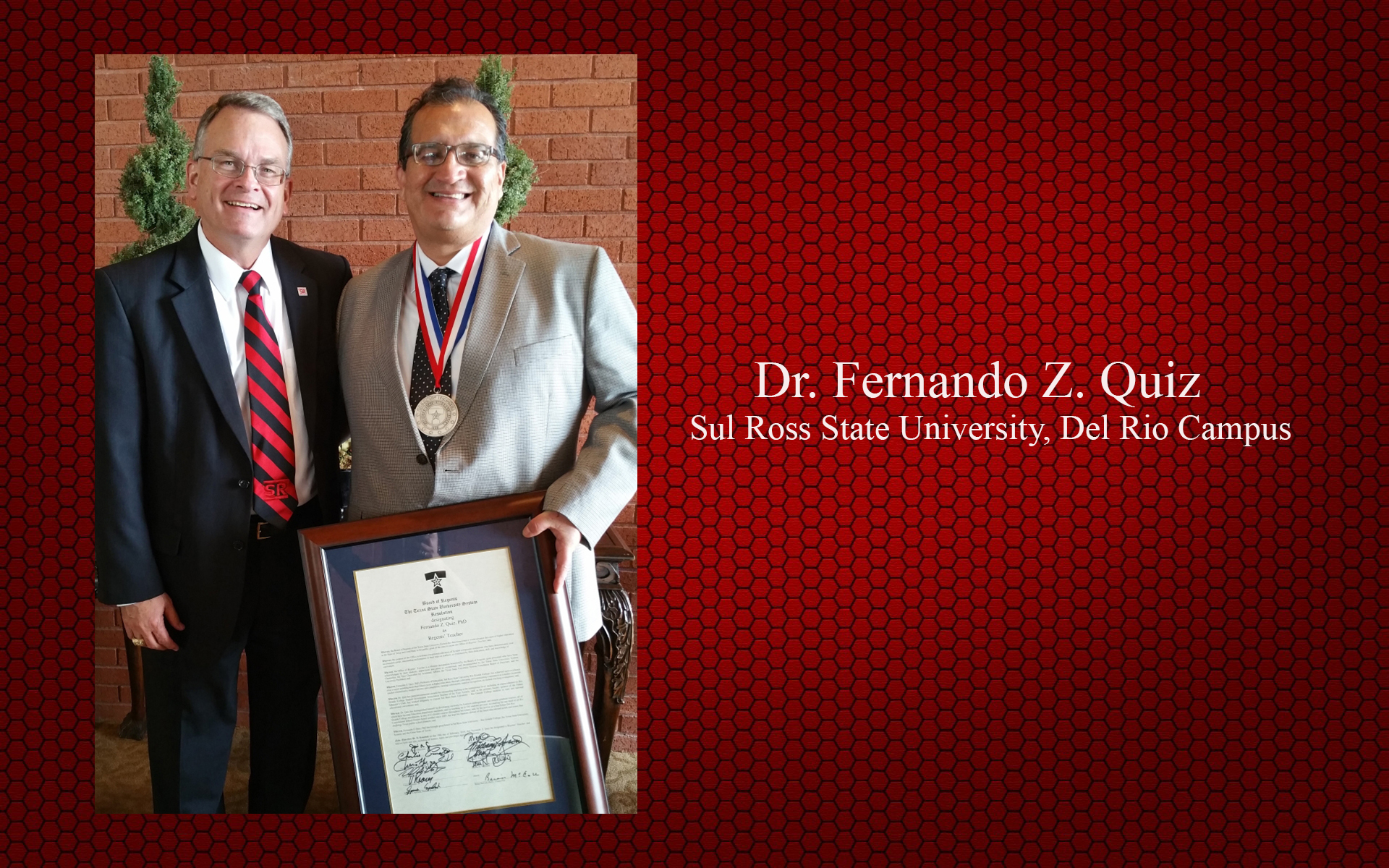 by Laura Nelson, Director of Enrollment Marketing
Sul Ross State University's Dr. Fernando Z. Quiz will retire at the end of May after more than 20 years of service.
A native of Santa Ana, Calif., his family lived in a middle class neighbor in a diverse military community. Fernando and his sisters excelled in the progressive school system there, and in fact, he credits that education with some of his success later in life. Everything abruptly changed when the family moved to Texas and began working as migrants. At the tender age of 10, Fernando helped support the family by delivering the local newspaper and throughout high school, he worked for the national park system and as a lifeguard. Hard work paid off when the family purchased a home in Del Rio.
Following his graduation from Del Rio High School, the young man attended the University of Houston for one year, but the large urban setting and the unfamiliar higher education culture overwhelmed him. He transferred to Texas State Univ. in Marcos where he met his wife, Miriam Muniz, and graduated with a business degree.
He worked in retail food service and his strong work ethic landed him in a general manager position. He and Miriam married and were blessed with a daughter and a son. After a time, the grueling work schedule and time away from his young family led him back to education.
He obtained his teacher certification and taught public school in Houston and Sharyland ISD in Mission before returning to Del Rio as a second grade bilingual teacher. He and Miriam both earned Master's degrees in Educational Administration from Sul Ross Rio Grande College.
In 1997, the couple were selected as Kellogg Fellows for the Hispanic Border Leadership Institute (HBLI) at New Mexico State Univ. The family moved to Las Cruces and lived in student housing while completing their Ph.Ds. in Educational Leadership. The W. K. Kellogg Foundation provided support to prepare Hispanic educators in the Texas/Mexico border region. As part of their education, the pair traveled to Mexico and participated in various national conferences to gain insight and connect with Latino educators throughout the U.S.
The Quiz family returned to Del Rio in 1999 and Fernando went to work at Sul Ross Rio Grande College as the coordinator of the teacher certification program. He worked closely with Dr. Elmer Ireton and the two improved the Teacher Education program and it flourished. The following year, Dr. Quiz joined the teacher education faculty.
As an educator, his commitment to Sul Ross led him to serve as the Future Educator's Club sponsor, taking his students to state and national conferences. He also began the Pre-K college preparation program with San Felipe Del Rio CISD. The program continues today as the youngest students visit the Sul Ross Del Rio campus to start learning about college.
Fernando has served his hometown community in many ways. He coached sports, volunteered for Meals on Wheels, and was an elder at the First Presbyterian Church. While campaigning for his first term to serve on the SFDRCISD school board, he sustained a traumatic brain injury. Although the future looked uncertain, the community rallied behind him and he was elected in 2003 and served three more terms. The pinnacle of his career was being recognized with the 2016 Texas State University Board of Regents Teacher Award.
Congratulations to Dr. Quiz upon his retirement and his 21 years of service to the students of Sul Ross State University in the middle Rio Grande region of Texas.