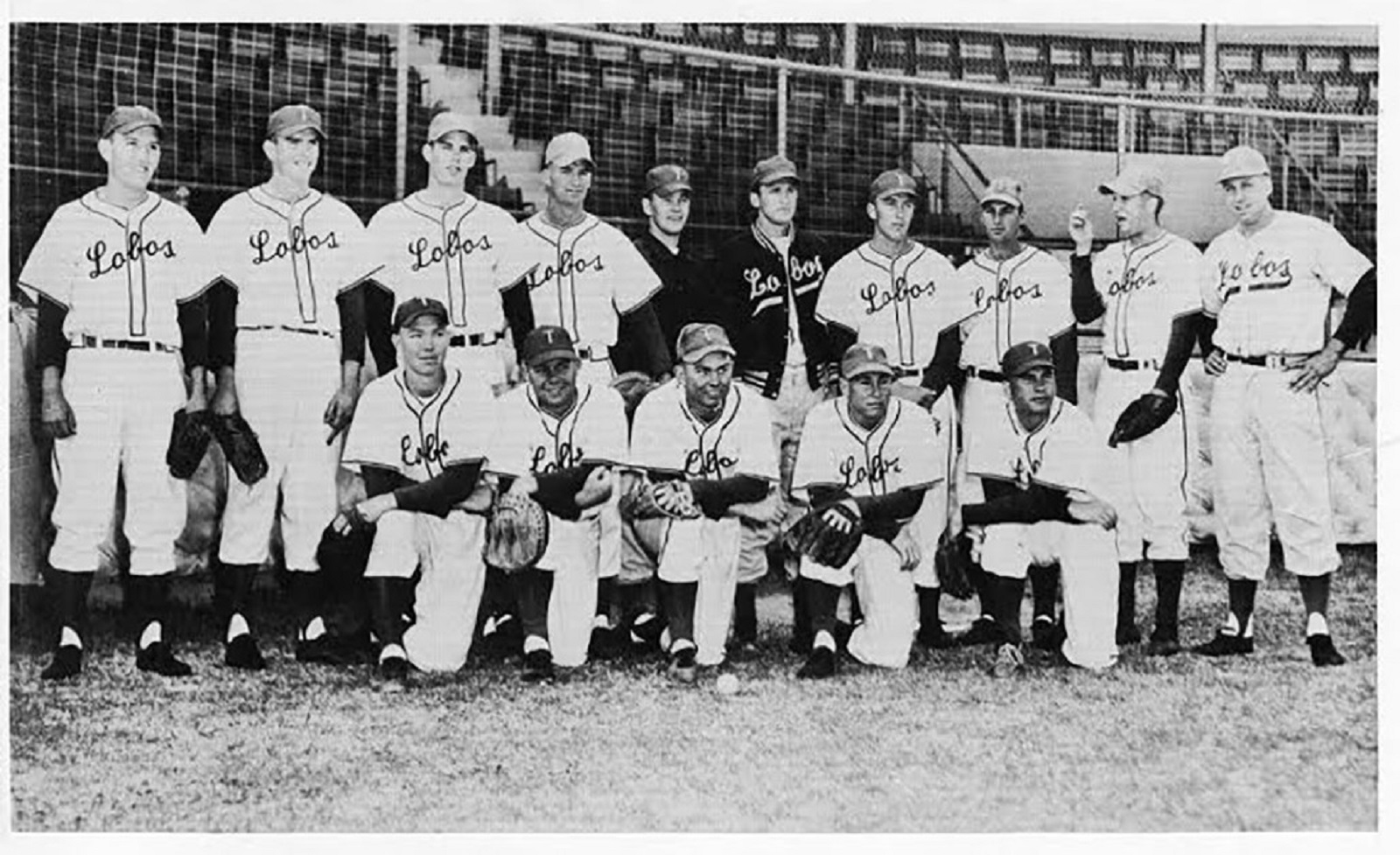 by Travis Hendryx, Office of Public Relations
While a broke down bus would not typically fit into the narrative of a National Championship season, former Sul Ross baseball coach Pete Swain's retelling of the event would become one of many on and off-the-field tales of an historic 1957 run that ended with an 8-7 victory over Rollins College for the inaugural NAIA World Series title.
Swain, a 1999 Sul Ross Athletics Hall of Honor inductee, passed away on Wednesday, July 3 at the age of 91.
In a 2017 interview, Swain recalled the bus mishap following an 0-5-1 season start in California and Arizona against major Division I opponents.
"We left Phoenix after a ball game when the bus driver complained of being tired," Swain said. "So I said 'I'll drive this sucker'. I'd never driven a bus but I hopped behind the wheel and we took off for El Paso."
In a time when commercial driver's licenses were not required to operate a bus, Swain was confident in his driving ability until the team reached the Texas border.
"It didn't take long to get the bus up to highway speed but as soon as we approached El Paso, we were traveling a lot faster than I had thought," said Swain.
"So I hit the brakes a little harder than I had intended and threw everybody out of their seats. It definitely woke everybody," he said.
With just two wins under their belts and a record of 2-11-1 Swain and his Lobos would head into the midpoint of the season with most of their remaining games at Kokernot Field.
The late season home stand proved to be a turning point in a so far frustrating 1957 campaign as Sul Ross won 15 of their last 18 regular season games.
With the 15-3 surge, the Lobos ended the regular season with a record of 17-14-1 including victories over Baylor and Abilene Christian University.
Meanwhile, with efforts led by Swain and Herbert Kokernot, Sul Ross would end up hosting the nation's first NAIA post season tournament.
The Lobos opened the inaugural event with a 9-2 upset over top-seeded William Jewell College (Missouri) before defeating Buena Vista College (Ohio) in an 8-6 decision the next day.
That set the stage for a National Championship bout with Rollins College (Florida).
The Lobos took command early with a 4-0 lead but Rollins rallied with seven runs and held a 7-4 lead in the bottom of the eighth.
Sul Ross plated four runs in the frame to take the go ahead.
Outfielder Paul Feist capped the rally with an RBI base hit but Feist almost cost the Lobos the title earlier in the game.
"We were still leading when Paul misjudged a routine fly ball," said Swain. "That cost us the lead and I was inches from pulling him from the game."
But that patient trait that endured Swain to his players turned the momentum back to the host team as Feist was kept in the game.
The Lobos defeated Rollins, 8-7 thanks to Swain's decision to honor second chances.
"I thought 'I can't do this to him. Not in a National Championship. So I left Paul in the game and he ends up hitting in the lead run which led us to the win. So I was a little proud of not letting my anger get to me when he dropped that fly ball earlier," he said.
"I had the opportunity to visit coach Swain three or four different times," said former Sul Ross Athletics Director Chet Sample.
"He was such a likable human being and very much a player's coach."
Swain was also a college student during his time as baseball coach and Sample noted the slim age difference between Swain and his players.
"He just had a way of getting players to respond to difficult situations and managed to hold them together," Sample said adding the rapid turnaround of the 1957 team.
Swain would go on to receive his Bachelor's and Master's Degrees in Geology from Sul Ross and left baseball and coaching to pursue a career as a petroleum geologist.
Prior to his coaching stint with the Lobos, Swain played for Kokernot's O6 Cowboys and enjoyed a brief career at the Triple A level.
Sixty years after their National Championship, the 1957 Lobos were also inducted into the Sul Ross State University Athletics Hall of Honor.
Swain is the second of two well-known and highly successful Lobo baseball coaches to pass in recent days. Al Ogletree, who led Sul Ross to its last NAIA World Series appearance in 1968, died June 28 at the age of 89.
Funeral services for Pete Swain will be held Tuesday, July 9 at 2:00 p.m. at Nalley, Pickle and Welsh Funeral Chapel in Midland.