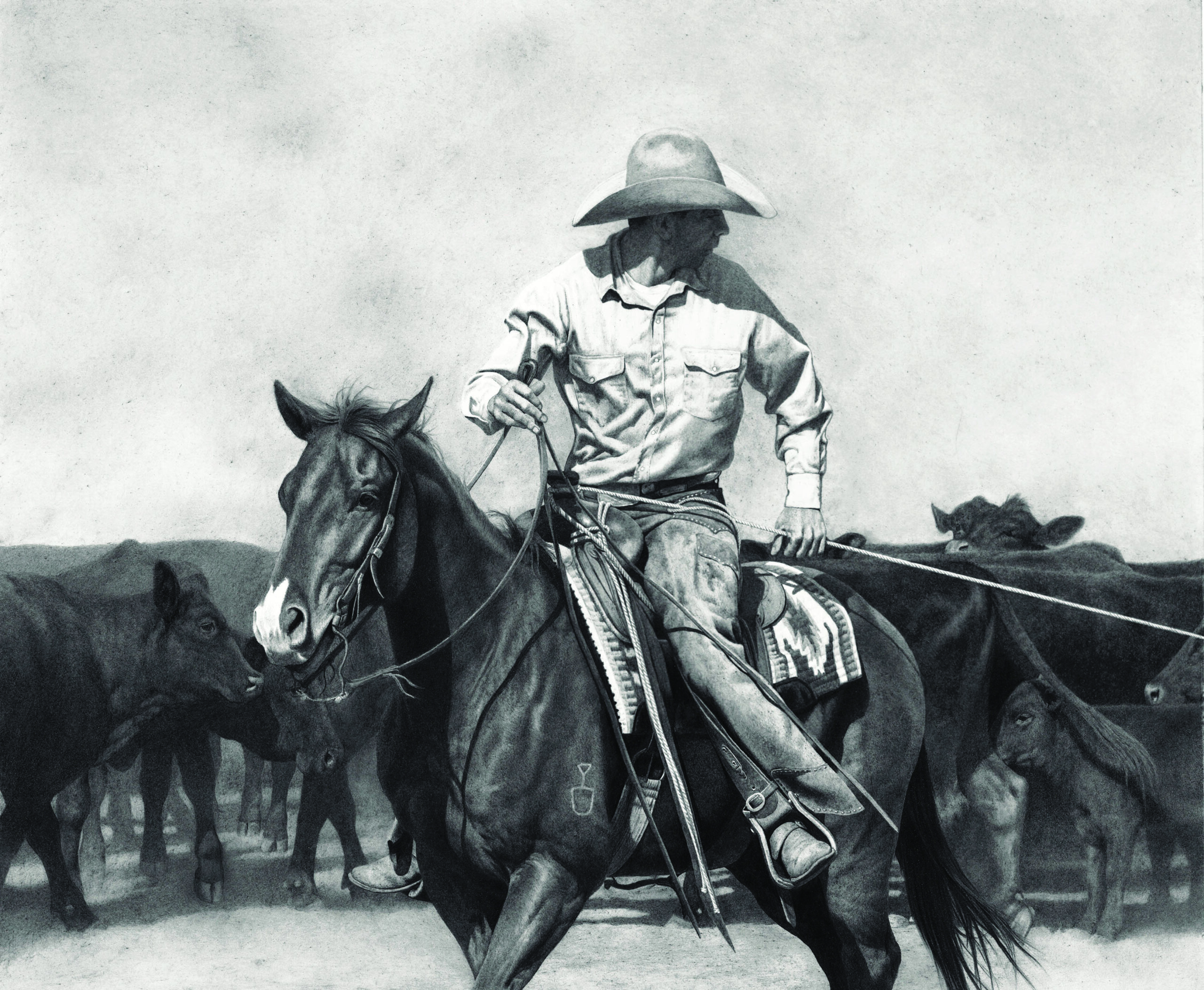 Trappings of Texas runs through August 2
By Brenda Kissko for Visit Alpine
In a time when we're all learning to appreciate a slower pace of life, a beloved Western event offers us the opportunity to engage with true cowboys and cowgirls of our era and obtain our own one-of-a-kind treasures that commemorate an authentic way of life.
Trappings of Texas, celebrating its 34th anniversary this year, is a distinctive event that showcases a combination of both handmade cowboy gear and Western art. It has become a highly-anticipated show that honors the Lone Star State's rich Western heritage, drawing people from as far as Georgia, Florida, New Mexico, and Colorado to the mountains of the Big Bend Region. With the challenges that COVID-19 has posed, the event has moved online this year, expanding the opportunity for anyone—no matter their location—to participate. Trappings of Texas online sale runs through August 2. The show is the major fundraiser for the Museum of the Big Bend, located on the campus of Sul Ross State University in Alpine.
Mary Bones, the director of the Museum of the Big Bend, says the event has garnered a loyal following and a close network of supporters.
"This is a show that really celebrates and showcases works by people that are in the cattle industry, who really know horses, cattle, and the landscape," Bones says. "Our buyers want to support those artists so they can continue to do what they're doing, and at the same time they get these wonderful works of art or these great pieces of gear."
She says Trappings of Texas normally attracts around 250 people opening weekend and 1,250 for the entire run of the show. The shift to online has increased exposure for the event. Just a month in, the online show has had more than 37,000 page views. Another advantage to the digital platform is that new pieces are being added by participating artists as their pieces sell, keeping the show fresh throughout its entirety.
Renee' and Joe Stewart have been driving to Alpine from the Houston area for Trappings of Texas since 2016. Over the years, they've bought 12 pieces and make it a priority to participate every year.
"We support a lot of local causes, but Trappings of Texas is a such a special weekend, held in such a large and beautiful landscape, that it should not be missed," Renee' says. "You don't leave Alpine without making a few friends."
A selection committee invites highly-revered artists to be part of the intimate show. Items for sale range from paintings of cattle drives, Western watercolors on vintage boot shop ledgers, handmade buckles, jewelry, and leather goods. Each piece has a story behind it.
Brian Asher is the 2020 Trappings of Texas Premier Artist. His black and white pencil drawings are so finely detailed they're often mistaken for photographs. He has worked on some of the most prestigious and largest ranches in Texas, like The Four Sixes, Tongue River Ranch, and the W.T. Waggoner Ranch. Asher takes photographs of fellow cowboys in action then spends hours to bring a scene back to life on a blank page. His art has been featured in Southern Living, America's Horse, Western Horseman, and Texas Country Reporter.
Silversmith artist Rex Crawford grew up on cattle ranches in Texas, New Mexico, and Oklahoma and understands the delicate balance of aesthetics and functionality of cowboy gear. His set of sterling silver filigree overlay necklace and earring with Padparadscha sapphire gemstones (a rare, high-quality, salmon-colored gem) titled "Smile" has a moving story behind it. It was inspired by his customer-turned-friend Nancy who discovered Crawford's work on Facebook. She requested several custom pieces over the years and became close friends with Crawford and his wife, Linette. They talked nearly every week and then in the spring of 2019, Nancy told them she was diagnosed with cancer and had perhaps a month to live. They began talking every day.
"Nancy was loved by everyone she knew," Crawford said. "She was always so happy and upbeat, even up to the very last day she was able to visit with us. After Nancy gained her wings, Linette and I decided that I would make something with Nancy's favorite gemstone as a tribute and send it to the Trappings of Texas show."
The Wounded Warriors Project was Nancy's favorite charity, and so a portion of the proceeds from "Smile" will be donated to the organization.
This all began 35 years ago when two Alpine residents—cowboy poet Joel Nelson and Big Bend Saddlery owner Gary Dunshee—attended the National Cowboy Poetry Gathering in Elko, Nevada, complete with a craftsman marketplace. They decided to launch something similar in their hometown. They would do it up big—Texas style. The annual Trappings of Texas and the Texas Cowboy Poetry Gathering were born and took place concurrently until both events grew so large they needed to own their own weekends.
All Trappings of Texas proceeds support the Museum of the Big Bend and the participating artists. Anyone visiting the Big Bend Region should tour the museum for a generous introduction to the area, its history, culture, and nature. The museum hosts rotating exhibits throughout the year alongside its permanent collections that include the Yana & Marty Davis Map Collection, one of the most diverse and largest selections of Texas maps in the state. Maps in the collection date back to 1524.
"We're the cultural repository for the tri-county area and we've been doing this for almost a century," Bones says.
There is a major capital campaign underway now that will double the size of the Museum of the Big Bend and transform it into a cultural complex complete with space for events and an exhibit of Tom Lea's paintings depicting the history of Western beef cattle in America, commissioned by LIFE magazine. It will also feature the new Texas Map Research Center.
Trappings of Texas provides us with visual reminders of what makes the West a glorious place that's inspired a way of life worth preserving. Check out the online sale going on until August 2.
For more information: www.museumofthebigbend.com/trappings-of-texas/.