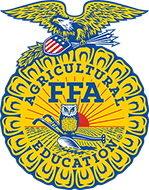 More than 100 high school students will visit the Sul Ross State University campus in Alpine as representatives of the Future Farmers of American (FFA) on two occasions in September.
On Monday, Sept. 11, 116 freshman students in the first year of agriculture classes will attend the "Greenhand Day" conference for beginners.
They will visit from Alpine, Fort Stockton, Crane, Iraan, Pecos and Wink to participate in activities ranging from friendly competitions within and across FFA chapter groups to personal and organizational leadership to sessions on building knowledge of the opportunities available through school-based agricultural education and FFA from the local, state and national levels.
The FFA Big Bend District fall meeting will be held the following Monday, Sept. 18.
District officers will lead a business meeting to address any action items and provide updates from the Texas FFA convention in Dallas last July. Students from 9th through 12th grades will also participate in social activities.The Big Bend District includes schools in Alpine, Balmorhea, Buena Vista, Crane, Fort Davis, Fort Stockton, Iraan, Pecos and Wink.
For more information, contact Dr. Carl Igo, associate professor of agriculture, at carl.igo@sulross.edu.