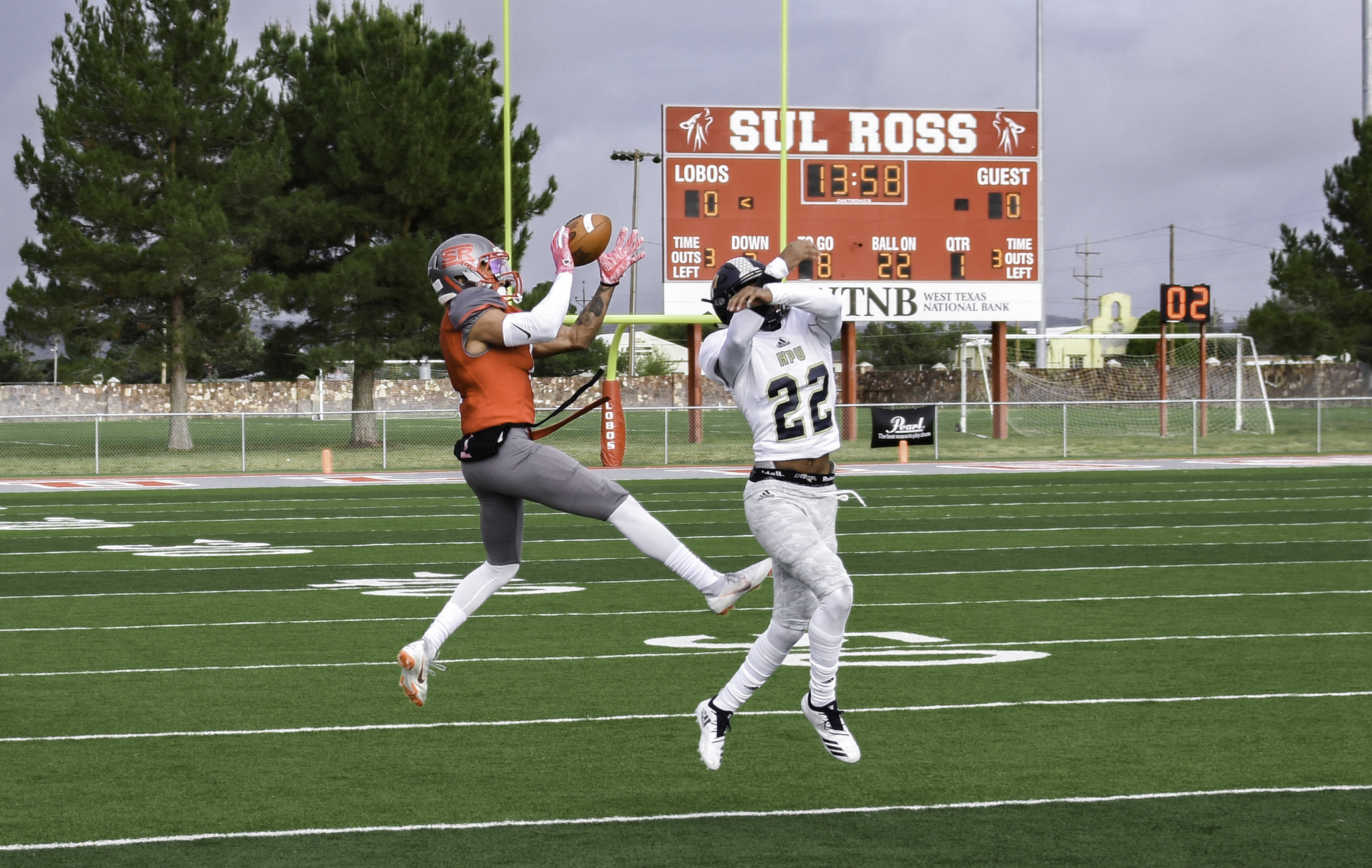 Posted by

Categories

Sports

Date

October 20, 2018
• story by Travis Hendryx • photos by Paul Slocumb •
A missed extra point kick by Howard Payne with just over a minute left in the game handed host Sul Ross a 28-27 victory over the Yellow Jackets in a chilly Homecoming extravaganza Saturday night, Oct. 20.
An unsportsmanlike penalty against Howard Payne following the preceding touchdown moved the ball back 15 yards as Christian Gonzalez's extra point kick sailed wide right with 1:08 left in the fourth quarter.
The Lobos took the ensuing kickoff on a failed onside kick and ran the clock down for the 28-27 win.
Following a scoreless first quarter, the Yellow Jackets took the initiative as Brett Martinez scampered five yards following a six-play, 67-yard drive. Gonzalez nailed to extra point for a 7-0 Howard Payne lead with 13:20 left in the second quarter.
Fabian Baeza then connected with Keondre Strong for a 19-yard touchdown pass. Julio Azua converted the extra point kick to tie the game at seven at the 8:57 mark in the second period.
The Yellow Jackets' Kaidrion Latson broke the lead with a seven-yard scoring run. Gonzalez's extra point kick cleared the uprights for a 14-7 lead for the visitors with 6:32 remaining before the half.
Senior Byron Jones then hauled the ensuing kickoff 89-yards into the Howard Payne endzone. Azua's kick tied the game back up at 14.
A 39-yard touchdown run by Williton Grear coupled with Azua's extra point kick gave Sul Ross a 21-14 lead at 2:45 which extended to the half.
The Yellow Jackets tied the game on their first possession of the third quarter as Eric Haverstock scored on a 15-yard strike by Gage McClanahan. Gonzalez's extra point kick knotted the outing at 21 with 11:24 left in the third period.
Grear struck again on the next possession on an 18-yard scoring sprint. Azua added the extra point for a 28-21 Sul Ross lead with 9:20 remaining in the third.
With 1:08 left in the game, McClanahan found Jordan Bryant on a 26-yard touchdown pass. The 15-yard personal foul backed up Gonzalez's extra point that just missed wide of the uprights as Sully dodged a tie up and held on for the 28-27 victory.
For the game, Sul Ross outpaced Howard Payne in total offensive yardage by a 365-353 margin. The Lobos led the ground game netting 135 yards off of 29 carries while the Yellow Jackets posted 32 carries for 102 yards.
Howard Payne held the advantage in passing yards at 251 while Sully sported 230 yards through the air. Sul Ross tallied three interceptions for a total return of 100 yards. The Lobos finished at 7-for-14 in third down conversions while Howard Payne finished at 6-for-12.
In red zone chances, Sul Ross was 2-for-2 while Howard Payne finished at 3-for-5.
Individually, Grear netted 112 yards off of 15 carries and two touchdowns while Baeza completed 20 of 33 passes for 230 yards and a touchdown.
Jones led Lobo receivers with six receptions for 106 yards. Keondre Strong posted six catches for 51 yards and a touchdown.
Defensively, Bryce Saracene led with 11 tackles including five solos. Jacques Wisner notched nine tackles with a sack. Cory McMahan posted two interceptions in Saturday's victory. Kristian Gaona sported an interception while Fentrese Milligan had a breakup.
The Lobos improve to 1-6 on the season and 1-5 in ASC play. Howard Payne drops to 1-6 and 1-5.
Sully will take on East Texas Baptist University in Marshall this Saturday.
Kickoff is scheduled for 2:00 p.m. from Ornelas Stadium.