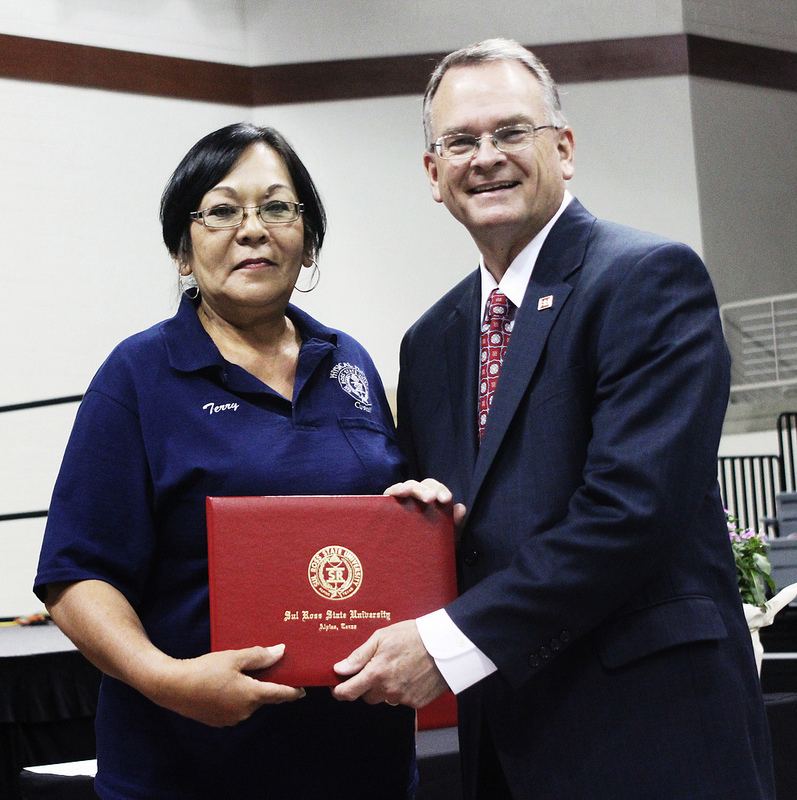 Posted by

Categories

News

Date

June 6, 2018
• by Paul Slocumb •
Terry Jurado, custodial worker, Physical Plant; Courtney Lynn, retention specialist, Student Support Services (SSS); Candes Ramon, secretary, Campus Activities; and Kayla Waggoner, secretary, Wildenthal Library, are the 2018 recipients of Sul Ross State University's Bar-SR-Bar Award for Employee Excellence.
The citations, which include cash awards and recognize exemplary service, were presented during the annual faculty-staff awards program, held Thursday, May 3 in the Pete P. Gallego Center. Dr. Bill Kibler, Sul Ross President, made the presentations.
About the recipients: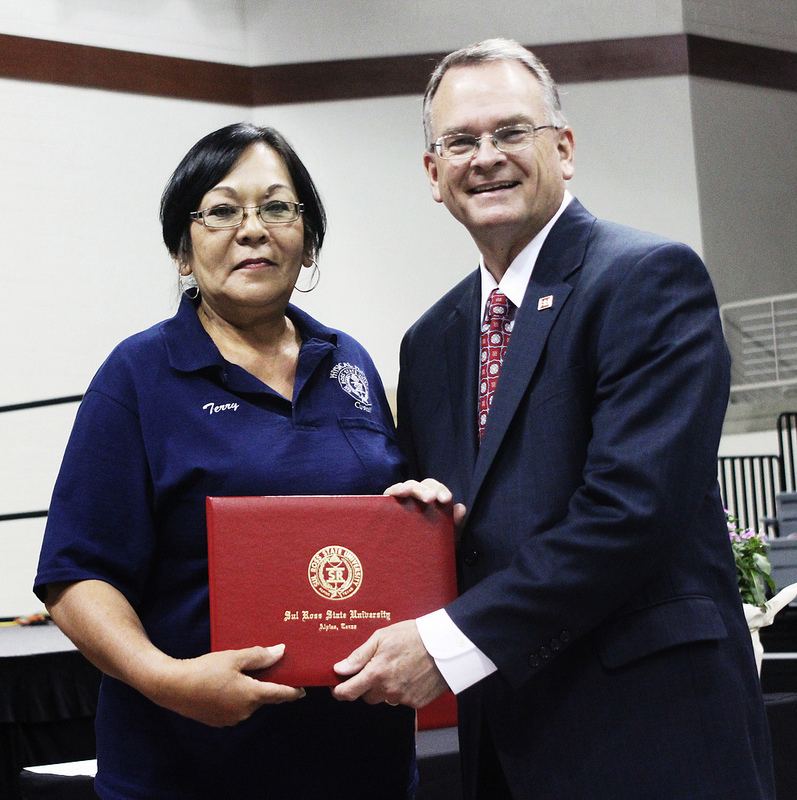 Terry Jurado
Jurado started working at Sul Ross in 2015 in the Wildenthal Library. Her nominations were written by numerous Library staffers including Education and Outreach Librarian Betsy Evans and Archivist Lisa Zakharova.
"Terry is often the first person I see when I arrive in the library in the morning.  She is always smiling even though she has been awake and working far longer than I have at that point," wrote Evans.  "Her sense of humor and upbeat attitude make my mornings."
Evans added that Terry "is an incredibly hard worker and does not complain—even when she must deal with something gross or unexpected, as can be the case when cleaning up after students."
Zakharova noted that since the Tutoring and Learning Center opened last fall average Library traffic has risen by 50 to 100 students a day, and "Terry has made a tremendous effort to keep the library as clean as before."
For her part, Terry views the students as the center of her work, going out of her way to find out where they are from.  "I always try to make them feel welcome."
A Fort Hancock native, Terry moved to Alpine with her family in 1968.  She is an Alpine High School graduate who enjoys dancing and helping her husband, Javier, in his furniture-building workshop.  Terry and Javier have five  children, Jay and Jennifer, San Jose, CA; Lori Bojorquez, San Diego, CA; Denise Olazaba and Kelly Jackson, Alpine; and grandchildren, Monique, Jamie, Matthew, and Isabella, San Jose; and Steven and Devin, Alpine.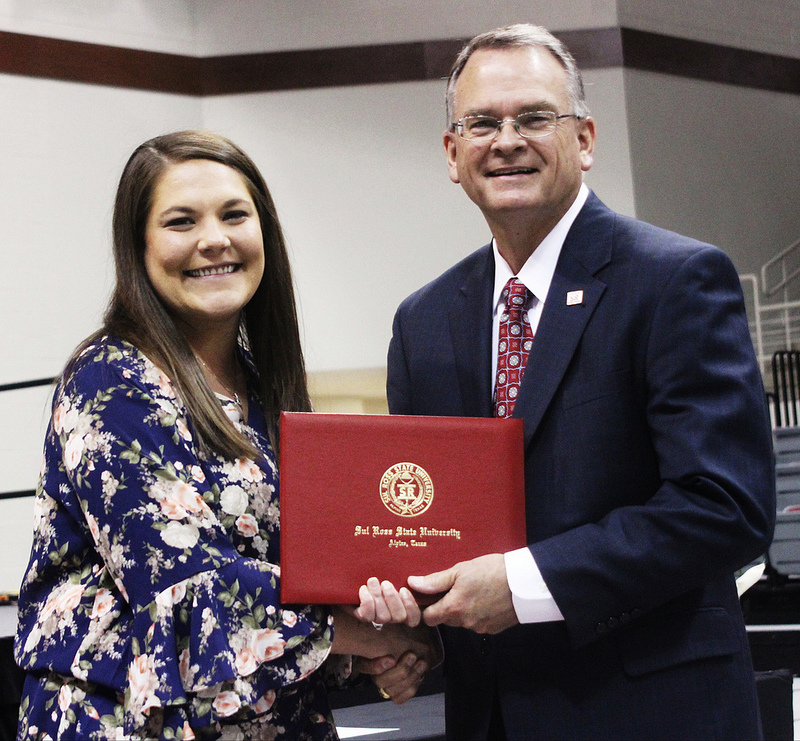 Courtney Lynn
A Sul Ross graduate with a bachelor's degree in general studies, Lynn enjoys working with current Sul Ross students and watching them grow, traits she picked up from former SSS director Liz Castillo.  Lynn noted that her former boss taught her to "put students first and make a change in their lives."
Lynn was nominated by another Bar-SR-Bar Award winner Kayla Waggoner who wrote the retention specialist often works overtime to complete tasks for students and staff alike.  "If you have ever had a meeting with Courtney in her office, you would see how big an impact she has on each student.  She spends her days working hard to make sure each student is happy, feels welcome, and ultimately succeeds in getting a degree from Sul Ross."  Waggoner added that Lynn's "enthusiasm and encouragement for the Staff Council has helped tremendously.  She genuinely cares about every member of the Sul Ross family and wants what is best for them."
Originally from Levelland, a small city 30 miles west of Lubbock, Lynn enjoys spending time with her husband Matt and three-year-old son, Parker.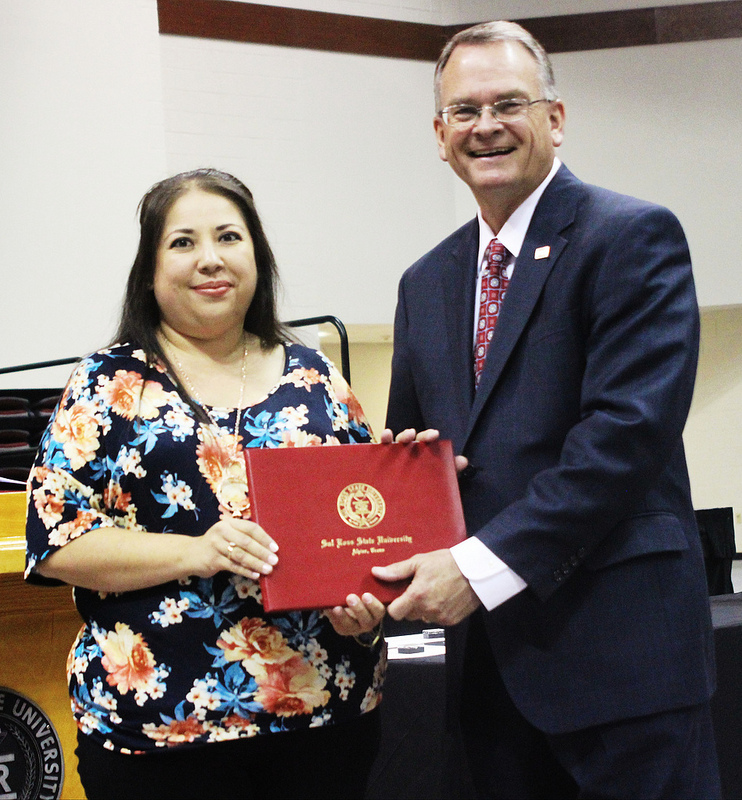 Candes Ramon
Ramon's career at Sul Ross began in the Physical Plant before she took her current position with Campus Activities.  Her nomination was put forward by Aida Luevanos, Director of Alumni Relations, who wrote, "Candes has shown outstanding organizational skills.  She is friendly and always willing to help other departments on campus."
Ramon's positive influence extends beyond the campus, as well, with Luevanos adding, "Candes has become the point of contact between Sul Ross, the Alpine community, local agencies, and other educational institutions.  She often gets calls meant for other departments and handles them with professionalism and respect.  In my opinion, she represents the values that our university stands for."
Despite these excellent efforts, Ramon had not foreseen the recognition.  "When I received the email from President Kibler, I was in shock and so honored that my work is appreciated and valued by the University."
Born in Alpine, Ramon spent a portion of her youth in Odessa, graduating from Odessa High School in 1999.  She eventually moved back to Alpine and met her husband, Dwayne Reyes.  Their four children, Isaiah Leal, Zorian Reyes, Xadrian Reyes, and Yazmyne Reyes form the heart of the couple's lives.  "My husband and I just love being able to be there for them and to encourage them to do their best at everything they do."
Ramon's personal campus activity is pursuing a bachelor's degree in biology.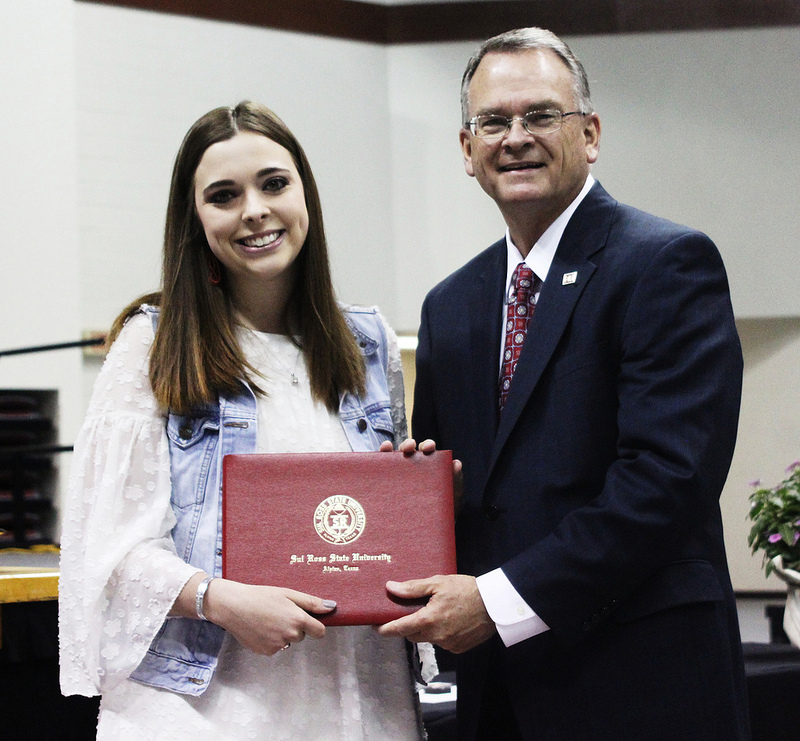 Kayla Waggoner
Waggoner's lengthy nominations could be assembled into a book, which is appropriate since they came from many of her fellow library staffers.  Her supervisor, April Aultman Becker, Dean of Library and Information Technologies, even took offense at the nominating form's inadequacies.  "It's nearly impossible to make a 'brief statement' of Kayla's responsibilities.  She does so much, and she does it with such finesse!"
In addition to her secretarial duties, Waggoner helps coordinate the University's Records Retention requirements and Quality Enhancement Program efforts. She is also Staff Council Chair and served on the Alpine campus' Task Force on Efficiencies and Innovations.  Apparently, she also moonlights as the Bryan Wildenthal bouncer.
Aultman Becker continues, "Kayla is a model employee, and even more than this, Kayla is a true assistant.  She anticipates my needs before I say them.  She is my bodyguard (her words!) and my daily dose of optimism, and we all count on her."
Originally from Lubbock, Waggoner moved to Alpine with her husband, Joe, so he could pursue a master's degree at Sul Ross. She holds a bachelor's degree in history from Eastern New Mexico University and is working on a master's in history at Sul Ross.  In her "spare" time, she enjoys reading, cooking, and spending time with Joe.
Having grown up in a much larger city, Waggoner has come to appreciate the close relationships made possible by living and working on a small town campus.
"My favorite thing about Sul Ross is the ability to recognize and converse with faculty, staff, and students on a first-name basis.  Our small community is truly a blessing because it means that we have the chance to help each other professionally and personally.  This sense of community is much harder to achieve at larger institutions."