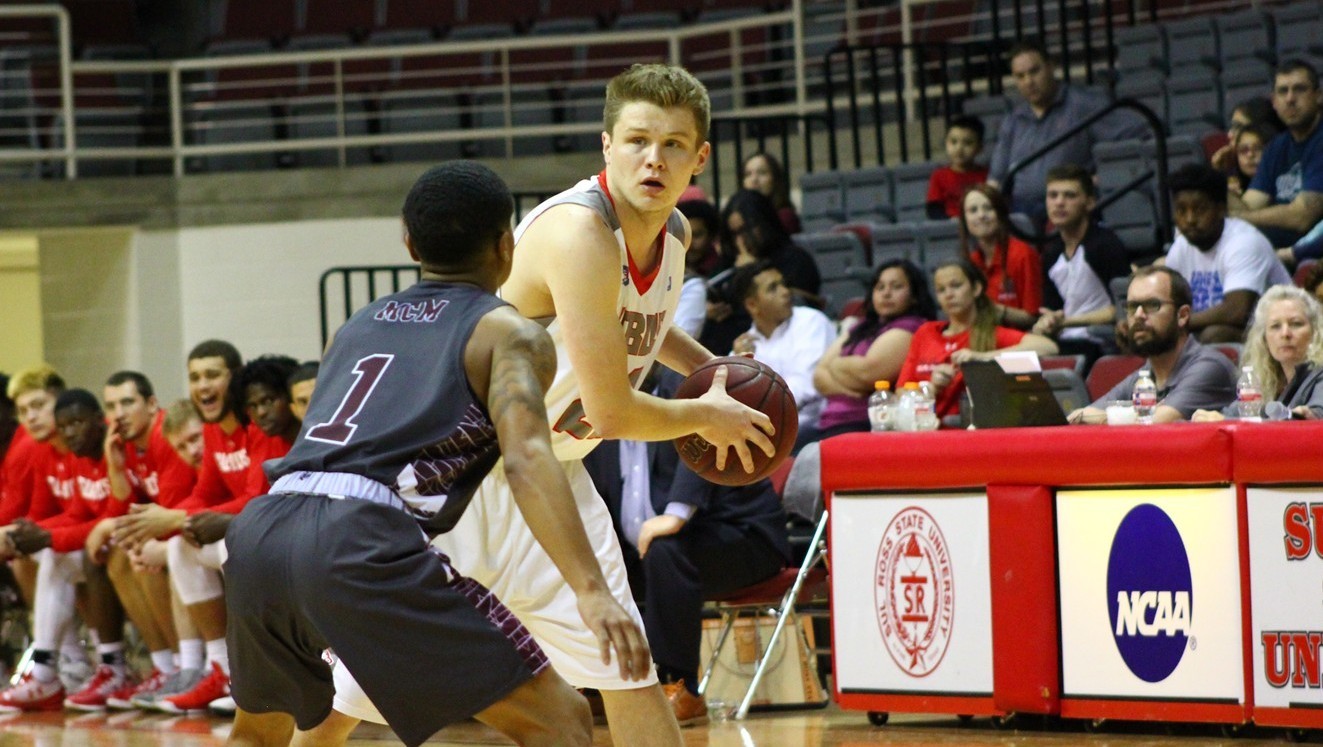 by Travis Hendryx, Office of Public Relations
In a span of two years, former Sul Ross State University guard Xavier Webb is back at his Alma Mater.
Webb, who graduated in 2017 with a Bachelor's Degree in History, made history of his own in early June, becoming the Sul Ross men's basketball program's first fulltime assistant coach.
With just one course remaining, Webb will wrap up his Master's Degree from Sul Ross later this year, an online task he began while serving as an assistant for Ty Harrelson's Wayland Baptist University program the past two seasons.
A native of Riverton, Wyoming, Webb accumulated an impressive portfolio in his two years with the Lobos both off and on the court.
In addition to being named cum laude upon graduation, he earned ASC Distinguished Scholar-Athlete Team and Academic-All-Conference honors in 2017, while also being named a 2017 recipient of the American Southwest Conference Scholar-Athlete Medal of Honor.
Webb was also Dean's List scholar at Sul Ross and has been involved in a variety of community projects mentoring youth in basketball and life decision skills along with assisting in events with the elderly and disabled.
A two-year letterwinner with the Lobos, Webb was a member of the 2015-16 ASC West Division championship team as a junior and earned All-West Division honors as a senior.
On the court, Webb was the second leading free throw shooter for the Lobos in 2016-17, converting 32 of 41 foul shots for a .780 percentage.
As a junior, he helped guide Sul Ross to its first ASC West Division title in more than 10 years.
His .439 three-point field goal percentage ranked Webb fourth in the league in 2015-16 and provided the shooting octane for a 16-10 overall finish, 10-4 in the ASC.
Webb was the final selection for the assistant's job out of a pool of more than 150 applicants and 15 formal interviews.
"This position really opened a home-like situation for me which was impossible to turn away," Webb said. "It's rare to be able to return to your Alma Mater from a player to a coach."
Basketball is a game of transition and Webb says the greatest transition from player to coach is the workload.
"As a player, and I think I can speak for most of my teammates, I never saw the extra work our coaches put into the program behind closed doors," said Webb. "I always had huge respect for my coaches but never more so than when I started in the coaching field."
Despite extra duties and longer hours in the film room and practice, Webb says he's hooked.
"This has become an addiction," he said. "I love the pace and the non-stop action of coaching. I think this was in my blood even while I was a player."
With two seasons of coaching under his belt, Webb said his stint at Wayland served as constructive prep time for his current gig at Sul Ross.
"Wayland was a great place to pick up new ideas with drills and just basketball knowledge," said Webb.
"My goal is to implement some of those aspects into our program to help us grow as individuals and as a team."
Life on the road is part and parcel for student-athletes at Sul Ross and Wayland Baptist but Webb says it's an asset to the overall program experience.
"At both schools I had the chance to see parts of Texas and the United States I had never seen before," he said.
"So while the travel is pretty extensive, I think it makes players more well-rounded and gets them out of their comfort zone."
Webb says it was the memories he made as a player that stick out during his playing career with the Lobos.
"Winning the ASC West Division and hosting the conference tournament during coach [Clif] Carroll's first run was probably the fondest memory for me," said Webb.
"What made it more satisfying is that Sul Ross was picked to finish dead-last in the preseason standings and we just came out and took things by storm."
One question that gives Webb a chuckle is how he was recruited to play at Sul Ross. Prior to his arrival in Alpine, Webb spent his first two years out of high school playing for a pair of junior colleges.
"I get asked that a lot," he said. "My first season was at Sheridan College under Steve Smiley then I headed to Central Wyoming College and played for Pat Rafferty as a sophomore."
It was a long-working relationship between Rafferty and Carroll that led Webb to head to the mountains of West Texas.
"I visited with coach Carroll on the phone and he really just laid out what his mission was to turn the men's basketball program around and he and I both felt that I would be a good fit in the picture."
Carroll also related his story about his connection with coach Rafferty, who is now the head coach at Midland College, in reeling Webb in to the Lobos.
"My first season, I get a call from coach Rafferty and he starts in about this kid who he said is a Division I shooter," Carroll said.
"To me that means he's slow, he can't defend, he can't dribble but he can shoot."
Carroll also noted the long distance between Wyoming and West Texas as part of the recruiting dynamic.
"Until he came to Alpine, all the conversation we had was over the phone or Face Time," he said. "Again, I thought I was working with a kid who could just shoot and that's it."
But given Webb's stellar academic record and basketball IQ, Carroll's concerns were quickly assuaged during their visits over the phone and Face Time.
"The more we communicated, the more I knew I wanted this kid in our program," Carroll said.
"In reality he was a really good, high-level player. He was named 'Mr. Basketball' in Wyoming so he already had an impressive resume."
Discussing Webb's new role as assistant coach, Carroll said the rhythm in recruiting is more consistent as opposed to working with a graduate assistant.
"There's definitely more continuity in our recruiting efforts," he said. "I've had some great grad assistants work for me in the past but their main focus, just like our players, is to graduate."
"Having Xavier on as a fulltime assistant will help alleviate some of those recruiting obstacles and other aspects that pose challenges for programs that have relied on grad assistants for so long," he said.