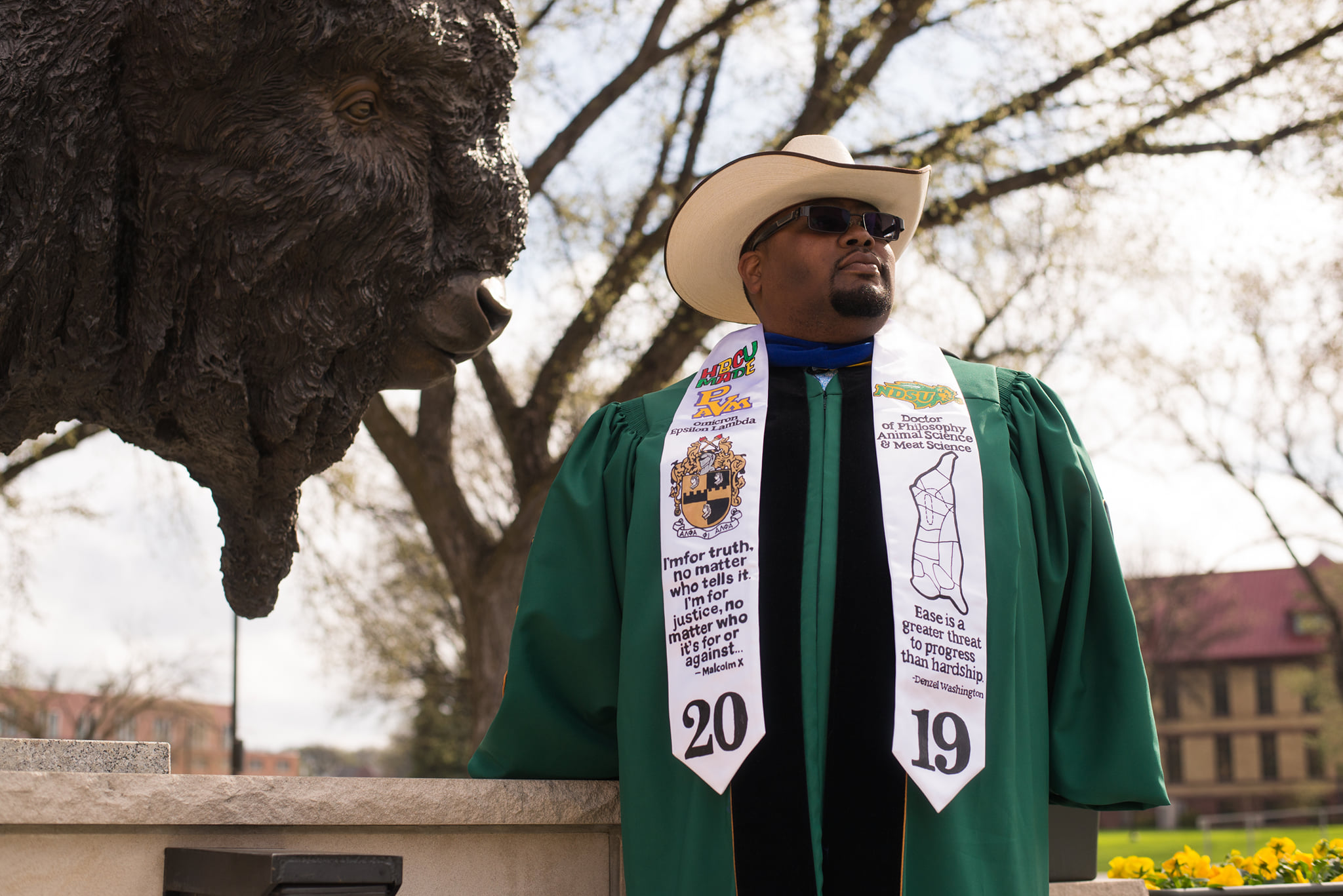 Posted by

Categories

News

Date

September 20, 2019
by Shawna Graves, Office of Public Relations
Sul Ross College of Agriculture and Natural Resource Sciences welcomed DeMetris Reed, PhD, as Assistant Professor of Meat Science, to the team this fall.
Reed hails from the East Texas town of Montgomery, birthplace of the Texas flag and home to his family cattle business. He is happy to be back in Texas after pursuing his PhD for the last four years in Fargo, North Dakota.
Reed received his Bachelor of Science in Agriculture at Prairie View A&M University in 2011, then ventured to West Texas A&M University for a master's in Animal Science.
He went on to attend North Dakota State University resulting in a successful PhD dissertation entitled, "Perceptions of modern meat-animal production from consumers two to three generations removed from the farm."
This semester Reed is teaching classes on meat science, meat animal carcass evaluation, and sausage production. He said sausage production always ends with a lot of fanfare when students showcase the results of their made-from-scratch recipes.
"Even the seasoning has to be made-from-scratch. No prepackaged seasonings are allowed," he noted.
Reed's other classes teach the process of harvesting and processing meat animals. Students work with stock from the Sul Ross free-range cattle herd. The college manages two herds: a herd of registered Herefords and a commercial herd of Herefords and Hereford cross bred cattle. They also raise feed yard lambs. Reed would like to eventually bring pork production in-house, but for now, they procure pork from outside sources.
Reed teaches students to evaluate stock at different stages of production.
"Once we've assessed probable production, we go through actual processing and harvesting. We evaluate if its high or low marble and high or lean content among other variables and perform cost analyses," he said.
The harvesting process is done with utmost care, Reed assured. Each slaughter is attended by a Texas Department of Health employee to ensure the meat is wholesome and healthy and the slaughter is performed humanely.
The processed meat is then made available for sale to the general public through the Meat Retail Sales Counter located at the College of Agriculture and Natural Resource Science campus. They produce some of the freshest and best meat cuts and meat products, like sausage, jerky and bacon, available in Far West Texas.
Reed is passionate about providing meat science education, from start to finish, and the role of meat protein products as part of a regular diet.
"Providing an avenue for meat protein products is what we're trying to push," he said.
Reed looks forward to adding master degree candidates to his roster and hopes to revamp the graduate program by bringing more in-class interaction to the program.
"We would also like to get more interactive with the community by providing custom harvests, where ranchers can bring in animals for processing," he said.