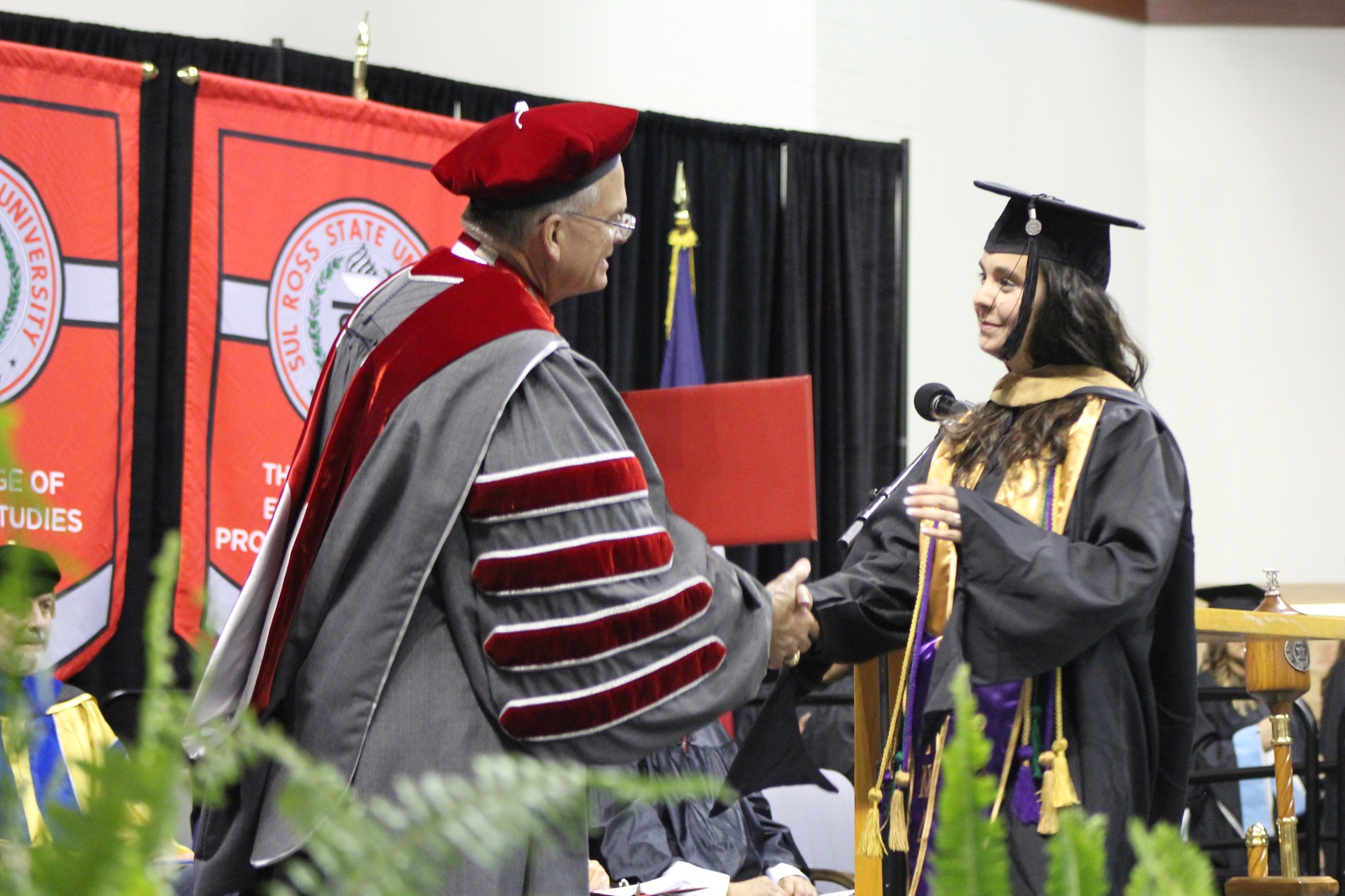 Posted by

Categories

News

Date

December 16, 2019
by Travis Hendryx, Office of Public Relations
Sul Ross State University Alpine and Middle Rio Grande Campuses held Fall 2019 commencement Friday and Saturday.
Highlighting the this year's fall ceremony was the awarding of Sul Ross supporter and community leader Elena Gallego with an Honorary Bachelor's Degree.
Mrs. Gallego is well known as a servant-leader and instilled a sense of purpose and service to her children, her community and Sul Ross students. Mrs. Gallego is the wife of late Alpine philanthropist and businessman Pete A. Gallego.
Pete and Elena served the Alpine community through their local businesses including the Green Cafe which later became Gallegos Mexican Food. The Green Cafe also served as a venue for community meetings where residents were mobilized in their effort in fighting for civil rights.
Mrs. Gallego strategized and worked with community leaders to desegregate the local schools in order to provide the best education possible to local residents. She worked as a driving force to provide opportunities for the community that had been under-represented and under-appreciated.
Because of her encouragement, Elena's children went on to earn degrees in law school and medical school.
Daughter Imelda Gallego Garcia earned a law degree from the University of Houston and continued the servant values she learned by providing pro bono legal advice to residents in El Paso.
Daughter Rebecca Gallego received a medical degree from the University of Minnesota and has also invested in the El Paso community.
Son Pete P. Gallego received a law degree from the University of Texas at Austin and went on to serve the citizens of Texas in the State House of Representatives and later as a United States Congressman.
U.S. Congressman Will Hurd (R-Texas) served as commencement at both ceremonies.
COLLEGE OF AGRICULTURAL AND NATURAL RESOURCE SCIENCE
MASTER OF AGRICULTURE
Lucas Henry Bomar ……………………………………..Range and Wildlife Management
Southlake, Texas
Sarah Jordan Carsrud ………………………………….Natural Resource Conservation
Amarillo, Texas
Anna Michele Crites …………………………………….Animal Science
College Station, Texas
Sara Lynne Drennan ……………………………………Animal Science
Kailua Kona, Hawaii
Kassandra Alina Garcia ……………………………….Animal Science
Laredo, Texas
Katherine Anne Garwood ……………………………Natural Resource Conservation
San Antonio, Texas
Tiffany Elaine Janke …………………………………….Animal Science
San Antonio, Texas
Teresa Solis …………………………………………………. Animal Science
Laredo, Texas
Courtney Jo Wallace …………………………………….Range and Wildlife Management
Athens, Texas
John Ross Whetstine ……………………………………Range and Wildlife Management
Cypress, Texas
MASTER OF SCIENCE
Byron Powell Baumann ……………………………….Animal Science
Waxahachie, Texas
Jorge Bustamante ………………………………………..Range and Wildlife Management
Presido, Texas
John David Denson ……………………………………..Animal Science
Gilmer, Texas
Chelby Nicole Hinds ……………………………………Range and Wildlife Management
Hobbs, New Mexico
Jacob Richard Lampman ……………………………..Range and Wildlife Management Thesis Title: "Mule Deer Diet and Nutrition in the Western Rolling Plains Ecoregion of Texas"
Marion, Texas
Roy E. Saffel …………………………………………………Range and Wildlife Management
Alpine, Texas
BACHELOR OF SCIENCE
Cole Arthur Avery ………………………………………..Industrial Technology
Abilene, Texas
Briana Cristina Calderon ……………………………..Animal Science
El Paso, Texas
Callie Hunter Czaja ………………………………………Animal Science
Floresville, Texas Cum Laude
Cheyenne Celeste De Luna …………………………..Natural Resource Management
Carrizo Springs, Texas
Hope Angela Flint ………………………………………..Animal Science
Baytown, Texas Summa Cum Laude
Walter Flocke ………………………………………………. Natural Resource Management
Wimberley, Texas
Noah Elexander Garcia ………………………………..Animal Science
Mission, Texas
Kelsey Brianne Henderson ………………………….Natural Resource Management
Weatherford, Texas Cum Laude
Hunter Lee Hopkins …………………………………….Natural Resource Management
Gruver, Texas Magna Cum Laude
Shaylyn Michelle Hudson ……………………………Animal Science Spring
Branch, Texas
Molly Danielle Justice ………………………………….Natural Resource Management
San Antonio, Texas Magna Cum Laude
Cody Dale Kalinowski ………………………………….Natural Resource Management
Needville, Texas
Clayton Davis Meadows ……………………………….Natural Resource Management
Hunt, Texas
Edward Oakley, Jr. ……………………………………….Natural Resource Management
Uvalde, Texas
Cody Aaron Putman …………………………………….Natural Resource Management
San Antonio, Texas
Paul Anthony Rodriguez ………………………………Animal Science
Weslaco, Texas Cum Laude
Zachariah Joel Vaughn …………………………………Natural Resource Management
Montgomery, Alabama
COLLEGE OF ARTS AND SCIENCES
MASTER OF ARTS
Brandy L. Callis ……………………………………………English
Hondo, Texas
Richard David Curtin …………………………………..Art
Opelika, Alabama
Raleigh James Darnell …………………………………English Thesis Title: "Humboldt's Personal Narrative, Literary Journalism with a Mobius Twist"
Eastland, Texas
Luis Omar Garcia …………………………………………Public Administration
Horizon City, Texas
Ryan Joseph Jacoby …………………………………….History
Midland, Texas
Naomi Elizabeth Presley ………………………………English
Lamesa, Texas
Emma Carye Shrum …………………………………….Public Administration
El Paso, Texas
Yelizaveta L. Zakharova ……………………………….History Thesis Title: "Mary Kilpatrick Howard: Merchant, Landowner, Teacher, and Administratix"
Santa Rosa, California
MASTER OF SCIENCE
Matthew Zachary Bickham ………………………….Geology Thesis Title: "Chemical Analysis of Blue Halite"  Midland, Texas
Corbin Tyler Carsrud …………………………………..Geology Thesis Title: "Patterns of Conglomerate Deposition Associated with the Unroofing of the Solatario Dome, Presidio and Brewster Counties, Texas" Houston, Texas
Richard Paul Newbold …………………………………Biology Thesis Title: "Correlation of Mescaline Concentrations in Lophophora Williamsii with Rib Numbers and Average Diameter of Crown"
El Paso, Texas
Michael Zachary Weathers …………………………..Geology Thesis Title: "An Inventory and Assessment of Springs, Big Bend Ranch State Park, Texas"
Marfa, Texas
BACHELOR OF ARTS
Neela Frazier Ahmed ……………………………………Communication
Alpine, Texas Double Major
Brennan Matthew Boykin ……………………………History
San Antonio, Texas
Rocio A. Carrera …………………………………………..Spanish
Presidio, Texas
Elisabeth Aubrey Chasteen ………………………….Communication
Brownfield, Texas
Michael Warren Corkrum ……………………………General Studies
Longview, Washington
Kasandra Juliana Cruz …………………………………Psychology  Bandera, Texas
Dyamand Jy'Meil Dillard-Yarber ………………….Communication
DeSoto, Texas
Aimee Louisa Escontrias ………………………………Psychology
Presidio, Texas
Javier Oscar Garcia ………………………………………General Studies
San Elizario, Texas
Jodeci Marie Gonzales-Hall ………………………….Psychology
Alpine, Texas
Lauren Elizabeth Hearon……………………………..General Studies
Perryton, Texas
Cody Gene Huelsberg ………………………………….History
Alpine, Texas
Jennifer Rose Luna ………………………………………Psychology
El Paso, Texas Magna Cum Laude
Megan Renee Lyon ………………………………………English
Midland, Texas Cum Laude
Cristal Maltos ……………………………………………….General Studies
San Antonio, Texas
Cesar Romero ………………………………………………General Studies
El Paso, Texas
Asia Lee Saucedo ………………………………………….History
El Paso, Texas
Mikel Kole Vedder ……………………………………….History Forsan, Texas
BACHELOR OF FINE ARTS
Neela Frazier Ahmed ……………………………………Art
Alpine, Texas Double Major
Brandon Alex Apodaca ………………………………..Art
Fort Hancock, Texas
Theseus Rel Francis ……………………………………..Theatre
Flagstaff, Arizona
David Garcia Altamirano ……………………………..Theatre
Cali, Colombia Magna Cum Laude
Albino Gomez ………………………………………………Art
Fort Hancock, Texas
Callie Joe Jones ……………………………………………Theatre
Midland, Texas
Allison Nichole Smith ………………………………….Art
Stanton, Texas Summa Cum Laude
BACHELOR OF MUSIC
Omar Guerrero Jr. ……………………………………….Music
Presidio, Texas
Vaughn Owen Williams………………………………..Music
Marathon, Texas
BACHELOR OF SCIENCE
Erin Emilia Bittner ………………………………………Geology
Dale, Texas Cum Laude
Miranda Lee Bryant ……………………………………..Computer Science
Natalia, Texas Magna Cum Laude
Mason Colt Fleming …………………………………….Computer Science
Friona, Texas Cum Laude
Anna Elizabeth Foster ………………………………….Biology
Midland, Texas Cum Laude
Everett Lowell Lancaster ……………………………..Computer Science
Flower Mound, Texas Magna Cum Laude
Joshua Michael Lopez ………………………………….Computer Science
Hereford, Texas
Orion Matthew Lopez…………………………………..Computer Science
Lubbock, Texas
Anya D. Marquez ………………………………………….Geology
Midland, Texas
Viana Rae Parras ………………………………………….Computer Science
Fort Stockton, Texas
Luis Armando Payan ……………………………………Chemistry
Chihuahua, Mexico
Alexandra Roxan Ramirez …………………………..Biology
Alpine, Texas
Raquel Rene Ramirez …………………………………..Biology
Midland, Texas
German Ceniceros Rodarte ………………………….Computer Science
Van Horn, Texas
Karen Silva …………………………………………………..Geology
Midland, Texas
David E. Soules …………………………………………….Geology
San Antonio, Texas
Arianne Elia Stallard ……………………………………Geology
Alpine, Texas
Jenny Phuonganh Truong ……………………………Mathematics
Vietnam
Peter Ernst Von Marensdorff ……………………….Biology
Galveston, Texas
Candace Baker Wally ……………………………………Biology
Uvalde, Texas
COLLEGE OF EDUCATION AND PROFESSIONAL STUDIES
MASTER OF BUSINESS ADMINISTRATION
Krystal Aguilar …………………………………………….Business Administration
Marathon, Texas
Ivan A. Alvarado …………………………………………..Business Administration
El Paso, Texas
Rebecca Danielle Bley ………………………………….Business Administration
Midland, Texas
Elvira Garcia ………………………………………………..Business Administration
El Paso, Texas
Luis Gomez ………………………………………………….Business Administration
Anthony, Texas
Amy Renee Hoover ………………………………………Business Administration
Lubbock, Texas
Yikun Liu ……………………………………………………..Business Administration
Heze, Shandong
Griselda Yaneth Muñoz………………………………..Business Administration
Fort Hancock, Texas
Luis G. Nolasco …………………………………………….Business Administration
Eagle Pass, Texas
Abiola Adekunle Orimolade …………………………Business Administration
Lagos, Nigeria
Sureka Marie Richmond ………………………………Business Administration
Houston, Texas
Gregory Marc Roberts ………………………………….Business Administration
Lubbock, Texas
Manuel Valles ……………………………………………….Business Administration
Tornillo, Texas
Xavier James Webb ………………………………………Business Administration
Riverton, Wyoming
MASTER OF EDUCATION
Kenneth Eric Aguilar …………………………………..General Education
El Paso, Texas
Leinora Carmelita Alimboyoguen ………………..General Education
Alpine, Texas
Mykia Chance Anderson ……………………………..General Education
Brookesmith, Texas
Valerie Rachelle Anderson …………………………..General Education
Abilene, Texas
Jeanette Sue Barron ……………………………………..General Education
Cross Plains, Texas
Leslie Lillian Becker …………………………………….Educational Leadership
Utopia, Texas
Michelle Blount ……………………………………………General Education
Fredericksburg, Texas
Veronica Booth…………………………………………….Educational Leadership
El Paso, Texas
Cheryl Denice Brouhard ……………………………..Counselor Education
Springtown, TX.
Richard Wayne Brown …………………………………General Education
Pioneer, Texas
Lacy Renae Bruce …………………………………………General Education
Abilene, Texas
Amanda Kay Cairns ……………………………………..General Education
Clyde, Texas
Tina Renea Campbell …………………………………..General Education
Abilene, Texas
Raul Candelaria ……………………………………………Educational Leadership
El Paso, Texas
Misty L. Cantrell …………………………………………..General Education
Abilene, Texas
Brandy D'Lynn Carr …………………………………….Educational Leadership
Dublin, Texas
Olivia Mona Carrasco-Sarabia ……………………..Counselor Education
Presido, Texas
Carlissa Amber Childers ………………………………General Education
Rising Star, Texas
Teisha Marie Childers ………………………………….General Education
Rising Star, Texas
Robert Kent Cummings ……………………………….General Education
Desdemona, Texas
Gayla Lanier de la Vega ………………………………..General Education
Abilene, Texas
Shanon Lee DeLaRosa ………………………………….General Education
Hawley, Texas
Taylor Brooke Feliciano ………………………………Educational Leadership
Gail, Texas
Veronica Flores Vasquez ………………………………Counselor Education
El Paso, Texas
Rafael Gallegos Borjas ………………………………….Educational Diagnostician
Fort Worth, Texas
Alejandro Garcia ………………………………………….Educational Diagnostician
Socorro, Texas
Ruben Nicolas Garza ……………………………………Counselor Education
Del Rio, Texas
Bethany Ann Gaylor …………………………………….Counselor Education
Fort Stockton, Texas
Elizabeth Gutierrez ………………………………………Counselor Education
El Paso, Texas
D'Andra Gayle Hamlyn ………………………………..Educational Leadership
Wilson, Texas
Brenna Teresa Heredia ………………………………..Counselor Education
Crane, Texas Susana
Fde Hernandez ………………………………..General Education
Alpine, Texas
Anabel Herrera ……………………………………………Educational Diagnostician
San Angelo, Texas
Sonia Yvette Herrera Almaraz ……………………..General Education
Abilene, Texas
Jessica Nicole Hettick …………………………………..Educational Diagnostician
Early, Texas
Bryan Scott Hill ……………………………………………Educational Leadership
Bulverde, Texas
Jessica Marie Hinojos …………………………………..General Education
Alpine, Texas
Gwendolyne T. Holland ……………………………….Educational Leadership
El Paso, Texas
Stephanie Paige Holloway ……………………………General Education
Abilene, Texas
Luke Anthony Hurst …………………………………….General Education
Abilene, Texas
Jacqueline Marie Jessen ……………………………….Counselor Education
El Paso, Texas
Shawn Calvin Johnson ………………………………..Educational Leadership
Silverton, Texas
Joann Rene Juarez ……………………………………….Educational Leadership
Fabens, Texas
Lisa Michelle Lee ………………………………………….Counselor Education
El Paso, Texas
Tracy Farris Lee ……………………………………………General Education
Abilene, Texas
Keivon Akil Kitwana Liburd ………………………..General Education
Austin, Texas
Rachel Marie Lopez ……………………………………..Educational Leadership
El Paso, Texas
Emily Jesus Luna ………………………………………….General Education
Georgetown, Texas
Cassandra Mata ……………………………………………Counselor Education
Crystal City, Texas
Pete Anthony Mauro ……………………………………Counselor Education
Kettering, Ohio
Tricia Susan Mauro ………………………………………Counselor Education
Odessa, Texas
Rene Anthony Mena …………………………………….Educational Leadership
El Paso, Texas
Mary Margaret Morton…………………………………Reading Specialist
El Paso, Texas
Kathryn R. Nevarez ……………………………………..Educational Leadership
Castroville, Texas
Humberto Olivas ………………………………………….Counselor Education
El Paso, Texas
Mayra Orosco ………………………………………………Educational Diagnostician
Crystal City, Texas
Amy Diane Rightmer……………………………………Reading Specialist
Magnolia, Texas
Carmen Romero ………………………………………….Educational Diagnostician
Houston, Texas
Leslie Ruiz ……………………………………………………Counselor Education
El Paso, Texas
Alicia Annette Sadel ……………………………………..Educational Leadership
Fort Worth, Texas
Fernando Ernesto Sandoval …………………………General Education
Comanche, Texas
Silvia Santacruz ……………………………………………Counselor Education
El Paso, Texas
Bonnie Jean Sayers ………………………………………Educational Diagnostician
McKinney, Texas
Ruth Alene Shaner ……………………………………….Educational Diagnostician
Seminole, Texas
Claudia Yvette Soto ………………………………………Counselor Education
El Paso, Texas
John Gregory Sudduth …………………………………Counselor Education
Dallas, Texas
Nancy Marisol Sutherland ……………………………Counselor Education
El Paso, Texas
Luz Mireya Ulibarri………………………………………Counselor Education
El Paso, Texas
Justine Aleena Vaughn …………………………………Counselor Education
Odessa, Texas
Diana Amelia Villalobos ………………………………Educational Leadership
El Paso, Texas
Timothy Randall Weick ………………………………..Educational Leadership
El Paso, Texas
Demetrius Eldon Williams …………………………..Educational Leadership
El Paso, Texas
Elaine Garnes Witherspoon …………………………General Education
Abilene, Texas
Erika Lorena Zwahr …………………………………….Counselor Education
El Paso, Texas
MASTER OF SCIENCE
Maria Paula Alatorre ……………………………………Health and Human Performance
El Paso, Texas
Jessye Lynne Boutwell …………………………………Criminal Justice
El Paso, Texas
Mario Bronson …………………………………………….Health and Human Performance
Belton, Texas
Eliza Alexandra Escamilla ……………………………Health and Human Performance
Slatch, Texas
Bonnie Ashley Huerta ………………………………….Health and Human Performance
Beeville, Texas
Joshua Mical Laudig …………………………………….Health and Human Performance
Friendswood, Texas
Jeffrey Alan Lewis ………………………………………..Health and Human Performance
Fabens, Texas
Robert Bud Marcum …………………………………….Homeland Security
Simpsonville, South Carolina
Adrian Medina ……………………………………………..Criminal Justice
El Paso, Texas
Marcela Rocha ……………………………………………..Health and Human Performance
El Paso, Texas
Denise Kristine Salters ………………………………..Health and Human Performance
El Paso, Texas
John Gary Teuscher …………………………………….Health and Human Performance
Salt Lake City, Utah
Brock Elliott Thewman ………………………………..Health and Human Performance
Hamshire, Texas
BACHELOR OF BUSINESS ADMINISTRATION
Joseph Alexander Bennett …………………………..Business Administration
Austin, Texas
Rachel Rhiannon Carvajal …………………………..Business Administration
Alpine, Texas Cum Laude
Allyson Nicole Fuentez ………………………………..Business Administration
Fort Stockton, Texas Cum Laude
Carolina Herrera …………………………………………Business Administration
San Antonio, Texas
Byron Lee King ……………………………………………Business Administration
Georgetown, Texas
Sarah Olivia Newman…………………………………..Business Administration
San Antonio, Texas Magna Cum Laude
Hector Pereira ……………………………………………..Business Administration
Marfa, Texas
John Paul Smithey ……………………………………….Business Administration
Round Rock, Texas
Erica Monet Solomon-Powell ………………………Business Administration
Conroe, Texas Cum Laude
Sir Daniel Xavier Turner ……………………………..Business Administration
San Antonio, Texas
Kai Lee Winslow ………………………………………….Business Administration Houston, Texas
BACHELOR OF SCIENCE
Mark Anthony Casarez ………………………………..Criminal Justice
El Paso, Texas
Alexis D'Onie Chavez …………………………………..Criminal Justice
Fort Stockton, Texas Cum Laude
Hector Jerardo Decanini ……………………………..Kinesiology and Sports Science
Weslaco, Texas
Tanner Evan Grounds ………………………………….Kinesiology and Sports Science
Dickinson, Texas
Michele Marie Hayden …………………………………Interdisciplinary Studies
Virginia Beach, Virginia
Anthony Alfonzo Herrera ……………………………Kinesiology and Sports Science
Austin, Texas
Vaughn Azariah Holloway Durrant ……………..Criminal Justice
Schertz, Texas
William Austin Kibler ………………………………….Kinesiology and Human Performance
Alpine, Texas
Briyitte Y. Lopez …………………………………………..Criminal Justice
Midland, Texas
Heriberto Madrid, Jr. ……………………………………Criminal Justice
El Paso, Texas
Zoe A. Marin ………………………………………………..Kinesiology and Human Performance
San Antonio, Texas
Briana Alexandria McCutcheon …………………..Kinesiology and Human Performance
Killeen, Texas
Megan Aileen Miller …………………………………….Interdisciplinary Studies
Austin, Texas
Marc Anthony Miranda………………………………..Kinesiology and Human Performance
Alpine, Texas Cum Laude
Natalie Marie Palacios ………………………………….Interdisciplinary Studies
Midland, Texas Cum Laude
Arlene Molina Pando …………………………………..Interdisciplinary Studies
Alpine, Texas
Annette Posada …………………………………………….Kinesiology and Human Performance
Tornillo, Texas
Mary Rose Powers ……………………………………….Kinesiology and Human Performance
Washtucna, Washington
Christopher Andrew Ramirez ……………………..Criminal Justice
Houston, Texas
Sergio Manuel Ramos …………………………………..Criminal Justice
Presidio, Texas
Cody Blake Remore ……………………………………..Kinesiology and Sports Science
Georgetown, Texas
Frank Rodriguez ………………………………………….Criminal Justice
El Paso, Texas
Daniel Brian Rojo ………………………………………..Kinesiology and Human Performance
Alpine, Texas
Bryce Nolan Saracene ………………………………….Kinesiology and Human Performance
Cypress, Texas
Kelly Amber Swenson ………………………………….Kinesiology and Sports Science
Round Rock, Texas Summa Cum Laude
Irene Tagle …………………………………………………..Interdisciplinary Studies
Midland, Texas
Isaac Tovar …………………………………………………..Kinesiology and Human Performance
El Paso, Texas Summa Cum Laude
Esteban Aguilar Vijil …………………………………….Criminal Justice
La Vernia, Texas
Brandee Williams …………………………………………Kinesiology and Human Performance
Midland, Texas
Keenan A. Wright …………………………………………Criminal Justice
El Paso, Texas
SUL ROSS STATE UNIVERSITY MIDDLE RIO GRANDE CAMPUSES IN DEL RIO, EAGLE PASS AND UVALDE
MASTER OF BUSINESS ADMINISTRATION
Melissa Elodia Amparan ………………………………Business Administration
Alpine, Texas
Silvia Kristel Gonzalez de Sanchez ………………Business Administration
Eagle Pass, Texas
Marisa Elizabeth Hinojosa ……………………………Business Administration
Eagle Pass, Texas
Emmanuel Bernard Odin …………………………….Business Administration
Del Rio, Texas
Roxy Soto …………………………………………………….Business Administration
Del Rio, Texas
Roy Placencia Torres ……………………………………Business Administration
Uvalde, Texas
MASTER OF EDUCATION
Patricia Berrelez …………………………………………..Counseling
Pearsall, Texas
Nichole Cardona ………………………………………….Counseling
Carrizo Springs, Texas
Claudia Chavarria ………………………………………..Counseling
Grand Forks, North Dakota
Clarissa Celesta Escamilla ……………………………Counseling
Uvalde, Texas
Anissa Marie Fierro ……………………………………..Counseling
San Antonio, Texas
Tadeo A. Martinez ………………………………………..Counseling
Carrizo Springs, Texas
Erika Martinez Ortiz …………………………………….Counseling
Eagle Pass, Texas
Jesus Ramon ………………………………………………..Counseling
Del Rio, Texas
Alma R. Rangel …………………………………………….Counseling
La Pryor, Texas
Diana A. Rodriguez ………………………………………General Education
Eagle Pass, Texas
Natalie Rodriguez …………………………………………Counseling
Eagle Pass, Texas
Jill Marie Saucier ………………………………………….Counseling
Uvalde, Texas
BACHELOR OF APPLIED SCIENCE
Hector Cruz ………………………………………………….Organizational Leadership
Del Rio, Texas
Virginia Martinez …………………………………………Organizational Leadership
San Antonio, Texas
Lizette Munoz ………………………………………………Organizational Leadership
Eagle Pass, Texas
BACHELOR OF ARTS
Karina Priscella Aguirre ………………………………Psychology
Eagle Pass, Texas
Jaquelin Arellano …………………………………………Interdisciplinary Studies
Eagle Pass, Texas
Stephanie E. Borrego …………………………………..Psychology
Del Rio, Texas
Brandi Rene Cabralez…………………………………..Psychology
Uvalde, Texas
Crystal Campos ……………………………………………Interdisciplinary Studies
Eagle Pass, Texas
Cristina Ann Cardona ………………………………….Psychology
Del Rio, Texas
Anahi Casillas ………………………………………………Interdisciplinary Studies
Eagle Pass, Texas
Ferida R. Castillon ……………………………………….Interdisciplinary Studies
Eagle Pass, Texas
Isabella Chavarria ………………………………………..Interdisciplinary Studies
Del Rio, Texas
Erica Coronado ……………………………………………Psychology
Eagle Pass, Texas Magna Cum Laude
Katrina Alexandria Cruz ………………………………Interdisciplinary Studies
Uvalde, Texas Magna Cum Laude
Yvone De Leon …………………………………………….Interdisciplinary Studies
Eagle Pass, Texas
Cindy De Los Angeles…………………………………..Interdisciplinary Studies
Eagle Pass, Texas
Sandra Cesilia Dominguez …………………………..Psychology
Del Rio, Texas
Timothy L. Duran ………………………………………..Pyschology
Del Rio, Texas
Tatiana Talissa Escobedo ……………………………..English
Del Rio, Texas Cum Laude
Ana S. Garcia ……………………………………………….Psychology
Del Rio, Texas
Jovanna Del Carmen Garcia ………………………..Interdisciplinary Studies
Del Rio, Texas Cum Laude
Krystle Lee Garcia ………………………………………..Interdisciplinary Studies
Del Rio, Texas
Sonya Rodriguez Gonzales …………………………..Psychology
Uvalde, Texas
Timothy Zachariah Hanus …………………………..English
San Marcos, Texas
Joann Jimenez ……………………………………………..English
Eagle Pass, Texas
Claudia Sofia Ledezma …………………………………Interdisciplinary Studies
Eagle Pass, Texas
Leyda Elizabeth Lopez Soto ………………………….Spanish
Crystal City, Texas Cum Laude
Alejandro Maldonado ………………………………….Interdisciplinary Studies
Uvalde, Texas
Chastity Martinez …………………………………………Interdisciplinary Studies
Uvalde, Texas
Jacquelynn Martinez ……………………………………Psychology
Eagle Pass, Texas
Gabriela Medina …………………………………………..Interdisciplinary Studies
Eagle Pass, Texas
Kiana Rubi Moctezuma ………………………………..Interdisciplinary Studies
Carrizo Springs, Texas Cum Laude
Zaira Marlin Moreno ……………………………………Interdisciplinary Studies
Crystal City, Texas
Elaine Negrete ……………………………………………..Interdisciplinary Studies
Eagle Pass, Texas
Victoria Orosco ……………………………………………Psychology
Uvalde, Texas
Octavio Alonzo Ortiz ……………………………………Interdisciplinary Studies
Eagle Pass, Texas Magna Cum Laude
Sara Pascoe ………………………………………………….Interdisciplinary Studies
Eagle Pass, Texas Cum Laude
Cecy Perez ……………………………………………………Interdisciplinary Studies
Eagle Pass, Texas
Gabriel Rodriguez ………………………………………..Interdisciplinary Studies
Eagle Pass, Texas
Veronica L. Rodriguez-Salinas ……………………..English
Eagle Pass, Texas
Edgar Ruiz ……………………………………………………Interdisciplinary Studies
Eagle Pass, Texas
Carlos Ibarra Sanchez ………………………………….Interdisciplinary Studies
Uvalde, Texas
Priscilla Sanchez ………………………………………….Psychology
Carrizo Springs, Texas
Laura M. Velez ………………………………………………Spanish
Eagle Pass, Texas
Belinda Venegas …………………………………………..Psychology
Del Rio, Texas
Cecilia Villarreal ………………………………………….Psychology
Eagle Pass, Texas
Elisa Marie Ynosencio ………………………………….Psychology
Crystal City, Texas
BACHELOR OF BUSINESS ADMINISTRATION
Jenny G. Elizalde Cruz …………………………………General Business
Del Rio, Texas Cum Laude
Daniel J. Dickson …………………………………………General Business
D'Hanis, Texas
Gabriela Escareno ………………………………………..General Business
Eagle Pass, Texas
Braulio C. Flores ………………………………………….General Business
Del Rio, Texas
Marco A. Flores ……………………………………………General Business
Del Rio, Texas
Valerie Michelle Garcia ………………………………..General Business
Eagle Pass, Texas
Yvette Zaira Gloria ………………………………………General Business
Eagle Pass, Texas
Brenda Lee Granado …………………………………….General Business
Del Rio, Texas
Sally Gutierrez ……………………………………………..General Business
Del Rio, Texas
Daniela Hernandez ………………………………………General Business
Eagle Pass, Texas
Ernesto Granado Lopez ……………………………….General Business
Del Rio, Texas
Karina Maldonado ……………………………………….General Business
Eagle Pass, Texas
Diana E. Morales ………………………………………….General Business
Del Rio, Texas
Sergio Alejandro Morales …………………………….General Business
Eagle Pass, Texas
Reginaldo Olivo …………………………………………..General Business
Del Rio, Texas
Heather Olvedo ……………………………………………General Business
Uvalde, Texas
Valentin Reyna …………………………………………….General Business
Del Rio, Texas Cum Laude
Mayra Rivera ………………………………………………..General Business
Del Rio, Texas
Kyndall Celeste Rodriguez …………………………..General Business
Uvalde, Texas
Homero Salas ………………………………………………General Business
Del Rio, Texas
Janice G. Sandoval ……………………………………….General Business
Del Rio, Texas
Michelle P. Vega ……………………………………………General Business
Del Rio, Texas
Richard Joedean Vinton ………………………………General Business
Pearsall, Texas
BACHELOR OF SCIENCE
Clarisssa H. Anico ………………………………………..Criminal Justice
Eagle Pass, Texas
Jose Luis Balderas ………………………………………..Criminal Justice
La Pryor, Texas
Rolando R. Benavides ………………………………….Criminal Justice
Uvalde, Texas Magna Cum Laude
Luz I. Casanova ……………………………………………Criminal Justice
Eagle Pass, Texas Magna Cum Laude
Alvaro Dominguez ……………………………………….Criminal Justice
Eagle Pass, Texas
Octavio Estrada …………………………………………..Criminal Justice
Del Rio, Texas
Renee Marie Gonzalez ………………………………….Criminal Justice
Del Rio, Texas
Cassidy Lynn Holshey …………………………………Biology
Laughlin AFB, Texas
Abraham Javalera ………………………………………..Criminal Justice
Eagle Pass, Texas Magna Cum Laude
Andrea Jimenez …………………………………………..Criminal Justice
Eagle Pass, Texas Magna Cum Laude
Carolina Perez ……………………………………………..Criminal Justice
Eagle Pass, Texas
Juan A. Salinas ……………………………………………..Mathematics
Eagle Pass, Texas Cum Laude
Ramon Salinas ……………………………………………..Criminal Justice
Eagle Pass, Texas
Anna J. Turner …………………………………………….Criminal Justice
Uvalde, Texas
Diego Rene Villarreal …………………………………..Biology
Eagle Pass, Texas