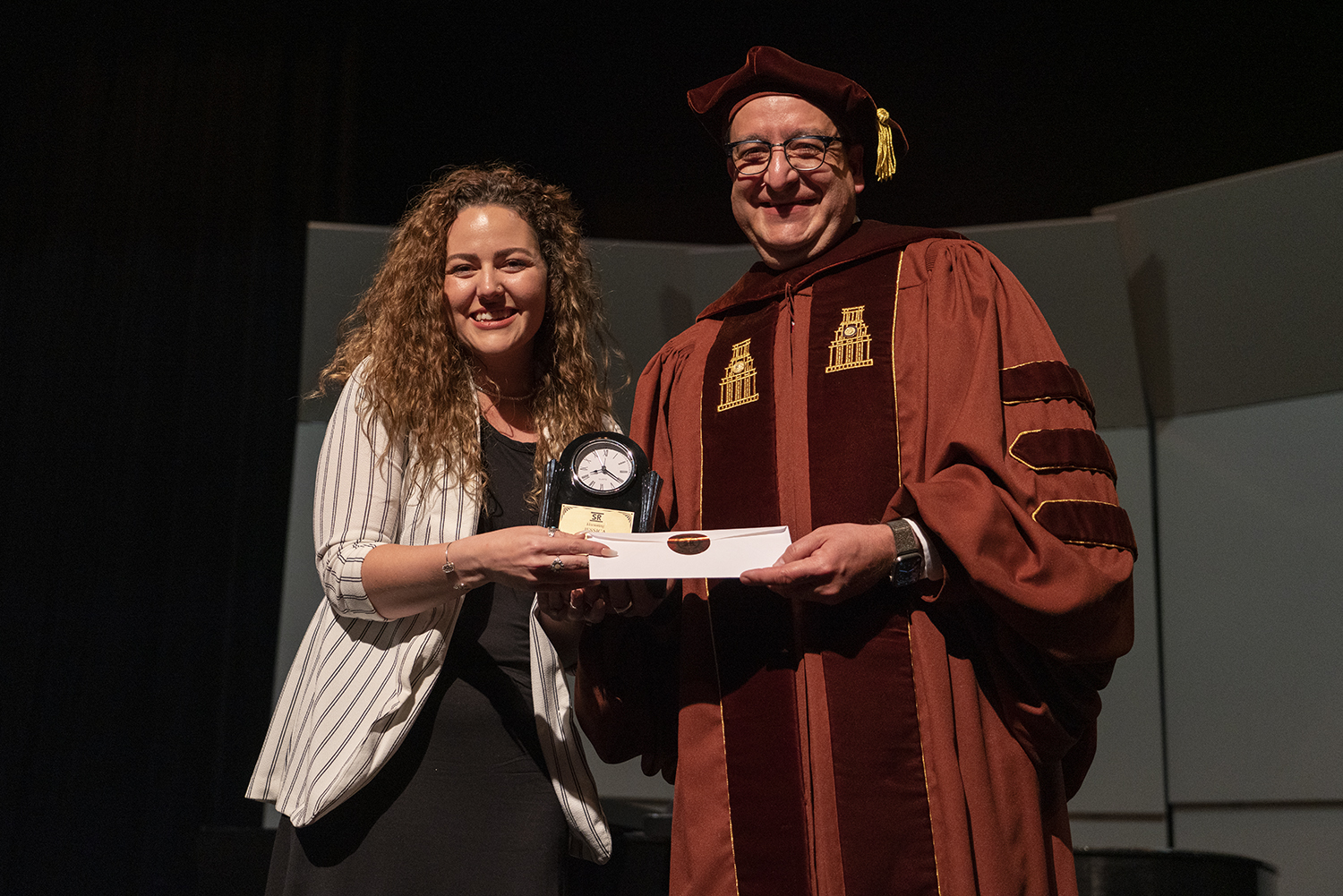 Alpine, TX – Jessica Galloway has received the 2022 Woman of the Year award. Her journey and work ethic have left a lasting impact on the professors, fellow students, and all she has encountered in her life. By any standard, and hers is very, very high, she is the embodiment of excellence for Sul Ross State University.
In fact, Dr. Jessica Velasco had little trouble finding those exact words. "She sets the standard," says Dr. Velasco. The praise for Jessica was a staunch reminder of why clichés exist. "Leads by example. Pursuit of perfection. Takes charge". Because there's just no better way to describe the way she has embraced her time here on Campus. Dr. Velasco credits Jessica with taking leadership roles in several student groups that Dr. Velasco advised. She watched Jessica progress and bloom into an articulate arbitrator coupled with being nothing short of a perfect student. She was the first to show up and the last to leave.  No matter what.
Dr. Velasco also praised Jessica's efforts to help revitalize the College Republicans where she spent two years as president. She did this in a way that runs contrary to the derisive political climate that is so prevalent these days. Instead of fostering the polarization, she fostered not only discourse. But healthy discourse. She worked together with the Campus Democrats to create a space where people of opposing views can come together and discuss their differences. Her baseline for these forums was that everyone's opinions are valid. Disagreement notwithstanding. The goal was always to reach an understanding between the two sides. She didn't tell people how to think. She asked them if they wanted to. That consistent mindset is certainly a rarity these days.
Her background as a debater often left her peers and more often professors mesmerized. During live streamed debates, Dr. Velasco received text messages asking if this was actually one of our students. She left those who were listening in awe and blown away by her presence. It's most certainly why she pursed a degree in Communication and minored in Political Science. Those would be two obvious degrees to pursue for someone who had already mastered the subtlety and effective nuisances of both those subjects before she ever stepped foot on Campus.
However, what makes Jessica such a motivated individual in her pursuits is something quite personal to her. It's her son. Let alone the fact she was as active as she was on Campus, attending classes, president of the College Republicans all while having a son to raise. Her son is on the Autism spectrum. Suddenly her resiliency, dedication, and shear effort to her studies border on superhuman. Communication has become something so much more personal to Jessica. Not just conveying information or opinions between two entities. But understanding. The care she takes in working with her son to understand him is the greatest motivator she has to be as excellent as she is. For him.
She also is on the spectrum and remembers the difficulties she faced growing up in social settings, making friends, fitting in. Yet, here she is today. Receiving unencumbered praise from people who simply are around her and watch her speak. Without a doubt it is the empathy that she brings forth to every situation in interactions between the people she encounters that make her profoundly enigmatic. She focuses on her peers like she does her son. She treats others with same deep connection that she has to her own family.
Right now, she'll be focusing on her family for the time being. But she hopes to pursue a masters and ultimately become a professor to continue her passion of impacting others in a positive and meaningful way. Jessica also plans to pursue a lot in between now and then. She's not one to sit idly by. A mind like hers isn't suited for the quiet life. It's good for the rest of humanity that she's not.