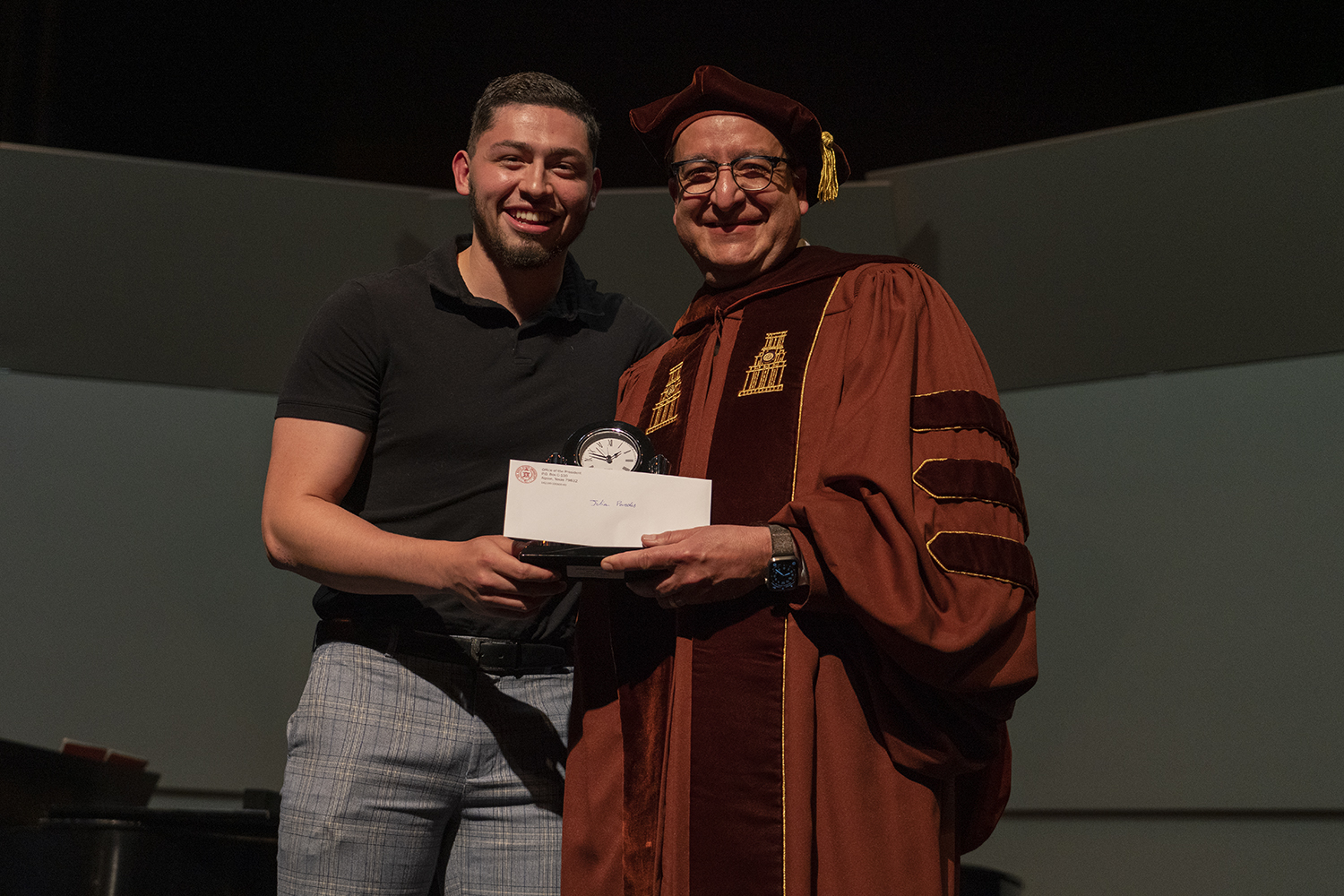 Alpine, TX –  Julian Paredes of men's basketball was recognized as Sul Ross Man of the Year at Monday's Sul Ross State University 2022 Honors Convocation. The night included the Distinguished Scholar Athlete awards and student-athletes receiving awards by college.
"I'm honored to have been voted Man of the Year," said Paredes. "This recognition was by no means a one-person effort. Sul Ross has done so much for me thus far and I'm grateful for everyone that has helped me and been a part of this journey. I'm looking forward to what's to come!"
Jessica Galloway received Woman of the Year.
Each spring semester, the outstanding woman and the outstanding man among the seniors are announced. To be eligible for this honor, the student must have a grade point average of 3.0 and must demonstrate qualities of good citizenship and leadership.
Paredes graduated in December 2021 with a Bachelor's of Science, is currently working on his MBA, and is an aspiring sports medicine physician.
He is a McNair Scholar, current president of the Student-Athlete Advisory Committee (SAAC), organized the Lobo Clothing Drive, and is a current intern at Family Health Services of Alpine. Paredes previously interned as a physical therapist tech at Big Bend Regional Medical Center.
A West All-Division Second Team selection in 2020-2021, Paredes led the Lobos with 15.2 points and 8.2 rebounds per game in 2021-2022. His 212 total rebounds and seven blocks were also best on the team. He was third in the ASC in rebounding, fourth in defensive rebounds per game with 5.8, and fifth in offensive rebounds per game with 2.4. Paredes matched a career-high 29 points on January 13 against McMurry and came away with a career-best 19 rebounds on November 18, 2021 against Howard Payne. He finished with nine double-doubles on the season, including four in a row from January 27-February 10.
Paredes was honored among numerous student-athletes from Sul Ross' 12 NCAA sports.
"I am continually honored and humbled by the accolades of our student-athletes," said Athletic Director Amanda Workman. "Having 62 distinguished scholar athletes recognized within the athletic department and seeing so many student-athletes honored within their academic departments as well was outstanding. A student-athlete's ability to juggle all of the demands in the classroom and the demands of being an athlete are truly inspiring. I'm so very proud of all these Lobos!"