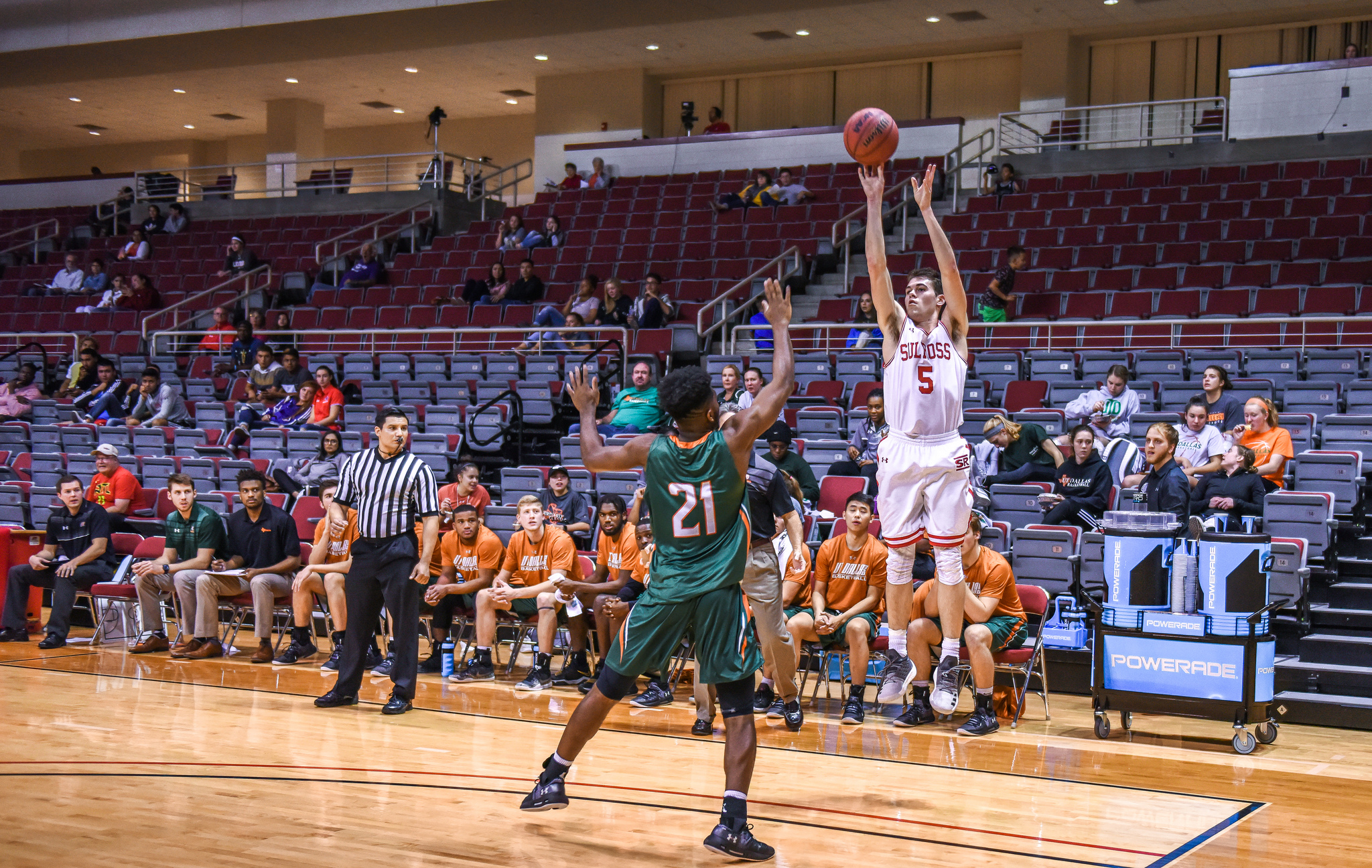 Posted by

Categories

Sports

Date

December 30, 2018
• by Travis Hendryx •
SAN ANTONIO, Texas- Tristen Licon and Conner Dawson led with 20 points each as the Sul Ross men's basketball team defeated the Spartans of Aurora University in a 97-86 non-conference decision Sunday in San Antonio.
Licon and B.J. Hollis missed double doubles by just two rebounds as Hollis finished the day with 15 points.
A layup and a free throw by the Spartans' Lance Bailey gave Aurora a 3-0 lead less than a minute into the contest.
Down by six, Sul Ross slowly built momentum and took a one-point lead off a three-pointer by Jola Otubu for a 17-16 Lobo advantage with 12:46 left in the first half.
Dawson then went to work with a layup paired with a followup free throw and a triple which sparked an 11-0 run.
A Licon three-pointer at the 6:00 mark put Sully ahead, 39-27.
The Lobos would hold two more 12-point leads coming off foul shots by Brayden Fry and another three-point bucket by Licon.
The Spartans ended the half with a three-pointer by Myles Turner and went to the break trailing 50-41.
Jezreel Griffin extended the Sul Ross lead back to 12 with a drained three-pointer 18 seconds into the second half.
A layup by Dawson at the 16:59 mark gave Sully a 15-point lead before a jumper in the paint by Jack Kirkpatrick handed the Lobos their largest lead of the contest up 61-44 at 15:40.
Aurora threatened, cutting its deficit down to three with a pair of free throws by Jesse Young with 4:25 remaining in the game.
The Lobos then broke out with three more 12-point leads and never lost control as the Spartans ended the game with a foul shot by Jarek Hotwagner in the last five seconds of regulation for the 97-86 Sul Ross win.
Kirkpatrick finished the outing with 12 points while Dawson led the team with five assists.
Sunday's victory bumps Sully to 5-7 on the season while the Spartans slump to 4-7.
The Lobos will tangle with Trinity University in a 2:00 p.m. tip Monday from San Antonio.