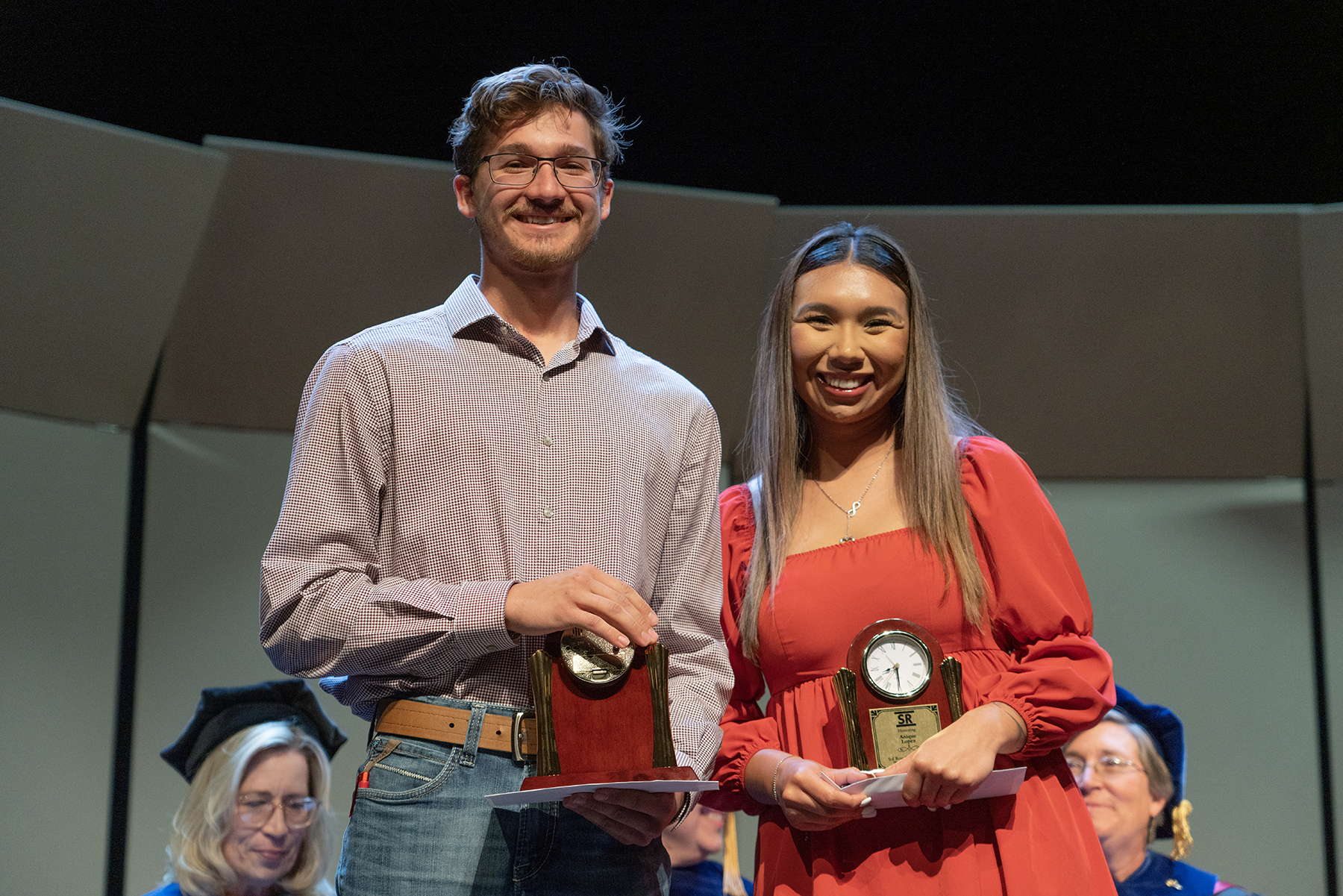 Sul Ross State University's Man and Woman of the Year were announced at the Honors Convocation held Monday, April 24, at Marshall Auditorium in Alpine.
Ty Goodwin is the 2023 Man of the Year.
Goodwin was the Outstanding Underclassmen in Natural Resource Management for the last two years running, and the Outstanding Student for the Texas Society for Range Management in 2022. He was the Horticulture Student of the Year in 2016 and 2017, a coach on the Sul Ross Plant ID team, a member of the National Honor Society from 2017-2020 and the Superintendent Scholars in 2019-2020.
Goodwin is a member of the Borderlands Undergraduate Mentorship Program and was the president of the Sul Ross Range and Wildlife Club in 2021-2022.
He received a Society of Range Management scholarship, a Barton Warnock NRS Management scholarship, the King and Becky Terry scholarship and a Houston Livestock Show scholarship, just to name a few, and has volunteered with Operation Christmas, the Gatesville Homeless Shelter, the FFA, the Baptist Student Ministry, Range and Wildlife Club, the Sul Ross Rodeo and more.
According to one of those who nominated him, this student "met every challenge, deadline and goal presented and tackled every problem with grace and ease."
The 2023 Woman of the Year is Anique Lopez.
According to one of those who nominated her, she has "embodied the meaning of what it is to be a Lobo since she arrived on campus."
Lopez is the vice president of the Student Government Association at Sul Ross State, and the chairwoman of the Student Advisory Board for the Texas State University System.
She has served as the president of Student Support Services since 2021 and is currently a resident assistant.
She also served on the Women's Conference Planning Committee, as the student chair of the Guiding Coalition for the annual campus environment survey, the student chair of the Alcohol and Other Drugs Coalition and is a member of the Kinesiology Club.
Another nominator called her "extremely articulate and thoughtful, highly engaged with campus life and dedicated to making a positive difference."
SRSU faculty and staff nominate students each year in the spring. Nominees must have applied and been cleared to graduate in May or graduated in the fall or summer of the previous year, have an overall 3.0 GPA, displayed qualities of good citizenship and leadership, be active in students and/or community activities and not be a previous recipient of the award.
Photo: Ty Goodwin and Anique Lopez.