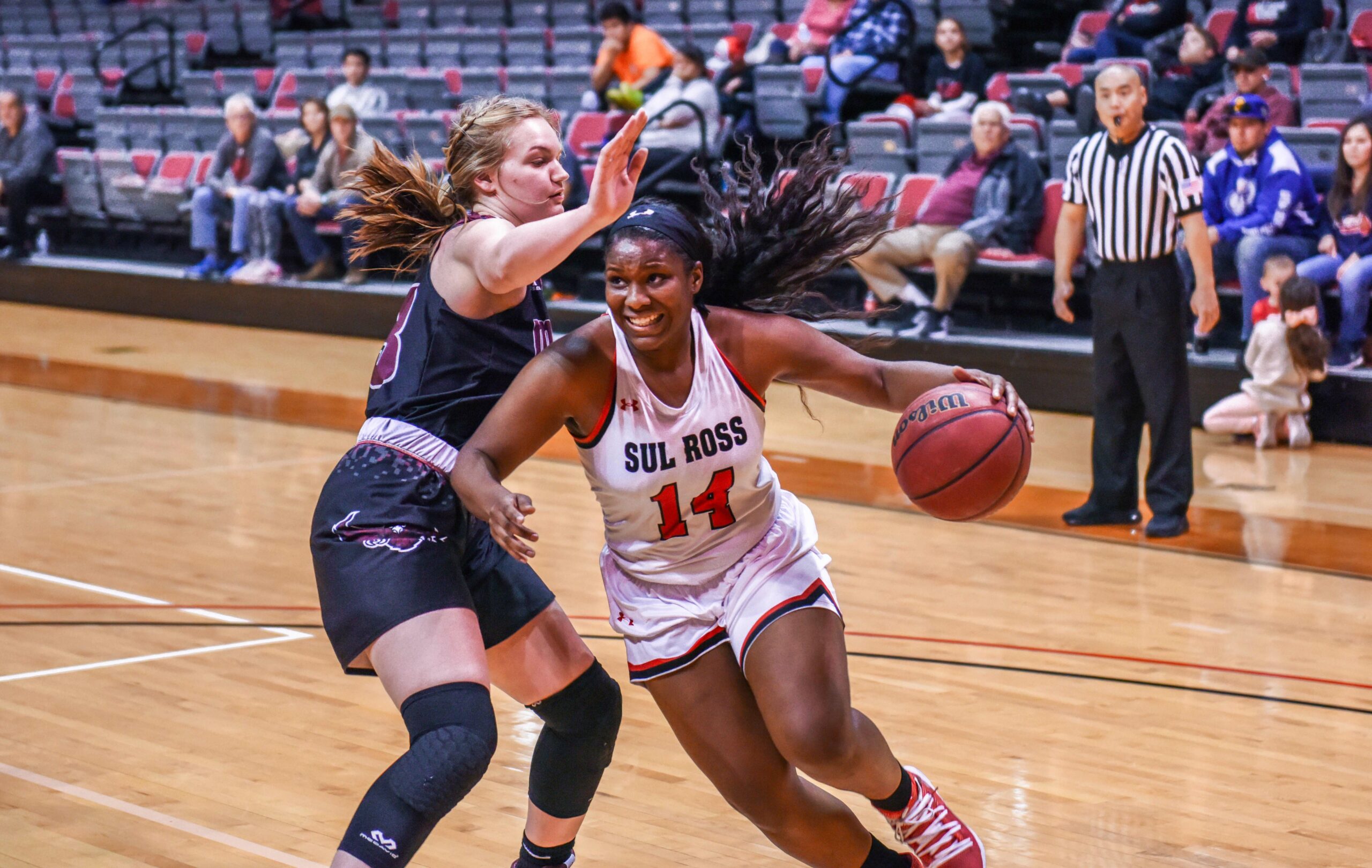 Posted by

Categories

Sports

Date

February 10, 2019
• by Travis Hendryx •
ALPINE, Texas- Senior Angalyn Latin posted a team-high 17 points but visiting McMurry University rallied to claim an 80-78 victory over the Sul Ross Lady Lobos in the home closer Saturday.
Freshman guard Kayley Diaz finished with 16 points in the effort while Jocelyne Roque, Lizette Heredia and Makyla Hamilton sported 10 points each.
A three-pointer by Heredia tied the game at three nearly a minute into the first quarter.
Following a 5-5 tie at the 7:20 mark, Sul Ross maintained a slim lead lead over the next four minutes of play.
A layup by Diaz at 3:59 sparked a 6-0 run ending on a free throw by Heredia for an 18-11 Lady Lobo lead.
McMurry's Savannah Johnson ended the quarter with a jumper at the elbow at 59 seconds as the War Hawks trailed 18-17 heading to the second period.
Sully held three, six-point leads in the second quarter before Latin capped an 8-0 run with a three-point basket at 2:31 for a 40-29 Lady Lobo lead.
The visitors narrowed their deficit to four off a free throw by Skylar Reyna with 58 seconds remaining before the half.
Kianna Fierro ended the half with a layup at three seconds for a 44-39 lead for the home squad heading to intermission.
A free throw by Hamilton extended the Sul Ross lead to six with 7:23 left in the third quarter before the War Hawks crept to within one off a pair of free throws by Reyna at the 6:30 mark.
Five lead changes and four ties would follow before Reyna finished off a 5-0 run with a foul shot for a 62-58 McMurry lead at 44 seconds.
Latin then banked on a jumper in the paint at 19 seconds as the War Hawks took a slim 62-60 lead to the final quarter.
McMurry stretched its lead to seven as Isabel Carrion connected from midrange with 8:59 left in the game.
Latin then fired off a triple at the 6:10 mark to tie the contest up at 69.
The War Hawks broke the knot and held a tight lead for the next three minutes before Chandre Nunez's jumper swung the lead back to Sul Ross by a 76-75 margin.
Two more ties followed as Roque's jumper in the paint knotted the outing at 78 at 32 seconds.
Reyna then fired off the tie-breaking shot with under five seconds to secure the 80-78 McMurry win.
Sul Ross drops to 5-18 on the season and 3-11 in ASC play. The War Hawks bump their overall mark to 8-16 with a 5-10 record in conference competition.
The Lady Lobos head to Belton on Thursday for ASC action against No. 6 University of Mary Hardin-Baylor.  Tip off is scheduled for 5:30 p.m.