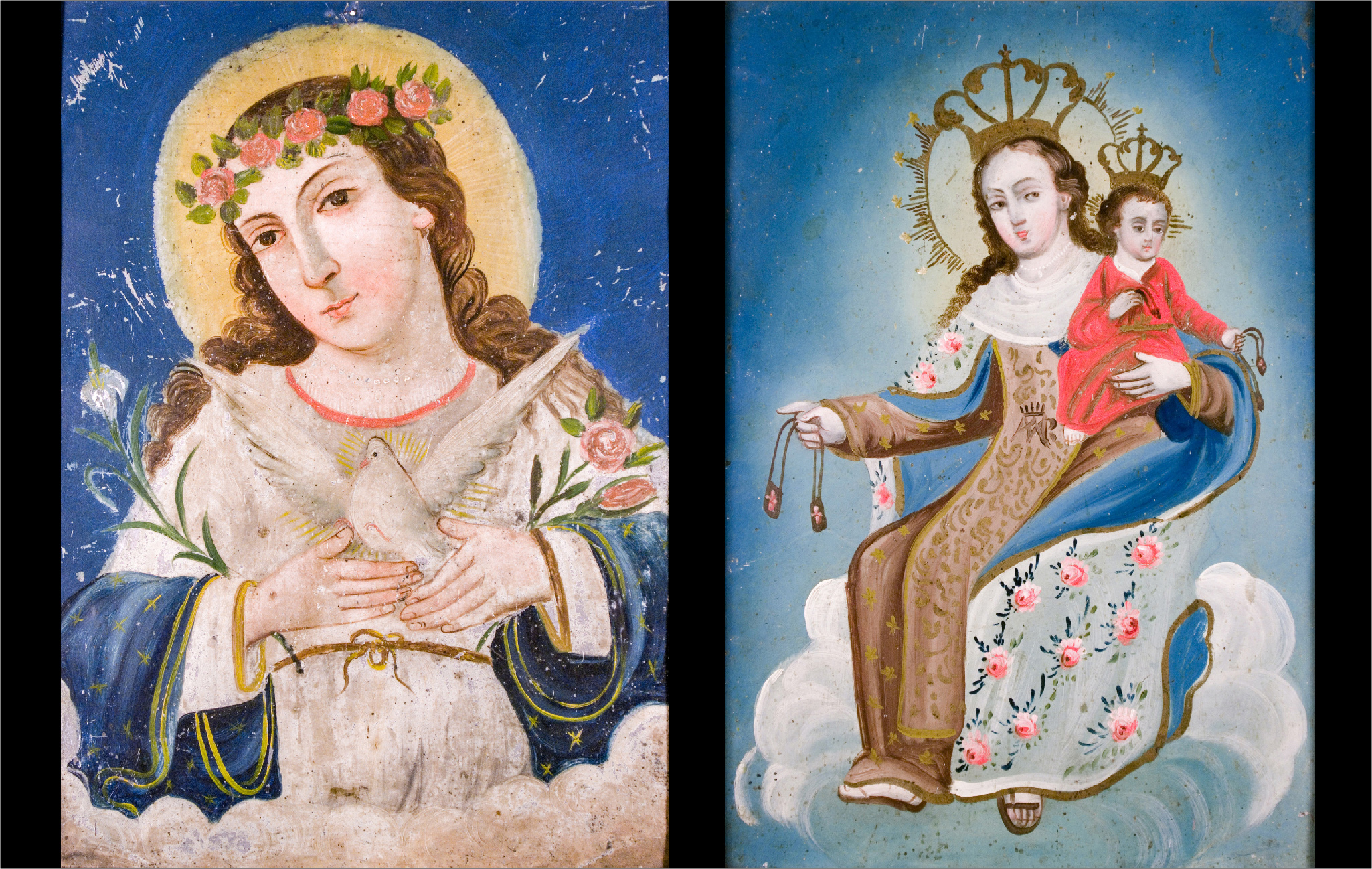 Posted by

Categories

News

Date

October 12, 2018
• courtesy of the Museum of the Big Bend •
Beautiful examples of the popular Mexican folk art, retablos, are now on exhibit at the Museum of the Big Bend.
Retablos are personal devotional paintings typically purchased from Mexican artists or peddlers who sell them door to door and near village churches on holidays and feast days. Traditionally painted on tin, these small works of art may depict Christ, the Blessed Virgin Mary, the Holy Family, and the Trinity, as well as the Saints.  The paintings are placed in home altars and appealed to for help in times of trouble and thanked for life's blessings.
The select retablos now on display come from the Betty Byerley Collection which was given to the Museum by Leon Gaddis Byerley Jr. of Midland in memory of his wife.
Mary Elizabeth "Betty" Miller was born October 17, 1927 and raised on her family's ranch in far West Texas near Valentine.  Her parents, Espy and Lucy Miller, purchased a home in Fort Davis in 1930, and Betty and her older brother Clay Espy Miller, and sister Lucy Miller, graduated from Fort Davis High School.
Betty attended Texas State College for Women in Denton and the University of Texas at Austin.  When she married Leon Byerley in 1952, they moved to Midland where they raised three children: Beth, Geddis, and Dan.
Betty and Leon Byerley made many trips to Mexico to visit archaeological sites and museums, fascinated by the artistic traditions and religious devotion of the people.  They began collecting retablos in the 1960s, with Leon hand-carving frames for many of them.  The beloved folk art provided the Byerley's home with devotional beauty for 30 years before being donated to the Museum.
Retablos from the Betty Byerley Collection will be on exhibit through March 24, 2019.
Operating hours for the Museum are Tuesday-Saturday 9 a.m. to 5 p.m. and Sunday 1-5 p.m.  The Museum is closed on Monday and major holidays.  Admission and parking are always free; however donations are accepted.  To learn more, visit www.museumofthebigbend.com.