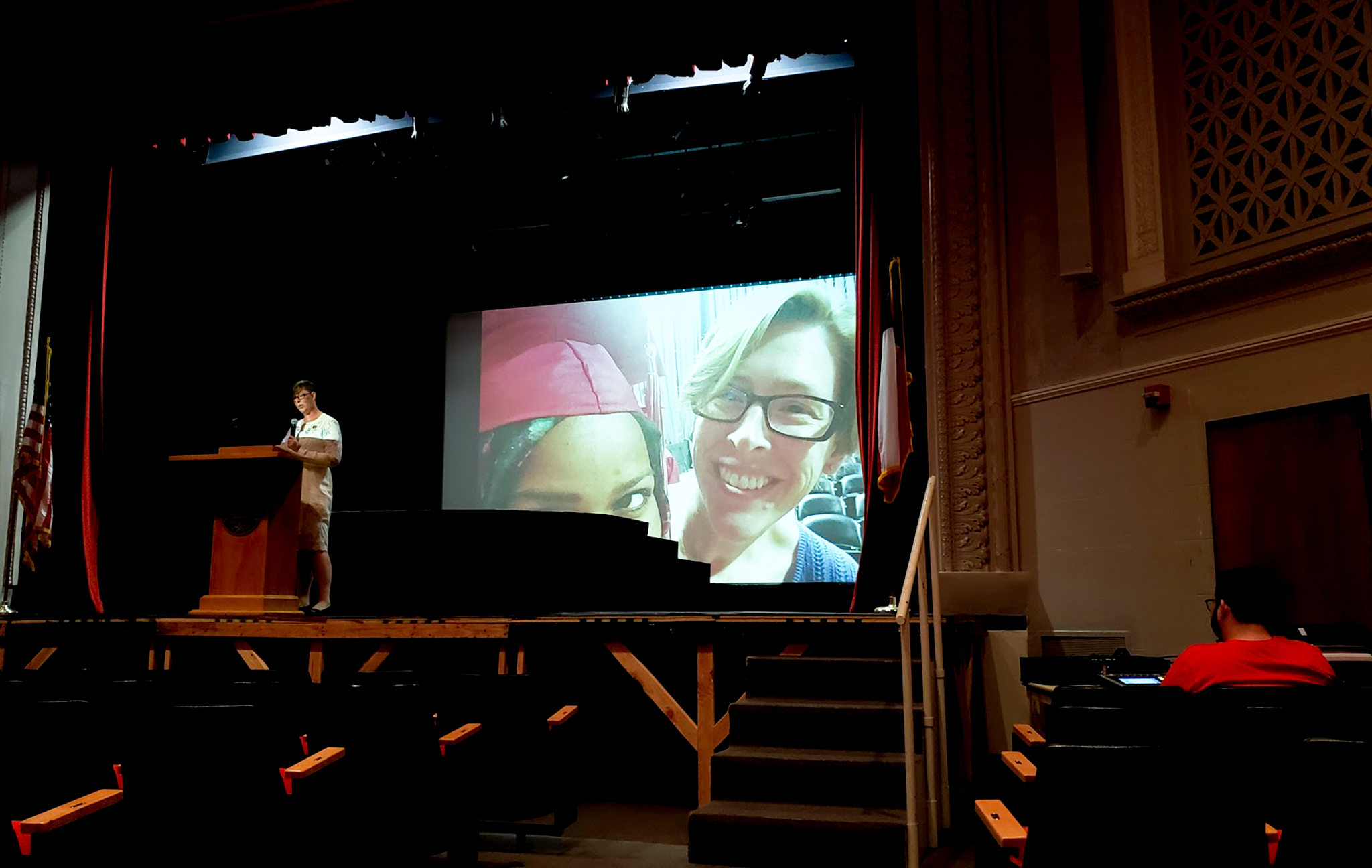 Posted by

Categories

Features

Date

October 9, 2018
• by Paul Slocumb •
After visiting schools in Marfa and Alpine, National Teacher of the Year, Mandy Manning, arrived at Sul Ross State University to deliver the annual Poindexter Lecture in Marshall Auditorium on Monday, Oct. 1.  The theme of her speech was inclusivity—making students of all backgrounds and skill levels feel welcome in the classroom.
Manning got her first glimpse of the power of inclusivity at the beginning of her career when she worked as a para-educator in a Washington State special education classroom.  And she believes this experience as an instructional aide was integral to her choosing a career in teaching.
"It gave me a glimpse of the impact an instructor could have on an individual student," she said.  "But I also got to see what a lead teacher should be.  Not only did the lead teacher empower students, but he also empowered his aides.  He recognized the strength we brought to the classroom, and he included us in the planning.  He put us in a position where we could grow."
Manning's growth as an educator led her to the Peace Corps and a job teaching English in Armenia.  One particular Peace Corps memory Manning shared focused on her failure to engage a class of older students while at the same time successfully engaging a class of younger students.  Years after leaving Armenia, she realized her mistake was not empowering the older students to express their cultural identity.
"I realized in the fifth-grade class I had rewritten an American song, making it about Armenia, and the kids loved it because we were singing about Armenia in English," she recalled.  "But in the eighth-grade class I focused on U.S. culture.  I taught them about U.S. Independence Day and taught them the words to America the Beautiful.  It's no wonder I couldn't connect with those kids."
Such Peace Corps success and failure reinforced for Manning the importance of always remaining open toward students of different cultures.
"Educators need to be open to people who are different from us," she explained.  "The number one impactful force in our classroom is our connection with our students, and the only way we can connect with them and build relationships is if we are open to who they are."
Following the Peace Corps, Manning taught English in Texas, Japan, and New York City before ending up in her current position in Spokane, Washington.  At the Joel E. Ferris High School Newcomer Center she now teaches multiple content areas to newly arrived refugee and immigrant students.  It's a job that allows Manning to put into practice her belief—developed over two decades of teaching—that successfully transitioning immigrant students into the U.S. also requires helping them celebrate who they already are.
"Unconditional love and an unconditional welcome are the keys to ensuring our immigrant and refugee students find success in their new home," she said.  "What we really need to do for English-language learners is very simple: welcome them.  We need to help them confidently transition into learning and living in the United States, and we need to help them believe in themselves and their potential.  It's more important now than ever that we express openly how happy we are that these newcomers are in our schools and in our communities."