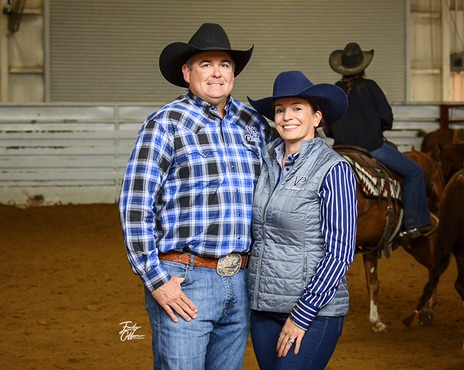 The Borderlands Research Institute (BRI) at Sul Ross State University is pleased to announce the establishment of a new endowment fund that will support big game research into the future. John L. Nau, III, who lives in Houston, made a $400K gift to honor his daughter and son-in-law, Victoria and Parker Johnson.
"This new Victoria and Parker Johnson Endowed Fellowship for Big Game Research will support a graduate student in perpetuity to conduct groundbreaking research on the multitude of big game species in West Texas," said Dr. Louis A. Harveson, who is the Dan Allen Hughes, Jr., Endowed Director of Borderlands Research Institute. "We're honored to celebrate Victoria and Parker in this very special way."
Nau was the inaugural recipient of the West Texas Conservationist of the Year Award in 2022 and is a longtime supporter of the Borderlands Research Institute. Parker Johnson is also active in conservation circles, and currently serves on the board of both the Borderlands Research Institute and Texas Parks and Wildlife Foundation.
The corpus of the endowment will remain untouched to grow over time. Earnings from the endowment will be used to support academic salaries and program support for a graduate student focused on big game research at the Borderlands Research Institute.
The Chihuahuan Desert Borderlands are home to a diversity of big game animals that is unparalleled in Texas, including desert mule deer, pronghorn, desert bighorn sheep, javelina and white-tailed deer. Despite this variety of large game and their economic importance, there is relatively little information available regarding their management. Learning more about these big game animals is a priority for Borderlands Research Institute professors and students.
"We are honored by this gift that will support the important big game research being conducted by Borderlands Research Institute staff and students," said Parker Johnson. "It is especially fitting that this gift comes during BRI's fifteenth anniversary year. In a relatively short amount of time, BRI has become a critical resource for West Texas landowners and land managers."
More information about BRI's Big Game Research program can be found online at bri.sulross.edu/big-game/.