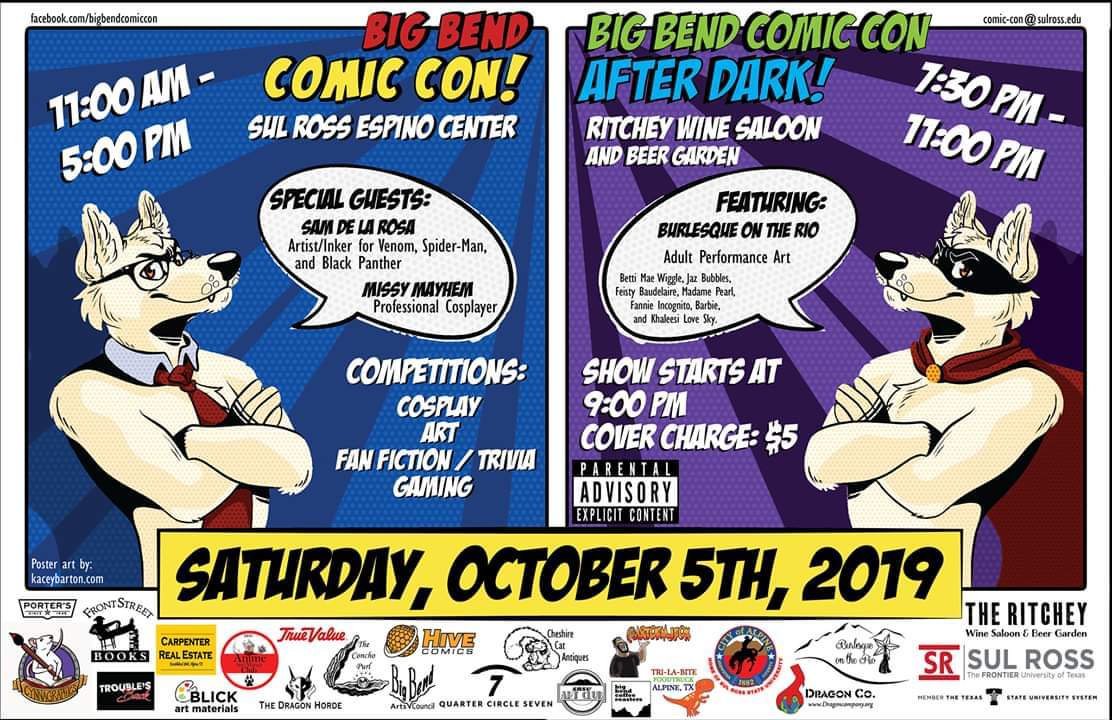 by Shawna Graves, Office of Public Relations
Big Bend Comic Con is bringing special guests and more activities to the Espino Conference Center on the Sul Ross campus on Saturday,  October 5.
The convention, now in its fifth year, is managed by a committee of faculty and staff and has grown into a full day of activities from 11 a.m. to 5 p.m. This year includes an after dark show beginning at 7:30 p.m. at the Ritchey Wine Saloon and Beer Garden on Murphy Avenue.
At the day portion, comic book artist Sam De La Rosa, known for Marvel comics like Spider Man, Captain America and Iron Man, will give a presentation of his work. One of his sketches will be a prize for the juried art competition.
The juried art competition has a category for high schoolers and another for adults, each with first, second and third place prizes. Art must be submitted prior to October 4.
Attendees are encouraged to dress up as a favorite comic book or fantasy character.
Professional cosplayer Missy Mayhem, known for her homemade costumes, will help judge a costume contest. "She has done an incredible job of depicting the character Goku and she creates her costumes from scratch, even her wigs," Comic Con committee member Alicia Trotman, PhD, said.
There will be all sorts of smaller events throughout the day.
Fan fiction trivia kicks off at 11 a.m. with prizes including The Walking Dead compendium. Documentary screenings run all day and a special anime viewing runs from 3:00 to 5:00 p.m.
The Sul Ross Art Club is hosting a timed drawing competition with art supplies for the top winners.
There will be a virtual reality room with three viewing stations.
A Super Smash Brothers gaming competition will have three rounds with winners from each.
All attendees will receive a Comic Con bag while supplies last. Door prizes include Comic Con t-shirts.
Entrance to all the activities is free with the exception of the face paint booth and the photo booth, which includes a green screen back drop. Vendors will be on site with goods for sale ranging from comic books to crafts. Aramark will have a comic themed lunch available for a fee.
A silent auction benefitting Big Bend Comic Con 2020 includes prints from Athena Finger, artist and granddaughter of Batman co-creator Bill Finger. Committee members are trying to secure Athena as one of next year's special guests. The family-friendly event will end with a closing ceremony hosted by Missy Mayhem.
Big Bend Comic Con After Dark, at the Ritchey, includes a burlesque show by Burlesque on the Rio, out of El Paso, plus comic vendors with more adult-themed content.
Trotman credits the growth of Comic Con to a great collaboration between committee members and local businesses.
"We've had an incredible response from businesses," she said.
The group also received hotel occupancy tax funding from the City of Alpine.
For inquires and art submissions, contact comic-con@sulross.edu.