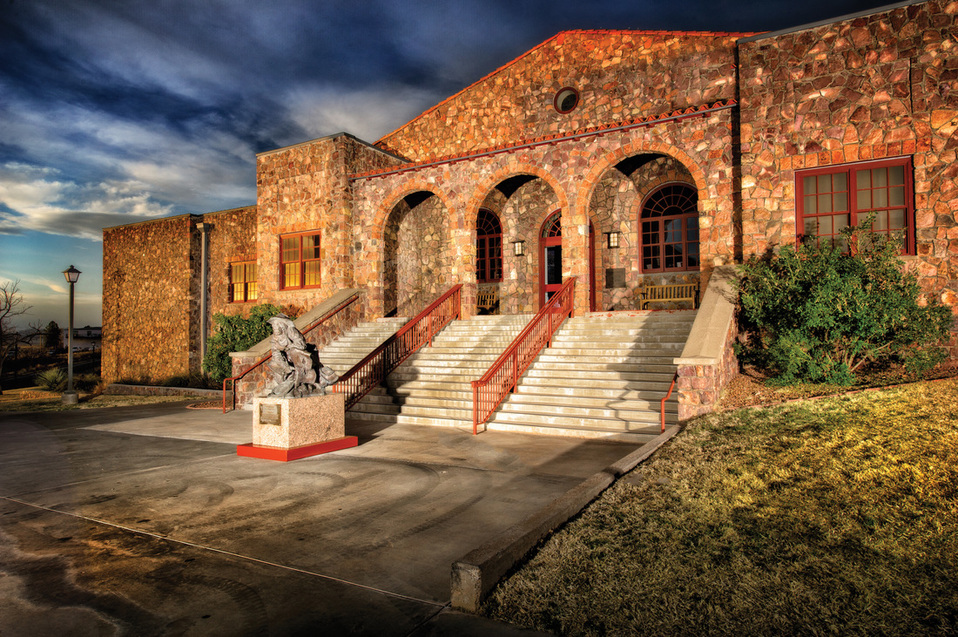 by Shawna Graves, Office of Public Relations
The Sixth Annual Museum of the Big Bend Heritage Dinner honors a distinguished Museum friend, and this year is raising funds and awareness for an expansion project that will nearly double the Museum's size.
This year's honoree is Charles Mallory, a steadfast supporter of the Museum and Sul Ross State University.
Mallory founded Greenwich Hospitality Group in 1999, which operates boutique hotels and restaurants, including Alpine's Maverick Inn, Holland Hotel and restaurant The Century, along with Hotel Limpia and Blue Mountain Bar & Grill, in Fort Davis.
The $10 million Museum expansion project is in its second year of fundraising and has so far raised $2 million.
Permanent collections have grown from a single arrowhead in 1921 to over 30,000 objects in 2019.
Included are works of Early Texas Art by masters with Big Bend connections, like Elizabeth Keefer Boatwright, Xavier Gonzalez, Coreen Mary Spellman and Julius Woeltz, among others.
The Museum's Yana and Marty Davis Map collection is one of the state's most comprehensive collections of Texas, Indian Territory, Mexico and World maps.
The Betty Byerley Retablo Collection is the core of the Museum's Mexican folk Art Collection, with ex-votos, coronas, prayer candles, santos and images of Big Bend grutas.
The expansion will provide a designated place to properly care for and store the growing collection of artifacts and will add gallery space for rotating and permanent exhibits.
The Museum already mounts four major exhibits each year and hosts numerous lectures, presentations, demonstrations and musical performances.
The expansion will build into the northeast parking lot behind the historic establishment. A spectacular new entrance will connect the two buildings.
New design is by internationally renowned architect Larry Speck of Page Architects and will complement the historic main building.
Additions include an event center and outdoor patio with mountain views and a special gallery devoted exclusively to El Paso artist Tom Lea's portfolio portraying the history of the cattle industry.
The original Museum building has a storied history, narrowly escaping condemnation and disrepair.
It was originally built and designed as a museum in 1936 with a unique Lamella arch roof, but by 1965, its collections were moved to make room for a University Center.
Eventually the Morgan University Center was built, leaving the historic museum building empty. A grassroots push to reclaim the building for the purposes of preserving regional history as the Museum of the Big Bend was staged, and in 2007, the historic building underwent a complete renovation.
The Museum now enjoys a dedicated and growing group of sponsors, stewards and volunteers who see to its enduring presence in the region.
Architectural renderings for the expansion project can be viewed in the hallway behind the Museum Gift Shop.
The Heritage Dinner takes place Saturday September 21 at 7:00 p.m., with a cocktail reception at 5:30, at the Ritchey Brothers Building in Marathon and catering by the Gage Hotel. For more information and tickets, call (432) 837-8143 or visit museumofthebigbend.com/events.