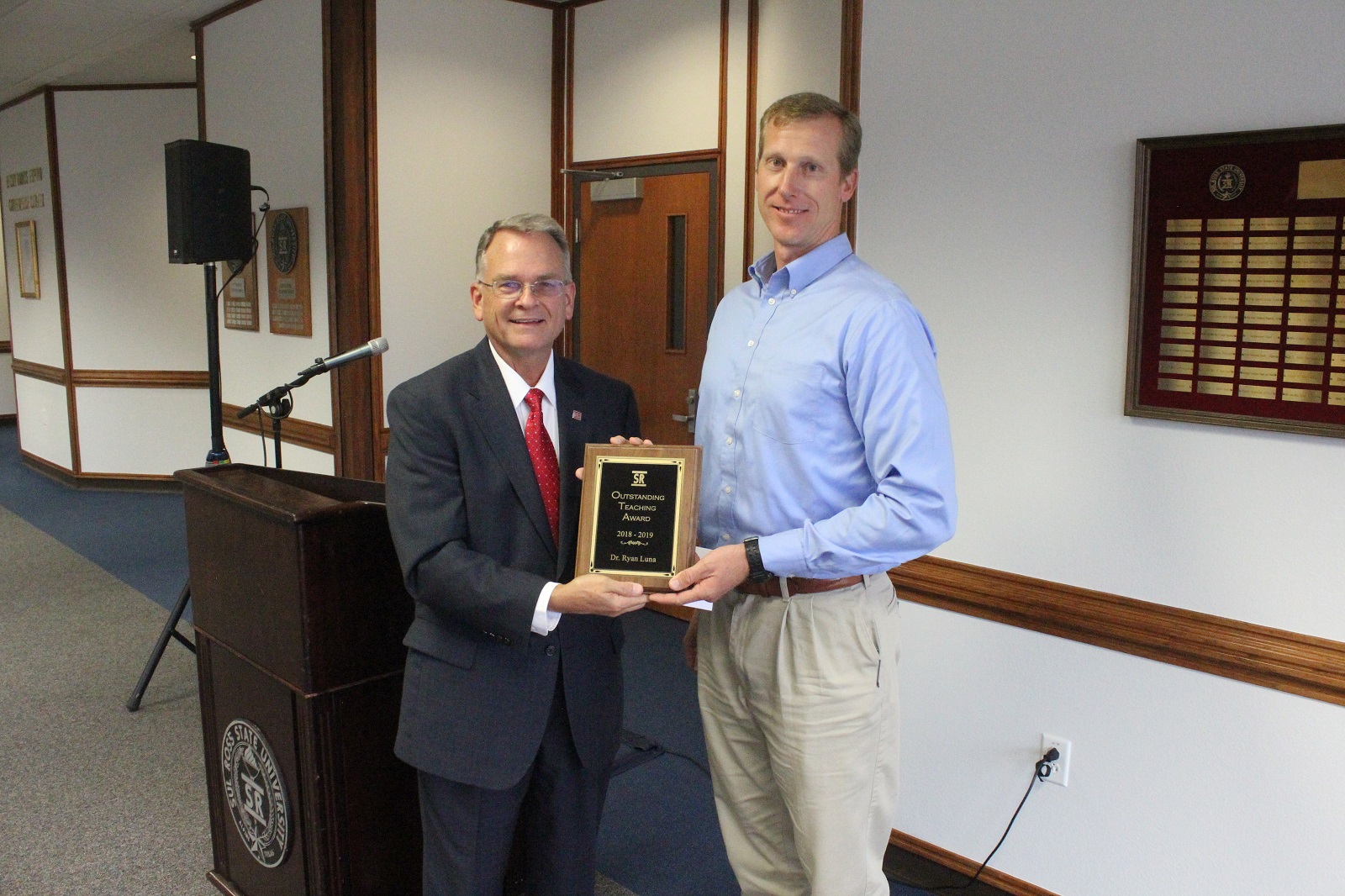 by Travis Hendryx, Office of Public Relations
Dr. Ryan S. Luna's impressive list of personal and program accomplishments now includes the 2019 Sul Ross State University Outstanding Teaching Award.
Luna was honored with a plaque presentation ceremony and reception Wednesday at the Morgan University Center.
The award is determined by a committee of university faculty, administration and students. Sul Ross President Bill Kibler made the presentation.
"We have had teachers from Natural Resource Management who have received this award in the past," said Dr. Luna. "So this is a real honor to follow in their footsteps and their examples."
It was those examples from his teaching peers, Luna said, that helped set the tone for his own career path in the classroom.
"Coming on board with those folks, I was able to learn the ins and outs of what worked in a classroom and what didn't," he said. "They always had a great open-door policy so I was able to use that as a base and try some of those teaching methods on my own."
Luna added that intentional interaction and assisting students in taking ownership in their education is a key factor to student success.
"As an educator, it's important to be open with students' feedback and engage them on a daily basis," he said.
Applied learning is also a major teaching element in Luna's classrooms.
"We take advantage of a lot of hands-on opportunities," said Luna. "I was a hands-on learner so I try to incorporate those methods into my classes at some point in the semester."
"I think that helps students be able to put the ideas they learn in lecture into practice and conceptualize those ideas later on."
"Dr. Luna has served our University for a number of years with great distinction," said Dr. Kibler. "He is an exceptional member of our faculty and many of our students have been positively influenced by his teaching and role-modeling."
Luna came to Sul Ross in 2013 as an Assistant Professor of Wildlife Management in the Department of Natural Resource Management. In 2017, he was appointed to the newly-created Kelly R. Thompson Professorship in Quail Research.
Luna has also been a research scientist with the Borderlands Research Institute (BRI).
Luna earned his Bachelor's Degree from Texas Tech University before moving to New Mexico where he served as a game warden. He then returned to Texas to pursue his Master's and PhD.
He received his Master's Degree from the University of Texas at San Antonio before completing his Doctorate at Texas State University.
During his Master's work, Luna performed behavioral assays for the University of Texas Health Science Center on Rhesus Macaque, a monkey species that inhabits Southeast Asia.
While at Texas State, Luna was a Doctoral NSF Fellow working in a GK-12 program. When not in middle school classrooms sparking students' interest in assignments, Luna worked on his dissertation focusing on body size and dietary nutrition of white-tailed deer.
Previous recipients of the Outstanding Teaching Award since 1983 include: Metha Sprinkle (Education); Ernest Reesing (Range Animal Science); William L. Beatty (Business Administration); David L. Cockrum (Psychology); Jimmy D. Case (Political Science); Robie Golden (Mathematics); Bob Pannell (Education); Wayne Sheehan (History); Rex Wilson (Music); George Bradley (Communications and Theatre); Greg Schwab (Communications and Theatre); Daniel Vrudny (Industrial Technology); Keith West (Communications and Theatre); Ellen Boyd (Music); Abelardo Baeza (English and Spanish); Ray Beaulieu (Mathematics); Mark Saka (History); Patti Trietsch (Education); Jeff Pendergraft (Animal Science); Barbara Tyler (Education); Jesus Tafoya (Spanish); Dona Roman (Communication/Theatre); Sheehan; Martin Terry (Biology); Carol Fairlie (Art); Louis Harveson (Natural Resource Management); Sharon Hileman (Languages and Literature); Christopher Ritzi (Biology); Bonnie Warnock (Natural Resource Management); Amy Moreland (Political Science); Joseph Velasco (Communication); Robert Hunter (Criminal Justice); Christopher Estepp (Natural Resource Sciences); and Theron Francis (English).