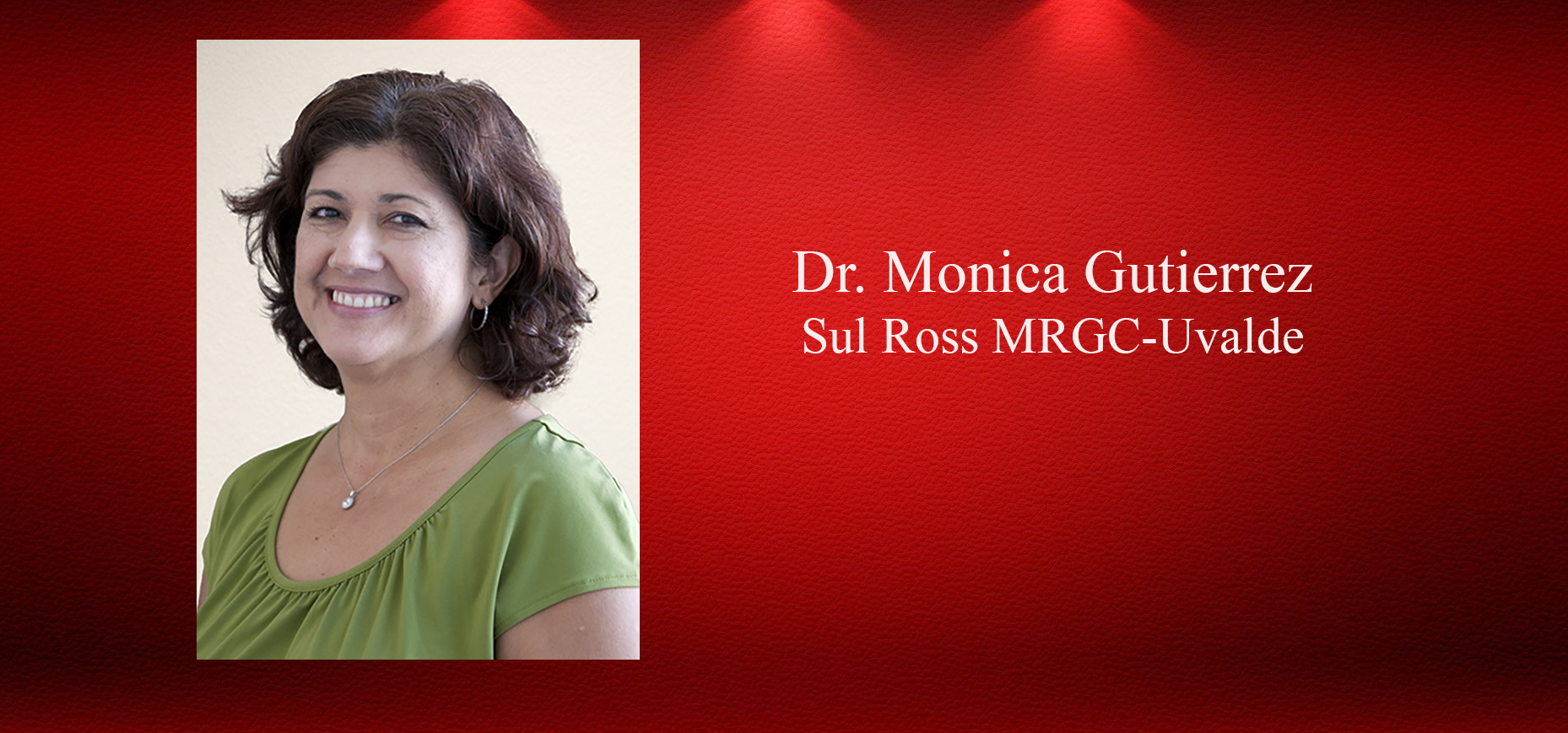 By Laura Nelson, Director of Enrollment Marketing 
As a little girl, Monica Gutierrez used to sneak into the elementary school across the street from where she lived to "steal" papers out of the trash cans once classes were over for the day so she and her friends could play "real" school.
Dr. Gutierrez has come a long way since then, but her love of and devotion to teaching has led to her to teach "real" school for over 30 years. The Uvalde High School graduate earned a Bachelor of Science in Education from the Univ. of Texas at Austin and she holds a Master's of Education in Counseling from Sul Ross State University – Rio Grande College extension, Uvalde. She earned her doctorate in education with a specialization in Human Resource Development from Texas A&M University in College Station.
Her career began as an elementary teacher with the Austin ISD and then she returned to her hometown and continued her teaching at Batesville school. After receiving her credentials a few years later, she became the school counselor. She eventually transferred to Uvalde CISD and served as a central office administrator and then four years as high school counselor.
After 15 years in the public school system, Dr. Gutierrez joined the faculty at Sul Ross in Uvalde, teaching undergraduate teacher education courses and later graduate counseling courses. She also served as a visiting counselor for La Pryor ISD for 6 years.]
A proud alumna of Sul Ross State University, Dr. Gutierrez is honored to have served as a professor, chair and adviser for 17 years with the University. She has also served her community with gratitude and has enjoyed working with the cohesive team in the Education Department. The veteran educator hopes that she has had a positive impact on her students that stays with them the rest of their lives.
Some of her cherished memories include students asking intriguing questions that provided topics for the teacher and the class to explore and learn together. She also enjoys teaching a class where students develop a presentation to share with their classmates. She is amazed by their creativity and their willingness to give it their all, such as presenting in costume, making T-shirts, and using props.
In addition to her career, Dr. Gutierrez serves as president of the Uvalde Memorial Hospital Board of Trustees and led the ceremony for the groundbreaking of a new hospital facility in 2019.
While she will continue to teach part-time, she looks forward spending more time with family, especially her two sons and visiting her two grandchildren in Kansas, perhaps teaching them how to play real school.