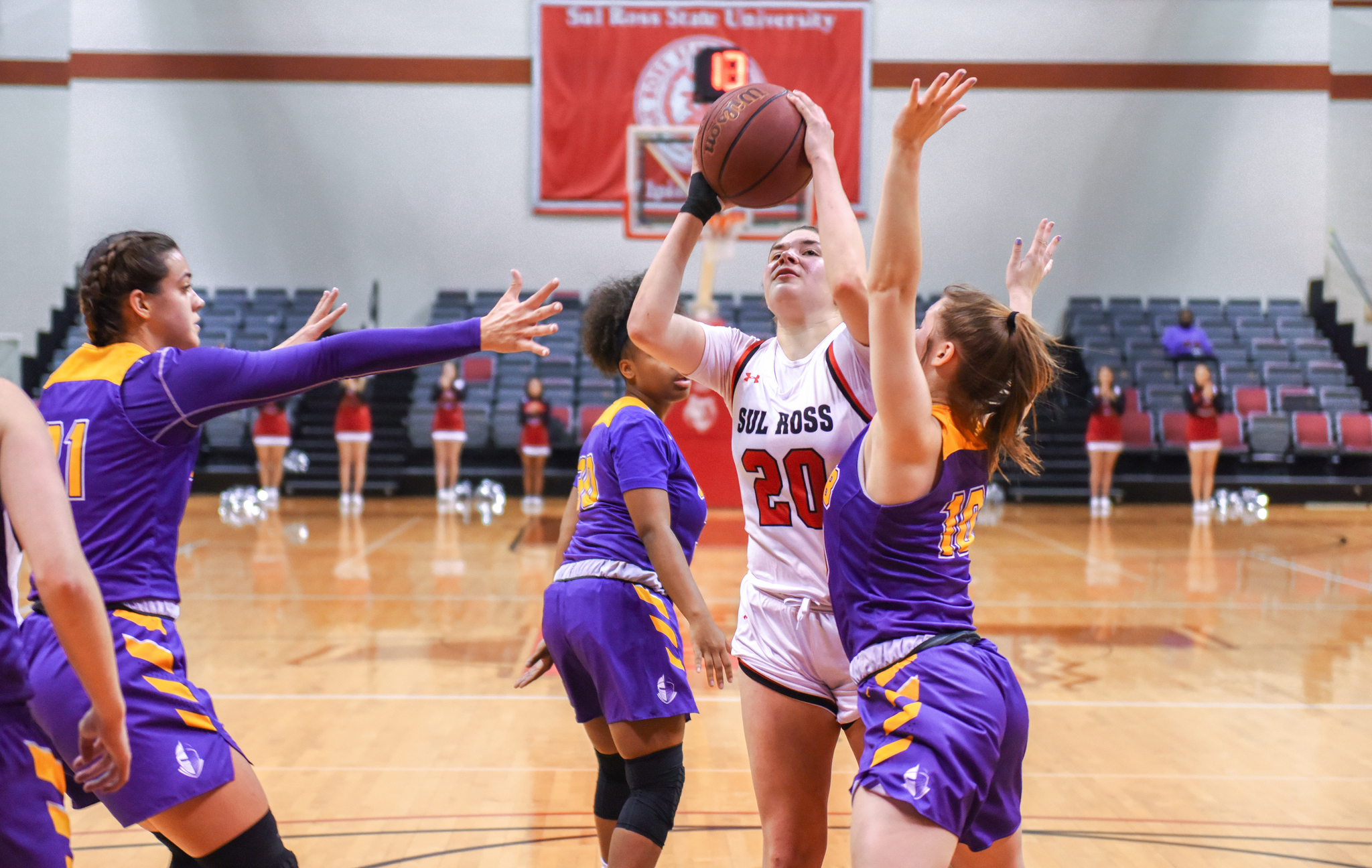 Posted by

Categories

Sports

Date

February 15, 2019
• by Travis Hendryx •
BELTON, Texas- Junior guard Chandre Nunez registered a season-best 38 points but University of Mary Hardin-Baylor prevailed in a 102-79 ASC victory over visiting Sul Ross Thursday evening.
Nunez also posted 10 rebounds for her first double double of the season.
The Crusaders took command in the first quarter and broke into a double digit lead of 21-11 off a layup by Brooke Elliot at the 1:51 mark.
The home squad converted another bucket off a missed Sul Ross jumper extending their lead to 12 at 1:25.
Two free throws by Lizette Heredia at 1:05 cut the Lady Lobo deficit back to 10 before Mary Hardin-Baylor ended the period on a 3-0 push and led 26-13.
The Cru sported a pair of 17-point leads in the second quarter but a fast break layup by Annie Lenoir capped a 10-0 Sul Ross run and cut the Lady Lobo deficit to four with 3:00 left before the half.
A jumper in the paint by UMHB's Kendall Rollins spread the gap back to double digits at the :52 second mark.
A layup at 32 seconds by Elliot sent Mary Hardin-Baylor to the break ahead 52-40.
In the third quarter, the Crusaders exploded to a 28-point lead with less than a minute left in the period.
Two free throws by Kayley Diaz in the closing seconds of the frame trimmed the UMHB lead to 24.
Mary Hardin-Baylor held a tight reign in the fourth quarter allowing Sully to creep to within 17 before closing the lid on the 102-79 win.
Lenoir finished with a second team-high 17 points while Diaz added a season-best 13 assists.
Sul Ross falls to 5-19 on the season and 3-12 in ASC play. Mary Hardin-Baylor improves to 22-2 and 14-1 in league action.
The Lady Lobos close out the season Saturday in Austin against Concordia University. Tip off is scheduled for 1:00 p.m.