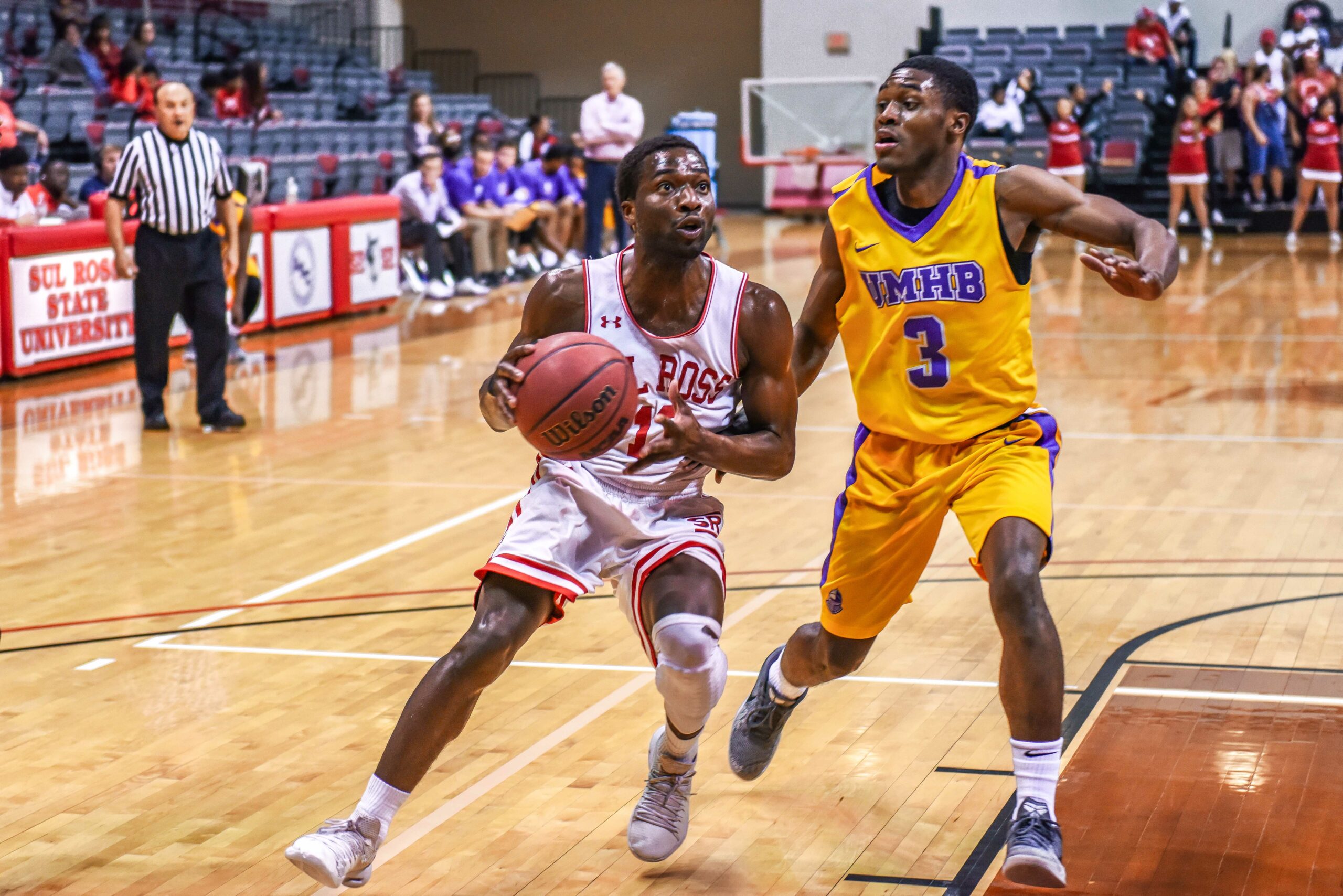 Posted by

Categories

Sports

Date

January 27, 2019
• by Travis Hendryx •
ALPINE, Texas- Sophomore guard Tristen Licon posted a season-best 25 points to pace Sul Ross to a 91-89 ASC victory over visiting University of Mary Hardin-Baylor at the Gallego Center Saturday afternoon.
Licon led four other players in double figures as B.J. Hollis nailed down 23 points. Cole Avery added 11 points while Jola Otubu and Brayden Fry chipped in 10 points each.
The Cru started the game with a 9-2 run before Licon's three-pointer cut Sully's deficit to four with 16:21 left in the first half.
Hollis then banked from the elbow at 15:06 and pulled the Lobos to within three trailing 12-9 at the 15:06 mark.
Hollis then connected from long range giving Sul Ross a 14-13 lead at 13:41. Sully would hold three, five-point leads through the next five and a half minutes before Mary Hardin-Baylor's Brian Long converted a pair of free throws and pulled the visitors to within one at 9:04.
Hollis came calling again with a pair of triples at 8:58 and 8:24 giving the home squad a 30-23 advantage.
Licon then banked on a floater for a nine-point, 34-25 Lobo lead with 7:01 left before the half.
The Cru's Demarius Cress scored on a jumper just over two minutes later and gave the visitors a 35-34 lead.
UMHB would sport a slim lead over the next three minutes before Cole Avery drained a three-point basket to tie the game at 39 at 2:59.
Licon then broke the knot on a free throw and started a 5-0 run ending on a foul shot by Avery for a 44-39 Sul Ross lead with 1:25 left until the break.
A jump hook by Fry with seven seconds remaining gave Sully a 46-41 lead heading to intermission.
The Lobos started the second half with another 5-0 run capped by a triple by Licon for a 51-43 lead at the 18:25 mark.
The Cru cut the deficit to one with a three-pointer by Sam Moore with 15:36 left in the contest.  Moore connected again from midrange to tie the game at 58 at 12:40.
Jack Kirkpatrick then converted from the paint to break the tie before Mary Hardin-Baylor took the go ahead and sported a seven-point,  67-60 advantage with 10:38 remaining.
Five more lead swaps ensued before the second of two free throws by Kirkpatrick gave Sully a 77-76 lead at 3:39.
Hollis knocked down another three ball two possessions later for an 80-76 lead at 2:30.
Sul Ross maintained the lead until Cress' free throw finished off an old school triple to knot the game up at 84 with just over a minute left in the game.
Two foul shots by Conner Dawson broke the tie before Hollis went to the stripe and nailed two more free throws for an 88-84 Lobo lead.
Another free throw by Cress at 12 seconds narrowed the Cru's deficit to one before a fast break layup by Otubu and a free throw by Hollis gave Sully a four-point cushion.
With nine-tenths of a second remaining, Cress returned to the line for a pair of free throws but the Lobos prevailed on the in bound pass for the 91-89 victory.
Fry and Licon led rebounders with nine and eight boards respectively.  Sul Ross was red hot from the free throw line converting 15-of-17 foul shots including 12-for-12 in the second half.
Saturday's win improves the Lobos to 9-11 on the season including a 4-7 mark in ASC competition.  Mary Hardin-Baylor falls to 15-5 and 6-5.
Sul Ross will face Howard Payne University in a February 2 rematch.  Tip off is slated for 3:00 p.m. at the Gallego Center and will be streamed live on the Sul Ross Sports Network.