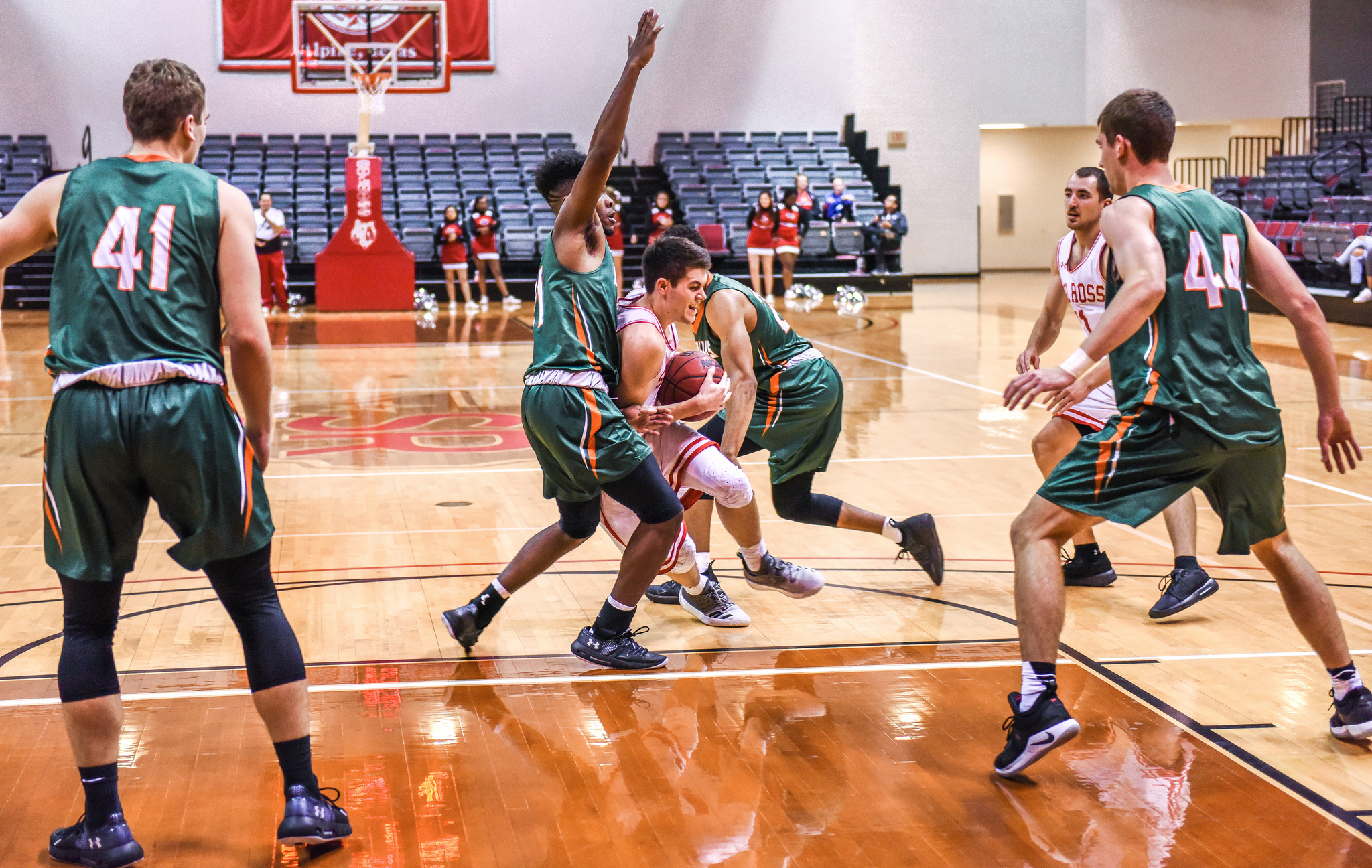 Posted by

Categories

Sports

Date

December 20, 2018
• by Travis Hendryx •
MESA, Ariz. – Tournament MVP Conner Dawson posted a career-high 32 points and paced Sul Ross to an 88-84 upset win over No. 14 College of Wooster in the final day of the Classic in the Valley.  Video highlights are available HERE (works on Google Chrome and Firefox).
The Lobos also shot a season-high nine of 18 from beyond the arc to add to their second consecutive 46 percent shooting performance following Tuesday's victory over Alma College.
Both teams struggled to find the net over the first three minutes of the contest.
A step back jump shot by Jola Otubu pulled Sully to within two with 15:54 left in the first half.
The Fightin' Scots then assembled a 6-0 run to take a 9-3 lead at the 14:14 mark.
Tristen Licon's jumper narrowed the Lobo deficit to two, trailing 12-10 with just over 11 minutes remaining before the half.
B.J. Hollis then fired off a fast break, long range jumper at 10:33 for a 13-12 Sul Ross lead.
Wooster would go on the sport an eight-point lead utilizing a 7-0 run at 7:55.
Sully steadily closed the gap and trailed by one as Dawson nailed a pair of foul shots then banked from short range with 2:39 remaining.
Wooster then pulled ahead by four twice before Dawson returned to the stripe for two more free throws as the Lobos headed to the break down 37-35.
A jump hook by Licon 49 seconds into the second half tied the game at 37.
The two teams swapped leads over the next three minutes before a triple by Otubu put Sul Ross ahead by a slim 46-45 margin at 16:27.
Dawson added a jumper to extend Sully's lead on the next possession the Lobos maintained a slim lead over the next 60 seconds.
Following three ties, the Fightin' Scots moved ahead with a six-point lead off a three-pointer by Blake Scott at the 11:23 mark.
Wooster would then go ahead to sport two, 10-point leads before Cole Avery's three-ball at 4:57 cut the Lobo deficit down to two.
Dawson returned to the line for one free throw to knot the game at 72 with 3:45 left in regulation.
Dawson then hit another three-pointer to break the tie for a 75-72 Lobo lead with just over four minutes remaining.
The Fightin' Scots' Trent Tipton answered with a triple on the next possession to tie contest before Licon converted a three-point basket at 3:05 for a 78-75 Lobo advantage.
Wooster would hold one more lead at 49 seconds off a jump shot by Danyon Hempy.
Back-to-back free throws by Dawson and Hollis put Sully ahead by five before Henry drained a three-ball with just three seconds left and pulled Wooster to within two, trailing 86-84.
Licon drew a foul and returned to the stripe to put the game out of reach with a pair of banked free throws for the 88-84 victory.
Licon, who was listed to the All-Tournament Team, finished with a second team-high 21 points while Dawson, Brayden Fry and Gary Ringo, JR chipped in six rebounds each.
Sul Ross enters the Christmas break at 4-6 on the season while the Fightin' Scots fall to 7-3.
The Lobos face Wisconsin-Whitewater December 28 in Austin.