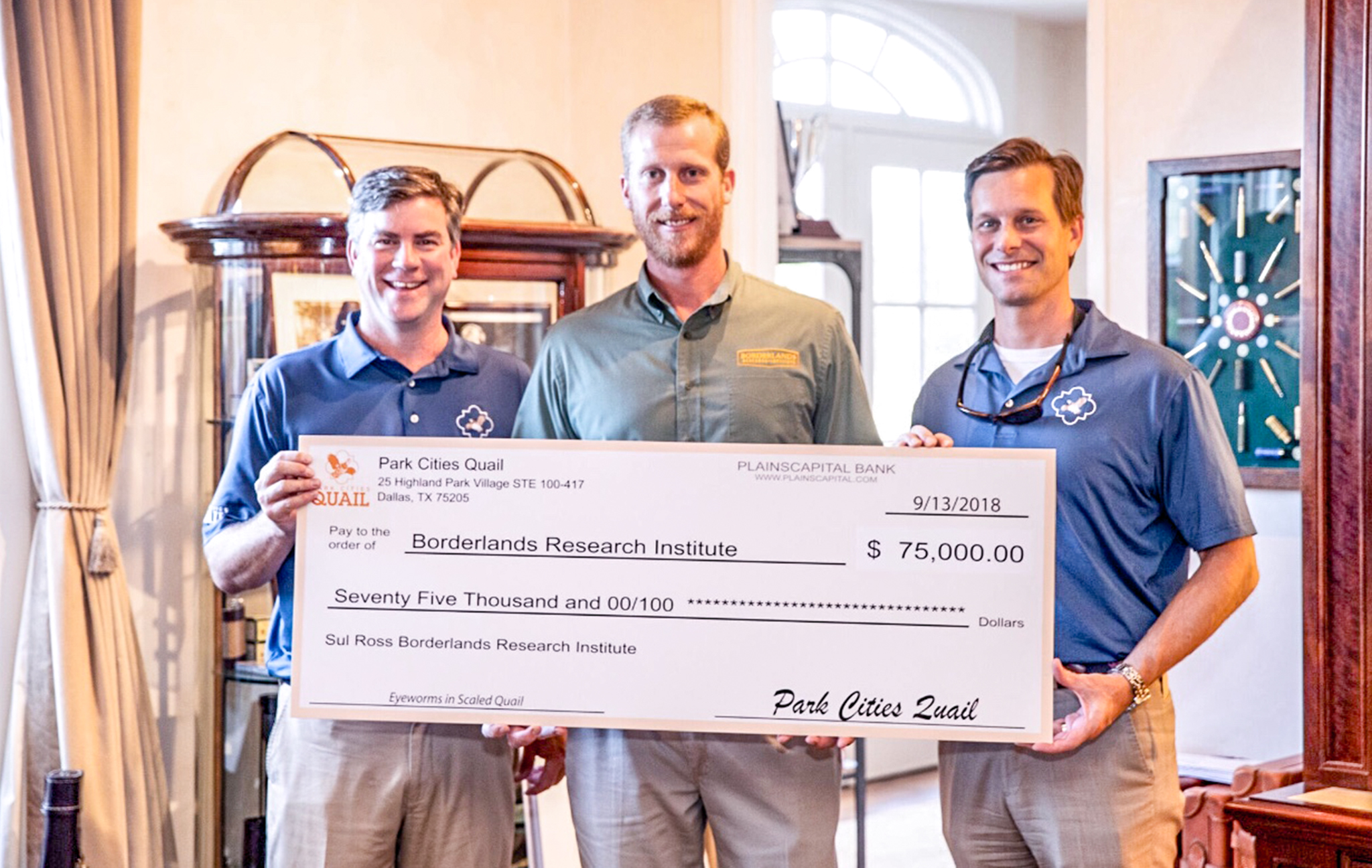 Posted by

Categories

News

Date

September 19, 2018
• courtesy of Borderlands Research Institute •
Borderlands Research Institute (BRI) has received a $75,000 donation from Park Cities Quail to assist with scaled quail research.  The funding will support two graduate students working to compile and analyze scaled quail parasite loads from across the Trans-Pecos.
Scaled quail are one of the most ecologically and economically important species to the Chihuahuan Desert.  Because their geographic range and population trends are declining, BRI is focusing significant research attention on the species.
"We need more and better science to determine the cause of the decline of scaled quail in the Trans-Pecos," said Dr. Ryan Luna, BRI's Kelly R. Thompson Professor of Quail Research and chair of Sul Ross State University's Department of Natural Resource Management.  "We appreciate Park Cities Quail's continued support for research projects that will help us learn more about this beloved bird."
Recent research studies have confirmed that a parasitic eyeworm may be a factor in the quail population decline.  Eyeworms can impair vision and cause inflammation in and around the eye.  And with vision impaired, infected quail might not be able to fly, forage, or evade predators to the same degree as their non-infected counterparts.
The study funded by Park Cities Quail will help identify regional characteristics affecting scaled quail eyeworm prevalence across the Trans-Pecos, including estimates of eyeworm prevalence, sex and age specifics of infected quail, and seasonal changes in the infestation rate.  Researchers also hope to identify habitat characteristics associated with areas that have greater eyeworm infestations.
These research findings could ultimately lead to land management practices beneficial to multiple quail species.
"Nobody cares more about the future of quail than the members of Park Cities Quail," said Dr. Louis Harveson, BRI's Dan Allen Hughes, Jr., Endowed Director and professor of Wildlife Management at Sul Ross State University.  "Over the past eleven years, the organization has grown into a conservation powerhouse and has raised and donated over $6.9 million directly to quail research and conservation; BRI is fortunate to be one of their beneficiaries.  Since 2013, they have donated more than $255,000 to support BRI's Desert Quail Research Program."