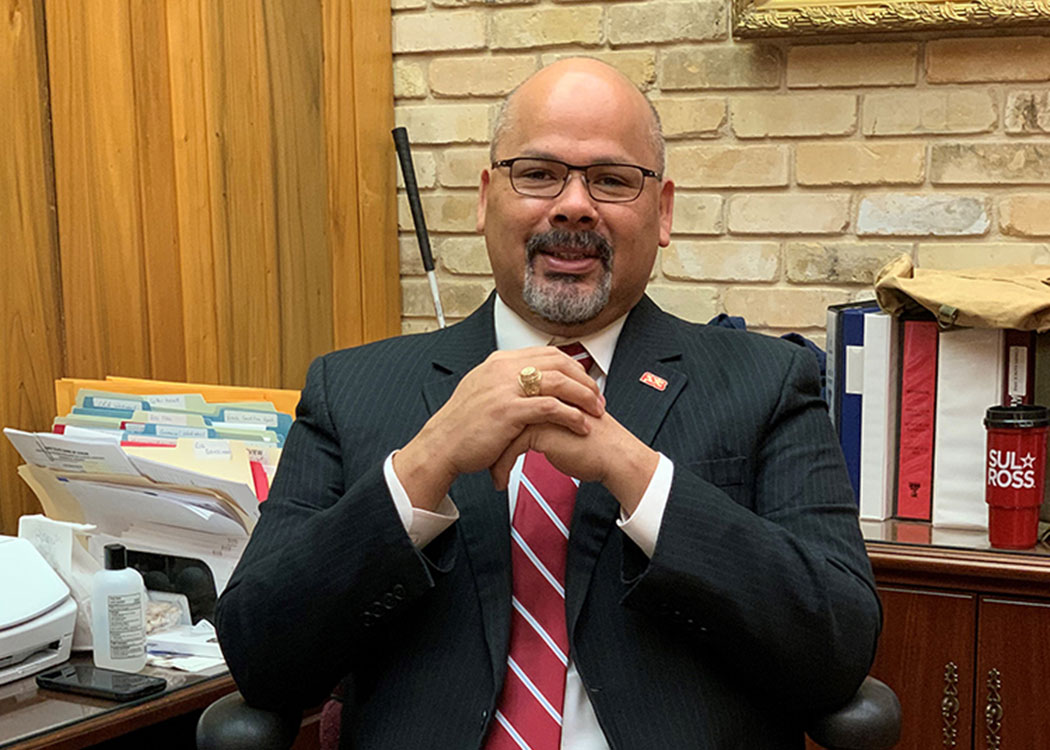 Posted by

Categories

Features

Date

February 22, 2021
By Laura Nelson
Ramon Castro, Jr. expresses gratitude freely and often.
He appreciates Sul Ross State Univ. Rio Grande College Business Administration Professor Emeritus Terry Carson for advising him to switch majors and complete a Bachelor of Applied Science in Organizational Leadership. Castro said he thinks it is the best thing he could have done as it spoke to his vision for himself. He also appreciates the culture at Rio Grande College that accepts and supports adults like him with unique circumstances.
Like many RGC students, Ramon juggles a number of commitments and he values the online classes that allowed him to study at his convenience. The Uvalde native and his wife, Christina Vasquez Castro, are parents to Ramon Rogelio Castro, III, age 8, and Aime-e Rose Castro, 3. Carson added, "When Ramon called and invited me to lunch to celebrate his graduation, it eventually required at least 4 attempts to find a date he wasn't busy—busy serving the Uvalde community. In addition to his 'regular job' as VP and Consumer Lending Manager at First State Bank, Ramon selflessly gives his time as a Scoutmaster, to the Kiwanis Club, the Sahawe Indian Dancers, the Uvalde Girls Club, and numerous other organizations in our area. We finally found a day for our celebration lunch, and somehow, I ended up paying!"
Castro cherishes the life his parents, Ramon, Sr. and Purificacion, provided for him and his older sister. From the time he was 11 years old, he spent summers working alongside his dad who was Foreman for John S. Graves, the local architect who built the First State Bank of Uvalde building. He describes his dad as very intelligent and speaks proudly of him serving his country, earning a GED, and attending Southwest Texas Junior College on the G.I. Bill, earning several certifications. His dad passed away in 2005 and the memory of the time shared with him will be memorialized in the handcrafted frame he is making from mesquite to display his SRSU diploma.
When he first started at SWTJC himself, Castro admits he was not motivated, yet admired how much the older people in his classes appreciated going to school. He soon dropped out, and little did he know that years later he would be the wise one telling students to stick with it, saying "You will run out of time, money, and energy!" Congratulations to Ramon for persisting the second time around!
###