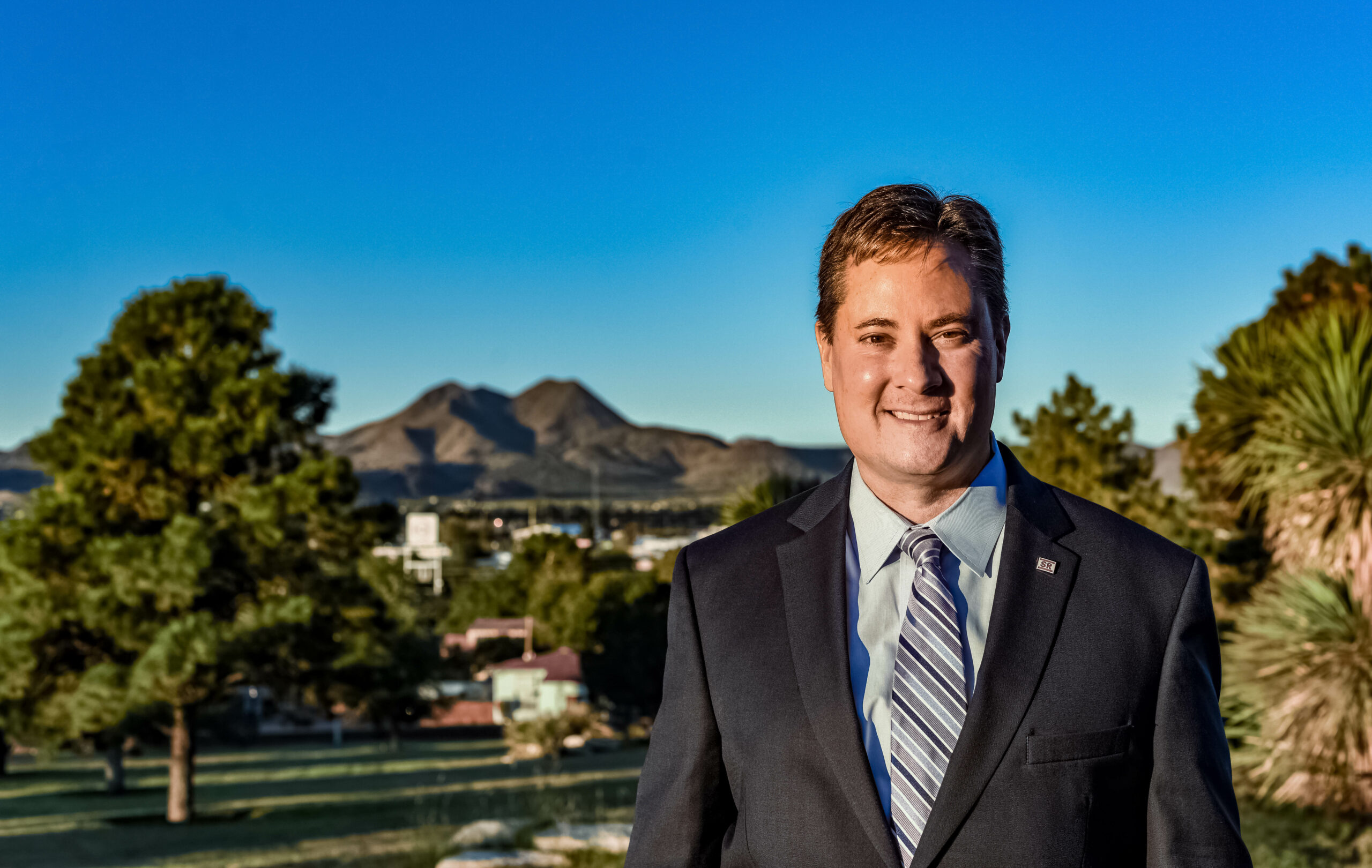 Posted by

Categories

Features

Date

November 4, 2018
• by Paul Slocumb •
Sul Ross recently hired Chris Clifford as the University's vice president for budget and finance, and before beginning his full-time role he will be visiting the Alpine and RGC campuses during November and December.  Clifford and his wife Kim will make the move to the Big Bend in January with their three children: Courtney, Caroline, and Carson.
During a hectic first day filled with meetings, Clifford took time to answer some questions for the Sul Ross community:
What attracted you to the position at SRSU?
Several factors combined to drive my interest in joining the leadership team at Sul Ross.  I have known President Kibler and Dr. Lisa Harris for many years since we worked together at Mississippi State University and have always thought it would be great to work together again.  As I learned more about just how important SRSU is to the Big Bend region and Rio Grande Valley, I became more interested in being a leader of this dynamic University.  My visit to Alpine added to that interest as I gained an appreciation for just how beautiful Alpine is and all the unique aspects of living here—for example, the brilliant night skies over this part of Texas.  I saw the Milky Way for the very first time during my visit.  Also, my wife Kim and I lived in Dallas and Houston for 8 years while I worked for ExxonMobil, and we are excited to be back in the Lone Star State where two of our children were born.
What current and potential Sul Ross budget and finance issues do you view as the most complex and interesting?
In general, I believe SRSU is facing issues affecting higher education overall—pressure on state funding, a desire to keep tuition affordable, and the need to ensure that higher education is meeting the evolving needs of students.  Until I learn more about SRSU operations, it's too early for me to comment on specific topics; however, the areas of focus and success in my career have been in finding new and more efficient ways to deliver services that support a university in achieving its mission.  I like to keep up with best practices at peer universities and try new ideas when they make sense.
What experiences as the associate vice president of business services at the University of Alabama at Birmingham (his position since 2010) do you see helping you at Sul Ross?
During my time at UAB, we made huge advances in transforming from a traditionally commuter-oriented university to a residential university, and we grew from 16,000 students to nearly 23,000.   All of those changes brought me opportunities to implement new services and strategies that enhanced the student experience.  I led projects to create the first campus transit service and to significantly improve and expand the bookstore.  I also served on the team which launched a new $60 million student center, and I created exciting entertainment events at UAB's Bartow Arena, including the first heavyweight boxing championship fight in the state of Alabama.  All of these initiatives gave me great experience in being creative and bold in delivering on projects, and I look forward to bringing that same spirit to SRSU."
What non-work related activities are you looking forward to in the Big Bend region of Texas?
I'm a big fan of getting outdoors, so I'm very excited about living in an area where you have some of the best hiking, camping, and biking in the world.  I can't wait to canoe down the Rio Grande and camp on a sandbar in the middle of the canyons.  I also look forward to riding my bike from Alpine to Marfa and back.  My father was an art professor and instilled in me a love of art, so I look forward to experiencing the art scene in Alpine and Marfa.   Finally, I am a big fan of live music and craft breweries, so I will likely be checking out the music venues and breweries in the greater Big Bend area.
Where do you hail from?
I was born in the Appalachian foothills in the college town of Athens, Ohio.  My parents were both college professors, and they moved us to Starkville, Mississippi—home of Mississippi State University—when I was three.   I grew up in Starkville and consider it my hometown.  Starkville is very much a small college town, so I expect my wife Kim and I will feel right at home in Alpine.