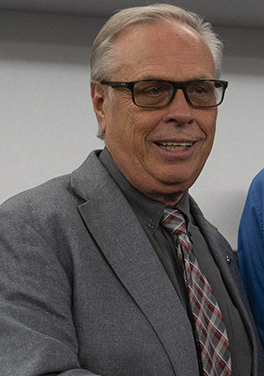 The Texas State University System Board of Regents approved two departmental name changes for Sul Ross State University at their meeting in Huntsville in May.
The College of Literature, Arts and Social Sciences with be re-named for Dr. Jimmy Case, who retired following the Spring 2022 semester, and the Department of Fine Arts will now be called the Department of Visual and Performing Arts.
Dr. Case, a Distinguished Professor of Political Science and Public Administration, received undergraduate degrees at Amarillo College and Baylor University before going on to receive his master's and doctoral degrees in Political Science at Texas Tech University.
He began teaching Political Science at Sul Ross in 1981. He served as the chair of the Department of Behavioral and Social Sciences from 1991-2006 and was named as the dean of the College of Arts and Sciences in 2006. Dr. Case was the interim provost and vice president for Academic Affairs in 2012 and 2013, before being named the executive vice president and provost in 2015.
He served as the president of both the Texas Association of College Teachers and the Texas Council of Faculty Senates. Locally, he sat on the board of directors for the Big Bend Regional Hospital District, the Alpine Humane Society, Frontier CASA, the Family Crisis Center of the Big Bend, the Brewster County Child Welfare Board and Big Bend Regional Medical Center.
Dr. Case is a veteran of the U.S. Army and is an active member of his church.
"Dr. Case served his students and this institution with all his heart," said President Emeritus Pete P. Gallego. "He loved Sul Ross and he loved to teach. As a professor of political science and government, he was a role model for public service. Sul Ross is better because of him."
He said he is honored by the recognition. "I was at Sul Ross for 41 years and I loved the place the whole time," he said. "It was a place where I felt at home from the very beginning."
Dr. Case credited good relationships with both students and faculty for his fondness of SRSU, and said the university is a significant factor in what makes Alpine so special. "Fine Arts, theatre, music, athletics and guest speakers all provide intellectual vigor and vitality for the region," he said.
Marjie Scott, chair of the Department of Visual and Performing Arts, said the new name is more representative of the faculty's objectives.
"We wanted to make the name more in line with what we're offering," said Scott. "It's more accurate and contemporary based on what we do. What we call ourselves is a part of our identity."
Scott said many Texas universities have already adopted similar names. She said the faculty was unanimously in favor of the change.
For more information about course offerings and the university, visit sulross.edu.
PHOTO: Dr. Jimmy Case (left) and President Emeritus Pete P. Gallego at the faculty and staff appreciation luncheon in May.