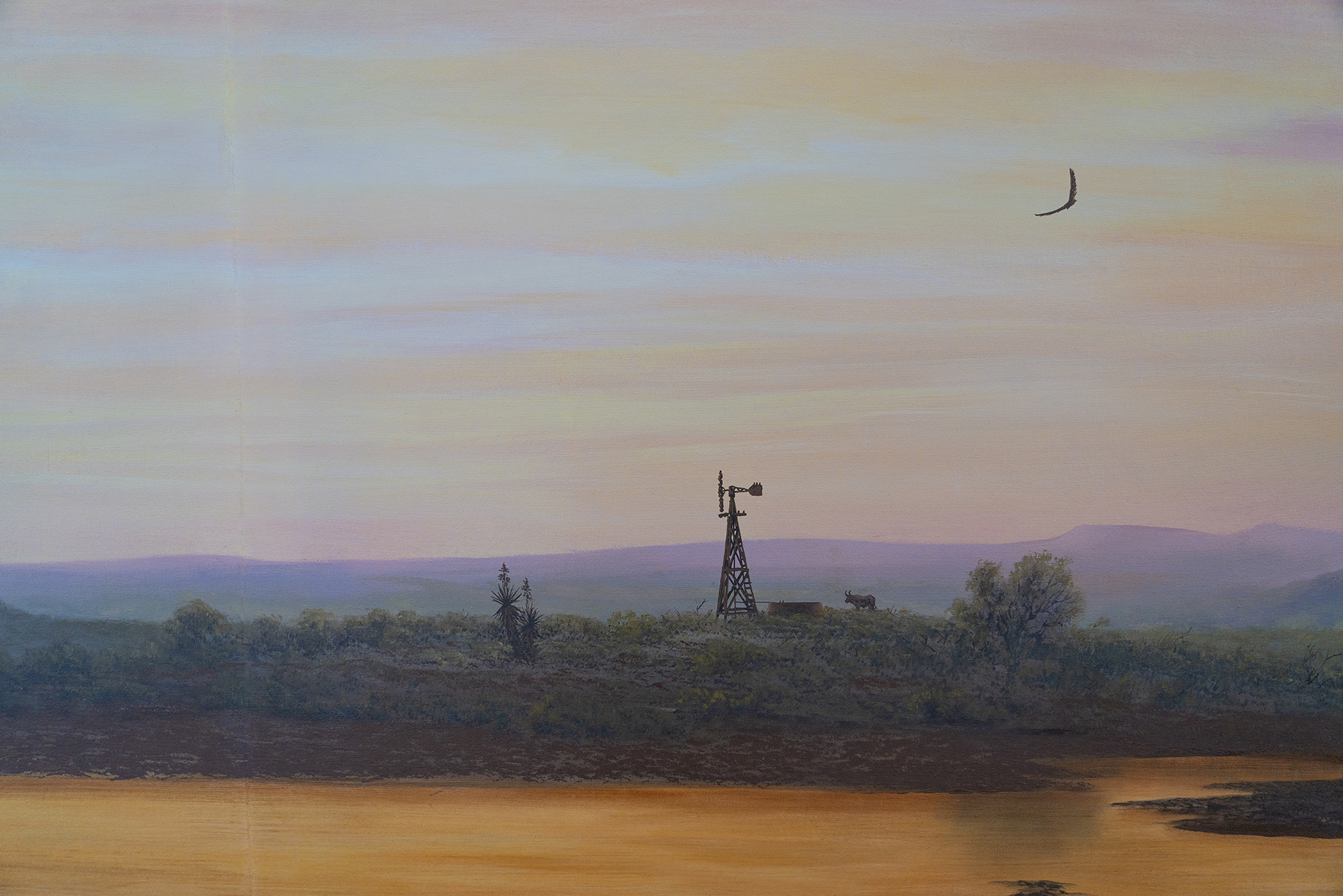 A mural by the mysterious artist Clifton Baermann has found a new home in the Emmett and Miriam McCoy Building, which opens to the public Saturday, June 24, at the Museum of the Big Bend in Alpine.
The oil on canvas is quite large – 82 inches high by 270 inches wide – and covers the entire southern facing wall just outside of the events center, which is housed inside the new building on the campus of Sul Ross State University.
The mural's origins are nearly as mysterious as the artist himself. Texas Judge Billy Ray Stubblefield of Georgetown rescued it several years ago.
The story goes that the unnamed art was on the wall of a used furniture store next to Interstate 35 in Williamson County. When it was condemned, Judge Stubblefield secured permission to remove the painting and sent his handyman to peel it down and roll it up. The Judge stored it in his home in a second floor hallway.
Years later, he mentioned the mural to Sam Pfiester, a Fort Stockton native who serves on the advisory board for The Wittliff Collections at Texas State University in San Marcos, and said that he would like to give to the Museum of the Big Bend.
"Thanks to Brian McCoy and friends, it was beautifully restored and is now in the extension building," said Pfiester. Brian is the son of the building's namesakes.
According to Pfiester, all that is known of Baermann is that lived from 1905-1988. He and Stubblefield believe that it depicts the Sierra Vieja area along the Rio Grande, upriver from Candelaria in Presidio County, making the MoBB an appropriate home.
Tours, presentations and books signings to celebrate the grand opening begin at 10:30 a.m. on Saturday morning.
The events are free and open to the public. For more information, visit www.museumofthebigbend.com.
Photo: A portion of the unnamed Baermann mural, oil on canvas, 82×270 in.