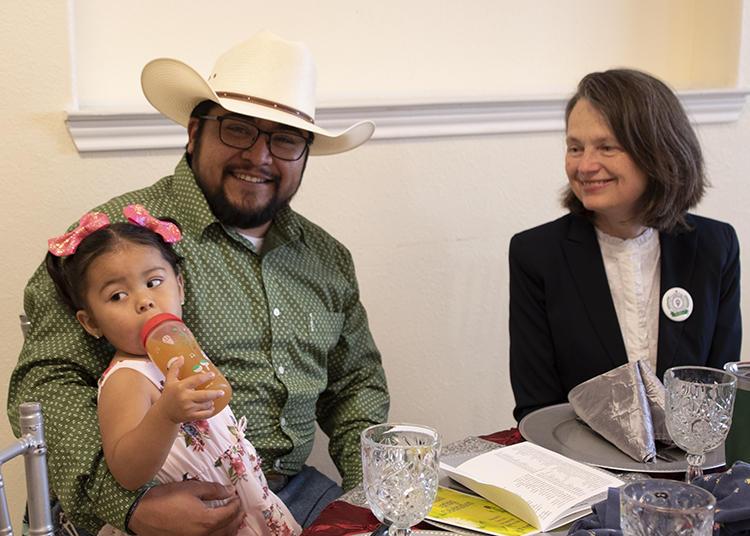 by Laura Nelson
Sul Ross State Univ. Rio Grande College students gathered in Eagle Pass Sat., April 22, 2022 to be recognized for their academic achievements and share a meal with their guests, faculty, staff, and administrators.
The ceremony got underway as the Junior ROTC from C. C. Winn High School presented the colors and the national anthem. RGC Senior Enrollment Specialist Juan Tamez served as Master of Ceremonies and introduced the guest speaker, Dr. Bernie Canteñs, SRSU's Executive Vice President and Provost.
Following the address, Dr. Patricia Nicosia, Associate Provost and Professor of Mathematics, led the induction ceremony for students joining Alpha Chi, a national collegiate honor society open to students studying any academic discipline. These students were inducted and represent the top of their class:
      Adriana V. Alvarado – Eagle Pass
      Chantal Andrea De La Cerda – Del Rio
      Liliana Fuentes – Eagle Pass
      Edward Hildreth – Del Rio
      Nelda Hill – Uvalde
      Adela Lara – Uvalde
      Britney Martinez – Eagle Pass
      Evelyn Martinez – Eagle Pass
      Ashley N. Quinones – Eagle Pass
      Sophia S. Rodriguez – Eagle Pass
      Sara C. Salazar – Del Rio
      Liberty Marie Valdez – Del Rio
The 2022 Sigma Delta Pi inductees included Dulce María Sánchez, Ilse Alejandra Castro, and Rodolfo Villegas, all of Eagle Pass. The RGC Chapter of the National Collegiate Hispanic Honor Society was started by Dr. Verónica Méndez, Professor of Spanish, and members are honored for excellence in the study of Spanish and the literature and culture of Spanish-speaking people.
Professor of Mathematics Dr. Michael Ortiz recognized Josh Lira and Jesus Ramon of the RGC Chapter of the League of United Latin American Citizens. He also recognized members of the Math Club including Darissa Cervantes, Ashley Quinones, Jonas De Los Santos, and Codo Santos.
Dr. Wesley Wynne, Professor of Psychology, recognized Miguel Chavez, President of the Psychology Club as well as Vanessa Chavarria, President of the Salt and Light student group.
Assistant Director of Financial Aid, Lucio Garcia-Zuazua, named RGC's scholarship recipients for the 2021-22 academic year.
Nicosia recognized undergraduate students named to the Dean's List, which requires a grade point average of 3.3 or higher based on a 4.0 scale and full-time enrollment.
In addition to the academic awards, students voted for favorites. Dr. Canteñs presented the Favorite Faculty Member award to Dr. Sarah Roche, Professor of English.
Dr. Jorge Garza, Vice President and Chief Operating Officer, revealed the Favorite Staff Members from each campus including Susan Land in Del Rio, Bianca Vela in Eagle Pass, and Jazell Diaz in Uvalde. Favorite students by campus include Darissa Cervantes and Diego Reyes, Del Rio; Miguel Angel Chavez and Britney Martinez, Eagle Pass; and Timothy Duran and Amanda Martinez, Uvalde.
The Spring Banquet signals the end of the academic year and the approaching commencement ceremony set for Sat., May 7, 2022 at 3:30 p.m. at the Center for International Trade in Eagle Pass.
Two of the honorees at the banquet include Miguel Chavez, Psychology Club President and his special guest, daughter Abigail Ellie Chavez, and Dr. Sarah Roche, this year's Favorite Faculty as voted on by students.-Courtesy photo