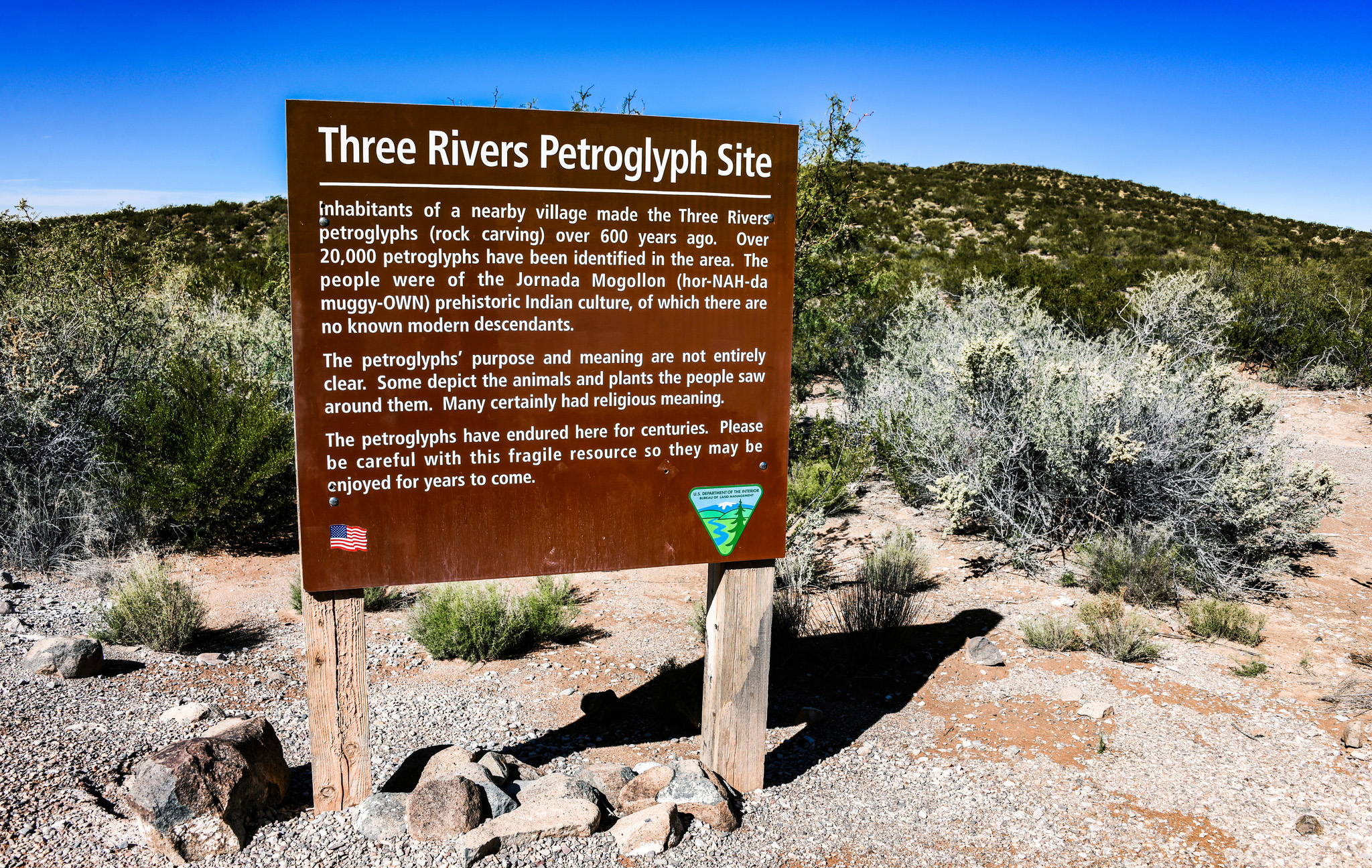 Posted by

Categories

Features

Date

December 7, 2018
• photo story by Paul Slocumb •
Examples of prehistoric carving and engraving of rock can be found at numerous locations in the United States, including many in the Big Bend; however, few sites offer both direct public access and a large number of petroglyphs for viewing.  Located five hours from Alpine, and 17 miles north of Tularosa, NM, Three Rivers Petroglyph Site not only exhibits over 21,000 works of prehistoric art, it makes them available to the public 365 days a year.
Featuring geometric designs, stunning wildlife depictions, and more, Three Rivers is operated by the U.S. Bureau of Land Management.  The Site displays petroglyphs created between 900 and 1400 AD by the Jornada Mogollon people, a native society which used hammerstones to remove the dark patina from basaltic ridge rocks, producing lighter shapes, patterns, and human and animal figures.  The pithouse-dwelling and Tularosa Basin-farming Jornada Mogollon ceased to exist as a distinctive culture by 1500 AD, making Three Rivers an especially important historic location.
In addition to a 0.5-mile rock art trail (with both rugged and non-rugged portions), Three Rivers also contains a second short trail which leads to a partially excavated Mogollon village (the likely home for the Petroglyph artists).
Heading north from Tularosa, the Site can be reached from U.S. 54 by turning right onto County Road B30, travelling five miles on the paved road, and turning left at the well-marked entrance gate.  Three Rivers' operating hours are 8 a.m. to 7 p.m., April through September, and 8 a.m. to 5 p.m. October through March.  The entrance fee is $5 per vehicle, with campsites offered for $7 per night, and RV hookups priced at $15 per night.