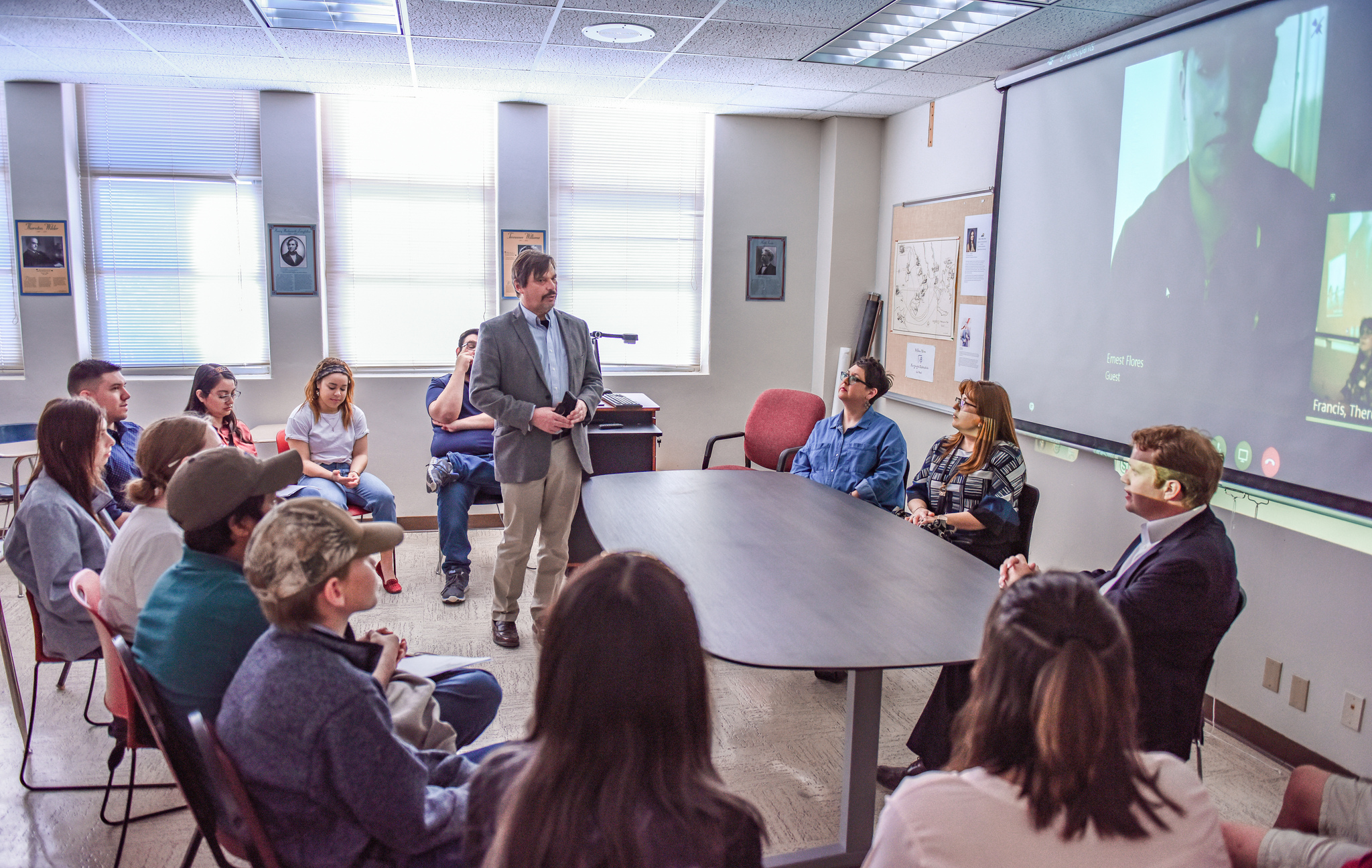 Posted by

Categories

Desk

Date

March 27, 2019
• by Ernest Flores •
Editor's note: In the following feature, Ernest discusses his undergraduate experiences, academic and professional aspirations, and his mentor's own graduate educational experiences.
I am a senior English major at Sul Ross State University's Middle Rio Grande campuses with plans to further my education in the law after receiving my bachelor's degree.  Throughout my experiences at Sul Ross, I have improved my writing, grammar, and critical-thinking skills while learning how to be an adult.  I am extremely grateful for the opportunities that have opened up to me while attending school here, and I am grateful for the faculty who work every day to assist students in reaching their goals.  Sul Ross has been instrumental in helping me pursue my dreams, including my goal of being accepted into law school at either Saint Mary's or the University of Houston Law School.
During the course of my collegiate journey, I have faced numerous obstacles, such as having to travel each class day to the Uvalde, Del Rio, and/or Eagle Pass campuses from my small hometown of Carrizo Springs.  With each campus almost an hour away, it has not always been easy to attend classes.  Some semesters were harder than others, but these logistical difficulties were not enough to stop me from pursuing my education.  Looking back at my experiences, I realize that they only strengthened my ambition and will to better myself by obtaining a college degree.
After I receive my bachelor's degree in English, my application for law school will be complete, and I will be ready to pursue my Juris Doctor degree.  Attending law school is something that has always been a part of my career development plan—entering a law practice being a natural environment for my argumentative and competitive personality.
It amazes me now to see how far I have been able to come thanks to Sul Ross.  Attending this University has afforded me the blessings of working with incredible classmates and faculty who have aided my academic endeavors.  I am confident that once I complete my undergraduate work here at Sul Ross I will be mentally ready to attack law school and the challenges it will present me.  I am grateful for this University and everyone who has helped throughout this process.
Preparing for the field of law
My ambition for success in any endeavor, including the pursuit of both Bachelor of Arts and Juris Doctor degrees, fuels my motivation to accomplish goals and, most importantly, to become a role model in my small community.  I have a strong passion for preparation and competition, so a profession in the law will suit me perfectly.  I am confident in my ability to adapt to the challenges of law school by developing the necessary skills.
One such skill is critical thinking, which can be developed in a variety of different circumstances, whether it be in the classroom, in athletics, or during legal preparatory work and proceedings.  In Sul Ross classrooms, especially those of my English courses, I have often used critical-thinking skills to analyze questions and contribute productively to discussions.  In athletics, I have jumped into pressure-filled situations requiring quick decisions designed for winning results.  I plan to continue practicing and improving such critical thinking skills, so I can one day use them in the field of law.
Other important skills used by attorneys can be developed in many areas of employment.  To help fund my education, I have worked different jobs which required understanding rules and workplace variables.  For example, as an assistant secretary for the City of Carrizo Springs I gained an understanding of how to construct a productive work environment; I learned tasks and procedures such as organizing and creating employee portfolios.  Another job I have held while in school was as a lifeguard—an experience which taught me how to recognize and react to life-threatening events.  Lifeguards must be able to quickly determine if a swimmer experienced or inexperienced, or exhausted and dehydrated.  Ascertaining these attributes is crucial to preventing accidents.  The skills of organization and analysis required at these jobs will prove useful once I am working as an attorney.
Profile of my mentor: Professor of English Dr. Sally Roche
Dr. Sally Roche works out of SRSU's Uvalde campus and has been a wonderfully helpful mentor to myself and many other Sul Ross students.
Dr. Roche began her studies at Middle Tennessee State University where she also befriended an influential mentor who encouraged her to pursue a graduate degree.  Throughout her collegiate experience, she was faced with plenty of challenges to her finances, personal relationships, and self-confidence.
Obtaining the funds to pay for her graduate school tuition was a challenge because pursuing her studies postponed her entry into the salaried workforce.
Lacking confidence in her academic efforts was also a significant issue for Dr. Roche—one she overcame while presenting her scholarly paper on Milton's Paradise Lost at a conference.  While speaking, she found her public voice and seized the attention of a room full of strangers and college professors.  After her presentation, Dr. Roche discovered a new-found confidence and more motivation to pursue her long-term goal of receiving a doctoral degree.
However, not everyone was as confident as she.  While in the process of obtaining her master's degree, Dr. Roche got married, and many people close to her questioned why she continued taking graduate courses.  Nevertheless, she persisted, completing her master's coursework shortly before becoming a mother.  After earning her M.A. from Middle Tennessee State, Dr. Roche went on to earn a Ph.D. in English from Texas A&M University in 1998.  She has been teaching at Sul Ross since 1999.
Dr. Roche is an influential, determined, and inspirational individual who overcame more than I ever imagined before conducting this interview.  I asked her for advice to students interested in following an academic path similar to hers, and she replied, "Think about how pursuing a graduate degree would help you achieve your five-year and ten-year personal goals.  Reflect on your own strengths and aptitudes, and think about how you can use them to contribute to your world."
Dr. Roche then offered two questions that students planning to further their education should ask themselves: "How can you leave the world a better place?  And how can you most powerfully change people's lives while at the same time remaining self-sufficient and financially responsible?"
With Dr. Roche's encouragement, I asked myself these very questions and realized that, if I achieve my goal of graduating from law school to pursue a career practicing law, then I can impact people's lives in a positive way.  In addition, I can become a role model for younger kids in my rural community.
I am extremely grateful for the opportunity to work with Dr. Roche, and I am incredibly appreciative of her guidance in my journey towards receiving a bachelor's degree in English from Sul Ross.