Homeless for the Holidays: Notes on Resiliency and Humbleness from the "Quarantine Floor"
Posted by

Categories

Features

Date

February 8, 2021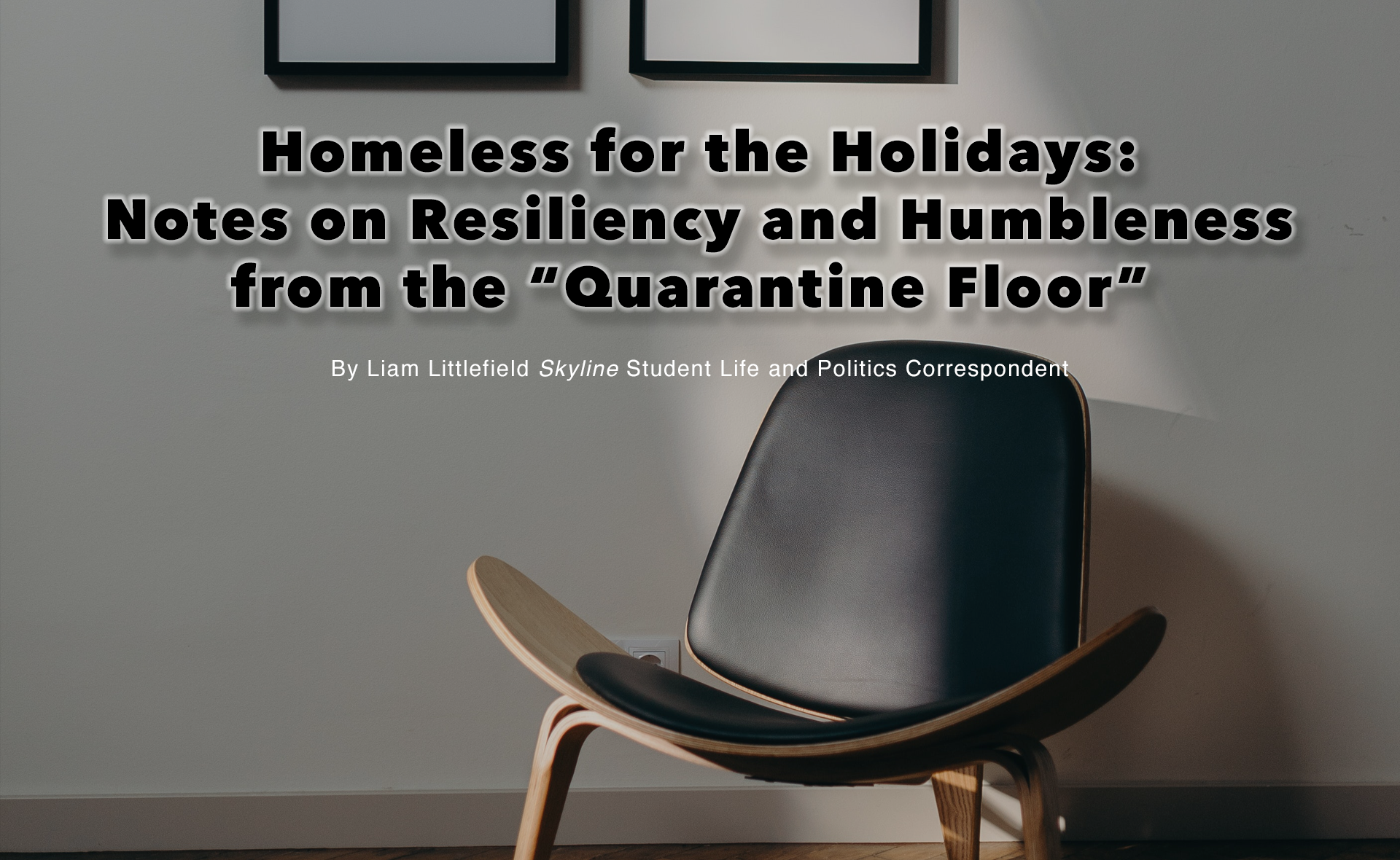 By Liam Littlefield Skyline Student Life Correspondent
ALPINE- The 2020 fall semester was my first semester in college. Even though made more challenging due to COVID-19, I was determined to make the best of it. 
By the end of the fall semester, I felt that I had achieved better results than I ever had in high school, both academically and socially. I was scheduled to return home on November 20th for Thanksgiving break. Several days before checking out of the dorms, I decided it prudent to get tested for COVID-19, because the last thing I wanted was to take the virus back home to family and friends. The days before receiving my results, I felt anxious. My anxiety seemed to be a premonition of what would happen next—because I tested positive for COVID.
Reading the dreaded email, I was in shock. How could I have gotten Covid? I had avoided large crowds, socially distanced all semester, conscientiously wore masks, and washed and washed my hands. I had no symptoms, whatsoever.  When I called home with the bad news, my father offered his back bedroom as a quarantine room so I wouldn't be alone for the holidays.  But, I couldn't wrap myself around any chance of transmitting the virus to him—the guilt would have proved tremendous; so, I made the difficult decision to stay behind and quarantine on campus. 
Shortly after receiving my results, I was escorted to what has become known as the "quarantine floor." There, I began to grieve. 
I was told I would be the only person in quarantine over the break. It really shouldn't have mattered all that much, as I would already be isolated in a room by myself, at any rate.  For some reason, though, it did.  Knowing I was all alone up there during a holiday by its very nature meant to gather together family and friends to celebrate together made my isolation hurt all the more. It was the first time I would be away from my family for Thanksgiving and now I would spend it in a dorm room not even my own. 
The thought kept turning over in my consciousness: I had done everything I was supposed to do yet still managed to get the virus.   Even wallowing in this self-pity, though, I understood that, while my situation felt personally unfair, it was socially just. So, I decided to make the best of a bad situation.
I soon began to understand that all the new-found free time could be an asset. I managed to finish all my end-of-semester assignments and began to work on my art.  If I had been at home enjoying family and friends, I would have procrastinated on these assignments and definitely neglected working on my own pro