Sul Ross Professor, Peace Corps Alumnus, Shares Memories of Tenure in Yemen
Posted by

Categories

Features

Date

March 2, 2021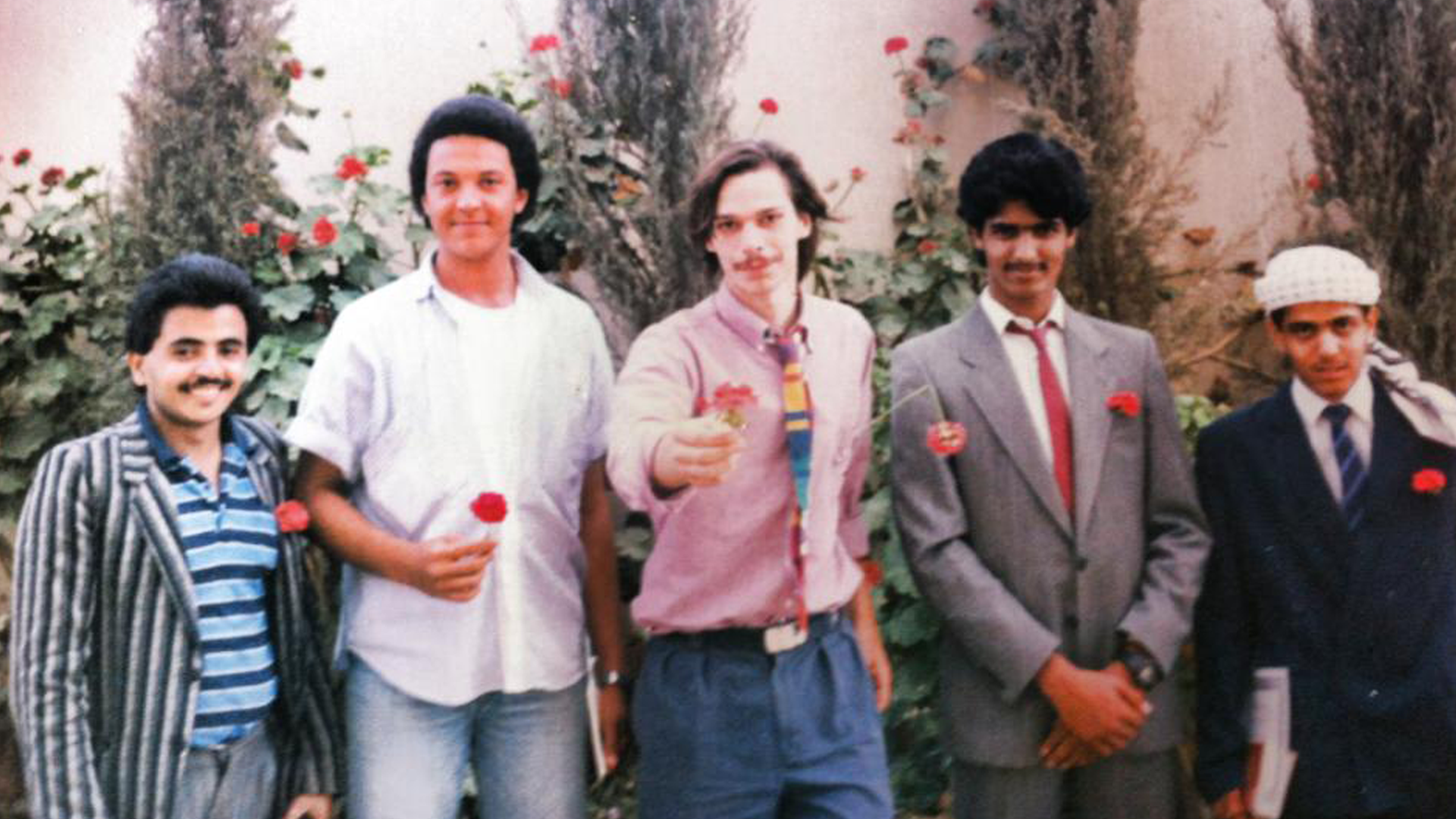 By Kiahna Garcia Skyline Health Correspondent

 
Dr. Theron Francis, Sul Ross Associate Professor of English, is what is termed a Returned Peace Corps Volunteer who went to the Middle East to serve in Yemen from 1988-1990. 
In his time in Yemen, Dr. Francis recalls how welcoming the Yemenis were, which made him comfortable right away. 
"Traditionally, Yemenis are traders. They work in business, but it is also an agricultural country. It is a very mountainous country and they built terraces where they would grow all kinds of vegetables.  They are famous for growing coffee," said Dr. Francis. 
The Yemeni people also grow a stimulant plant, khat, that Dr. Francis and other Peace Corps Volunteers regularly chewed with the Yemeni people. When he first arrived in Yemen, during Peace Corps training, Dr. Francis was trained in how to host a  khat "chew." In fact one "stores" khat in their cheek, like squirrels fill their cheeks with nuts. Hosting a khat party is an essential skill and an ordinary part of life in Yemen. To "store" khat with others helps one share thoughts openly and listen to one another.  
Staying in Yemen as a Peace Corps Volunteer, Dr. Francis served in the education sector as an English teacher for five days out of the week.
"I taught three hours a day and that required an hour preparation. I was really assigned only at the school for five hours a day, maybe longer. It was a pretty easy schedule," said Francis.
Dr. Francis and other Peace Corps Volunteers would explore the region during the weekends, if they were able to acquire travel permits, which are needed to leave individual counties in Yemen.
 On his reasons for joining the Peace Corps, Dr. Francis said, "I was mostly motivated by necessity. That is, in 1988, my hometown of Detroit, Michigan, was experiencing an economic depression and I did not see many opportunities in that region. I had an old friend who had just returned from the Peace Corps and he said, "You should try it, too," and I did." 
Many skills can be obtained as a Peace Corps Volunteer. Peace Corps service offers opportunities to obtain scholarships, to strengthen problem-solving abilities, and even to become multilingual. "There are just so many advantages to having a Peace Corps experience," said Francis.
Dr. Francis recalls how he went to a remote village on the edge of what is considered the "empty quarter," a vast desert in the middle of Saudi Arabia.  The community of 50 or so Yemenis who call this community home welcomed him to a diwan, a hall that can be up to 60-feet long. 
"I remember how welcomed I felt," said Dr. Francis. Afterward, they took him to chew khat on the edge of an old dam and talked about Islam, Christianity, and friendship. 
Francis said that Yemen "was a very beautiful place with mountains all around and houses that were hundreds and hundreds of years old. It was a very romantic place."
"The Peace Corps has three aims: to provide needed skills, to teach those skills, and share cultural knowledge.  I think the cultural exchange is the most important reason for the Peace Corps. To have the knowledge base of other cultures means you are culturally richer. You also appreciate alternatives to your own society. There are other ways of doing things and other values. And you can serve as an advocate for that country. while in America, said Francis.
"I think helping is not the primary purpose. The Peace Corps' approach to helping is mainly to help local communities help themselves."
Joshua Castro, a Peace Corps Recruiter and Returned Peace Corps Volunteer, came to Sul Ross and spoke to Francis' class. 
Francis said, "I think Joshua Castro does talk about avoiding a patronizing colonialist attitude–when we claim to know how to help them."
"Instead, we try to provide a situation for them to articulate what they need help with and how we can help them, and, then, we try to participate," said Francis.
Of what college graduates might offer to the mission, Francis points out, "Joshua Castro said in my class the other day that  graduating from college means that you know how to do research and figure out solutions to problems."
Francis also suggested volunteers learn from the peoples of the host countries, stating, that often, "Traditional solutions are better than imported solutions from the United States." The Peace Corps relationship is one of shared community between volunteers and hosts.
Anyone interested in learning more about the Peace Corps or interested in applying, click this link to schedule an appointment with Joshua Castro.
This story is the second of three pieces in a series featuring Peace Corps opportunities.
Photos courtesy of Theron Francis