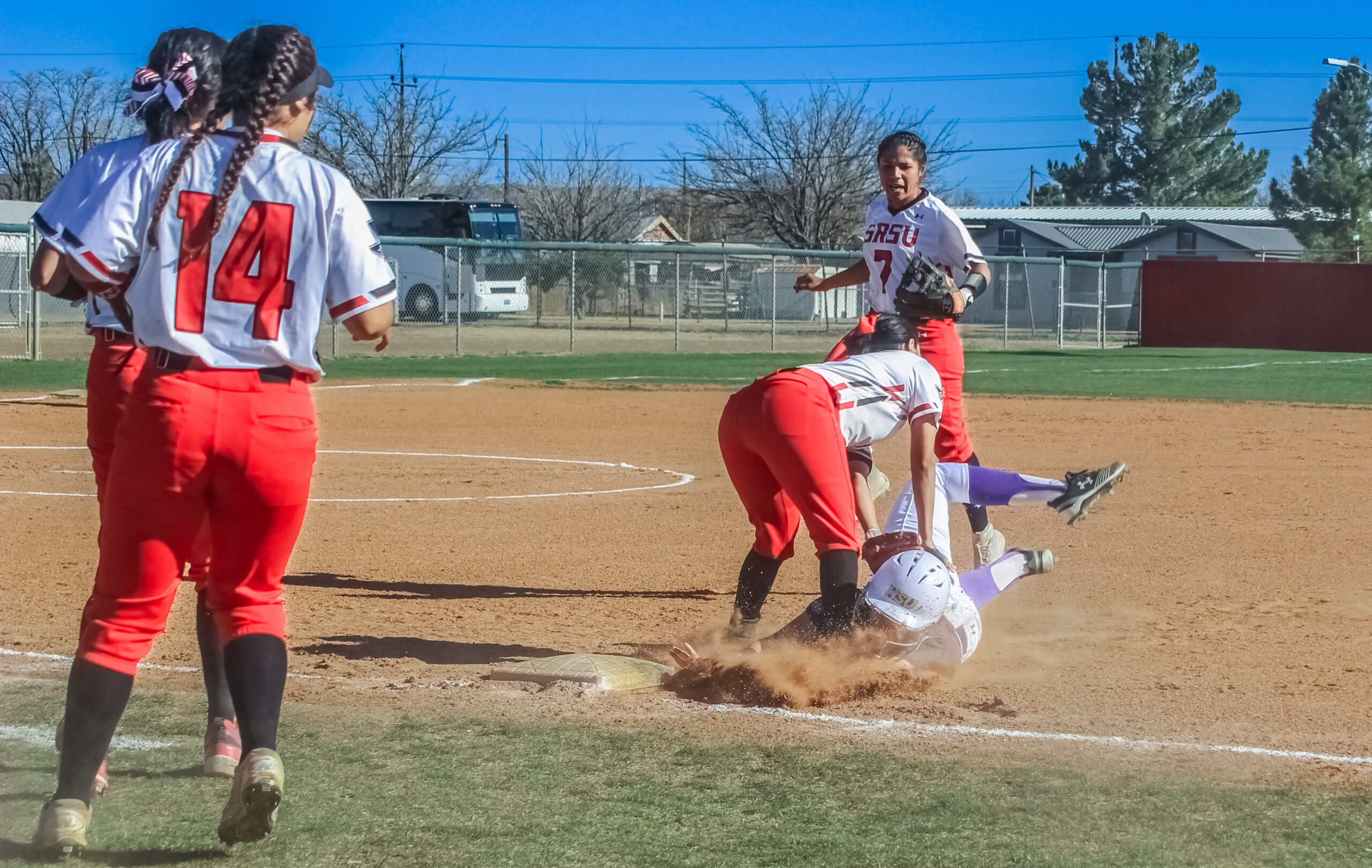 Posted by

Categories

Sports

Date

February 11, 2019
• by Travis Hendryx •
HOBBS, NM- Sul Ross State University softball registered 2-1 and 9-5 victories over University of the Southwest in the 2019 opener Saturday in Hobbs, New Mexico.
In Saturday's first game, the Mustangs scored the first run in the top of the sixth inning.  In the Sul Ross seventh, a triple by Jodie Vaughn scored Hailey Guillen to tie the game at one.
Annie Alvarado then scored the tie-breaking run off a single by Ashley Weatherford for a 2-1 lead and the eventual victory.
Vaughn recorded her first collegiate win from the circle. The Seminole freshman gave up a run off of two hits but struck out seven Southwest batters after seven complete innings.
In game two, the Mustangs took a 1-0 after their first inning.  A single by Rebecca Rodriguez in the top of the seventh scored Abbie Alvarado for a 1-1 tie.  Gabriela Raimondi then scored, unearned, on a fielder's choice off the bat of Alvarado to break the knot
In the top of the fifth, Annika Canaba came across off a single by Guillen to extend the Lady Lobo lead to two.
A single to left center field by Isabella Garcia scored Rodriguez for a 4-1 lead for the visitors.
Southwest brought two runs across in the bottom of the sixth to cut the Sul Ross lead to one before a solo homer by Alvarado in the Lady Lobo seventh spread the gap to two.
The Mustangs mustered a pair of runs in their half of the seventh to tie the contest at five heading to extra innings.
A Rodriguez homer and an RBI double by Raimondi in the eighth put Sully ahead 7-5. Canaba then doubled Raimondi across before Payslee Sims reached on a single scoring Canaba for a 9-5 lead and the win.
Annie Alvarado picked up the win in game two throwing all eight innings.
With the doubleheader sweep, the Lady Lobos begin the 2019 season at 2-0 while Southwest falls to 0-6.
The Lady Lobos open American Southwest Conference play at home next Friday in a 4:00 p.m. doubleheader against East Texas Baptist University.